Experience the fun and thrills of a half-day whitewater rafting trip on the Barron River, located just 20 minutes north of Cairns. Enjoy the spectacular scenery of World Heritage-listed Wet Tropics as you raft through stunning terrain, including highlights such as Barron Falls. Your expert guide provides all necessary rafting equipment and paddling instruction for the 2-hour rafting trip, you simply bring clothes that can get wet. No experience needed for this fun and safe rafting excursion. Includes hotel pickup and drop-off from Cairns and the Northern Beaches.
Highlights
Feel the rush of white water rafting on this half-day tour from Cairns
2-hours rafting through Barron Gorge National Park
Safety equipment including spray jackets, helmets and life jackets
Rapids are graded to 3, perfect for beginners
English-speaking informative and enthusiastic river guides
Hotel pick up and drop off from centrally located Cairns and Northern Beaches hotels
What You Can Expect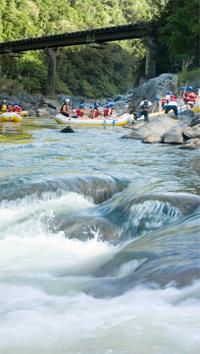 After hotel pickup in Cairns or the Northern Beaches, transfer to the river where your guide welcomes you.

Receive a safety briefing and get outfitted with the provided gear, including life jackets, helmets and paddles. Then learn paddling basics from professional guide, before hopping in your raft for a thrilling ride through Barron Gorge National Park.

As you glide through calmer sections, admire the surrounding World Heritage-listed Wet Tropics and hear about regional animal life, plants and highlights such as Barron Falls. The famous Kuranda Scenic Railway and Skyrail Rainforest Cableway also traverse sections of the gorge.

Expect to get wet when you go through rapids with colorful names such as Rooster Tail and Cheese Churn. This section of the Barron River is rated as grade three, which means that the waves can measure approximately 3–6 feet (1–2 meters) and passengers need to hold on at times in rapids. Bring sturdy shoes that can get wet, swimsuit and towel, plus dry clothes to change into after your trip.

After your 3.5-hour rafting trip, your tour ends with hotel drop-off.
russ United Kingdom
March 2016
This half day 'introduction' to WWRafting is good and long enough for most people. There is a day-long tour offered by Viator and I think this would be the next logical step if you enjoyed the half day.
The Raft holds six people and a skipper who works very hard to get the best thrills. We sometimes got stuck on the rocks - it happens.
We start with donning life jackets and I strongly recommend you hire their raft shoes. The raft fills with water to above your ankles so your own trainers get soaked, as does the whole of you. Flip-flops and slip-ons are not good as they are dangerous. Rafts automatically drain themselves so they never sink, in case you were wondering
I wore swimmers and t-shirt some people also put on swiming goggles to avoid water in their eyes.
The eventure starts with a safety briefing and trying out the various instructions: these are important as WWR can be dangerous. I felt safe with our guide who certainly steered clear of problems.
There are some big-ish rapids which throw you about some smaller ones and at one stage we get to go for a swim and flaot down minor rapids - like Baloo the bear in The Jungle Book.
Be prepared to get soaked and to fall in although this is not recommended, it happened to me.
You do need to be flexible and this is not good for people with bad backs or necks. You also need to think 'safety' all the time and be agile enough to move quickly within the Raft.
Professional photographs are worth it the helmets have GoPro attahcments too if you want your own.
Overall a good half-day professional team easy pick-up. There were gaps between the thrills of the rapids so perhaps a half day is indeed ideal.

August 2015
This was so much fun! We had an absolute ball. Wish it went for longer!
May 2015
White water rafting was fantastic and the staff very competent and knowledgeable. Had an absolute blast and wished it had gone for longer!
February 2014
A great, safe and exciting experience. Our guide Mez did a great job. We were ready for more rapids, but the trip was a great intro for new rafters and an excellent afternoon trip.
August 2013
July 2013
great, safe, exhilarating fun!
July 2013
we had a ball. fun, friendly, safe but exhilarating

July 2013
Had heaps of fun, but it was too short. Would try the full day Tully River rafting next time
January 2013
My family has just come back from Cairns last weekend. It's a fantastic adventure. Our leader Jesse explains carefully how we cope with the rapids. My family had a very enjoyable and safe journey and will definitely go to the Tully River next time.
November 2012
Really great trip! First timer so was a bit aprehensive but was def a highlight of our trip.They put a package of photos on a usb for only $30 which was great. Guides are friendly and up for a laugh.
Advertisement
Advertisement