Get ready for a day of adventures with a full-day tour from Cairns that combines skydiving, a helicopter tour to the Great Barrier Reef, and time to snorkel and swim around the reef before cruising back to shore. You'll enjoy the thrill of skydiving over the tropical north of Australia with expert instructors. Then explore one of the world's underwater wonders when you spend the afternoon around the Outer Great Barrier Reef. This action-packed day provides a taste of North Queensland's many natural treasures.
Highlights
Full-day combination tour with skydiving, helicopter tour to Great Barrier Reef, and Outer Reef cruise, from Cairns
Enjoy a tandem skydive over Cairns

Take in spectacular views of the Great Barrier Reef on a 25-minute helicopter tour
Explore the Great Barrier Reef by snorkeling or scuba diving

Snack on a buffet lunch on board the reef cruise

Includes pickup and drop off from Cairns hotels and surrounding areas
Recent Photos of This Tour
What You Can Expect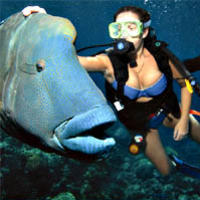 Your day starts with morning pickup at your Cairns hotel and transfer to the skydive headquarters.
Meet your professional skydiving instructor and receive a safety briefing, all necessary gear and a skydiving lesson from your guide. When you're ready, board your skydive plane and enjoy views over the Cairns landscape as your plane ascends to the jump height of 11,000 feet (3048 meters). Your instructor jumps in tandem with you, and you free fall for about 30 seconds before your instructor releases the parachute. Drift back down to earth, taking in sweeping views of Cairns and the Coral Sea, including the Great Barrier Reef.
After your exhilarating jump, you are transferred to the heliport for a 25-minute helicopter flight over the Great Barrier Reef. Your helicopter pilot points out the many visible features of this vast ecosystem that can even be seen from the space station.
Your pilot touches down gently at a pontoon located on North Hastings Reef. Switch from the helicopter to a deluxe boat for the afternoon. Enjoy approximately two hours to snorkel and swim around in the Great Barrier Reef, observing an array of coral formations and colorful schools of fish. Snorkeling equipment is provided and instructors are there to assist as needed.

Scuba diving is also available for both beginners and experienced divers (own expense).

The boat crew serves up a buffet lunch on the boat and later offers a complimentary glass of wine for the return cruise to Cairns. Your tour ends with drop-off at your hotel after a fun-filled day out.

June 2016
absolutely incredible and worth the price. food on the cruise is just for you and your group who came in on the heli. the skydive is an unforgettable experience. you best be seeing the reefs before they are gone. :
Georgina S Kuwait
December 2009
A fantastic experience and one that I would certainly do again. Doing the helicopter tour was the best way to see the reef!

Megan M USA
February 2013
It was really fun but I thought I would be skydiving over the Great Barrier Reef but it was over cane fields in cairns. Still worth the money though.
July 2012
Great day out! Started of the day by skydiving from 14000ft, then had a sceneic half an hour helicopter flight over the Great Barrier Reef to Hastings Reef, then a few hours snorkelling around the reef!! We upgraded our jump to 14,000ft and had solo camera man to take photos and film our jump, certainly worth while paying the extra for this to have the experience filmed! Overall a good value day out and a fantastic experience!!
Alison M United Kingdom
December 2009
A bit of a rushed day. The sky diving was great! Everyone was really friendly. The views from the helicopter were amazing, but by the time we got to the boat for the scuba diving there was little more than a hour before the boat sailed back. I also found that after the sky diving my ears would not equalise properly so the scuba diving was uncomfortable. The information about my trip was limited as each activity and hotel transfer is with a different company, but they all tried hard to get me where I needed to be. Might be better to spread the activities over two days.
February 2011
Poor coordination makes this an inefficient trip. Our sky dive group was the last to arrive at the airport. It was noon before we were taken to the helicopter hanger. Again, we waited until two other couples arrived before the helicopter lifted off. It was nearly 2 p.m. when we arrived at the snorkeling cruise ship. We had less than two hours on the ship before it began the cruise back to Cairns. Rather than a buffet lunch, we were served ready made plates of leftovers. Even this was not given to us until after 3 p.m. There was approximately one hour to snorkel. There was no time to scuba dive or participate in the submarine cruise around the reef. Hurry up and wait with very little time to enjoy was the theme of the day.
Advertisement
Advertisement