Special Offer
Save more than 10% on the recommended retail price by booking these three tours together.
From the Great Barrier Reef to the Daintree Rainforest, experience the best of tropical north Queensland on this Cairns Super Saver that combines three bestselling tours at one discounted price. Over three days, enjoy a snorkeling and scuba diving cruise on the barrier reef; ride the Kuranda Scenic Railway to admire views of the lush rainforest environment; and take a day trip to Cape Tribulation to see koalas and kangaroos at Wildlife Habitat and enjoy a boat ride on the Daintree River.
Highlights
3-day Cairns combo tour with 10% savings
Experience the best of Far North Queensland with three of the area's most popular tours over three days!

Learn to scuba dive or go snorkeling on the Great Barrier Reef
Ride the Kuranda Scenic Railway from Cairns
Admire the views from the Skyrail Rainforest Cableway
Take a guided walk through Mossman Gorge
Relax by the beach at Cape Tribulation

Recent Photos of This Tour
Cairns Super Saver: Great Barrier Reef Cruise plus Kuranda Scenic Railway plus Cape Tribulation Day Trip
What You Can Expect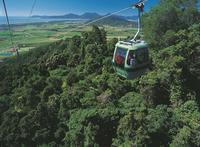 Your Cairns Super Saver encompasses three of the best ways to experience Far North Queensland—by boat and railway, on land and water. Each of the three separate tours takes place on its own day (these are day tours only; accommodation is not provided).

See the Itinerary for descriptions of each tour.
Itinerary
Great Barrier Reef Diving and Snorkeling Cruise from Cairns (Day 1; L):
Step aboard the Evolution for your high-speed cruise to the reef, cruising at more than 30 knots. Once you arrive at your exclusive mooring point on the reef, take a guided snorkeling tour or try a free scuba-diving lesson.

Your Australian barbecue lunch includes fresh fish, steak, sausages and a selection of pastas, salads and prawns.

When your five hours on the reef are up, head back to shore by boat, enjoying a cheese platter and selection of tropical fruit while musicians and entertainers make the trip back as fun and enjoyable as the rest of the day.

Kuranda Scenic Railway Day Trip from Cairns (Day 2):
Departing Cairns aboard the Kuranda Scenic Railway, learn about Far North Queensland's pioneering history on the leisurely train journey to Kuranda, the 'village in the rainforest.' Relax and enjoy the beautiful scenery as you wind your way through the rainforest, stopping briefly for a photo op at Barron Gorge and when you cross Stoney Creek Bridge. Then arrive at Kuranda Station, one of the most photographed railway stations in the world.

You have free time in Kuranda to do a little shopping at the heritage markets if you wish, grab some lunch in one of the many restaurants and cafes, or have a wildlife encounter at Birdworld, the Australian Butterfly Sanctuary or Kuranda Koala Gardens (all shopping, food and entrance fees to attractions at own expense).

Then make the return journey to Cairns aboard the stunning Skyrail Rainforest Cableway. Hear the birds singing and smell the fresh scent of the rainforest as you silently skim just meters above the tree canopy in a six-person gondola. Enjoy unbeatable views from the rainforest to the reef as you pass over the peak of the mountain range. There are two stops along the way where you can hop out and explore this amazing environment from the forest floor on boardwalks, at scenic lookouts and at state-of-the-art Rainforest Interpretation Centre.

Daintree Rainforest, Cape Tribulation and Rainforest Habitat Wildlife Sanctuary Day Tour from Cairns (Day 3; L):
This tropical day trip takes you along one of Australia's most scenic coastal roads to the coastal resort town of Port Douglas. Pay a visit to the Wildlife Habitat to see native animals, including koalas and rare cassowaries, and have the chance to handfeed a wallaby or kangaroo.

Cross the Daintree River by cable ferry to enter the Cape Tribulation section of Daintree National Park, where you'll enjoy a delicious lunch at Cape Tribulation Beach House Restaurant (included). Spend an hour at your leisure on Cape Tribulation Beach before taking a guided walk through historic Mossman Gorge and the heart of Cape Tribulation. Along the way, your guide will share the fascinating secrets of the rainforest, its food, medicines and history.

Your journey then returns to the Daintree River, where you will enjoy a wildlife cruise, searching for crocodiles, birds and other mangrove wildlife. Before your day in the rainforest concludes back in Cairns, stop for spectacular views from the Rex Lookout.
June 2016
Perfect. Staff were great. Vessel was lovely. Food was amazing. Snorkelling and scuba diving was amazing. A very well organised event.
April 2016
Wonderful and fun tours, very well organized.
February 2016
5 out of 5. The best bang for your buck, WITHOUT a doubt!!! The service was excellent - friendly and informative...and on time. This tour provided such a range of experiences...something for everyone. I didn't feel I had to see anything else. The boat, chopper and buses were in new and excellent condition. The food was unexpectedly delicious. Soooo glad I clicked 'Buy now'. One of the best packages EVER. Absolutely no good reason to book with anyone else.

Karen G United States of ...
February 2016
This was the best money I spent in Australia! We had 3 very long full days of tours, but we really got a true tour of the Australian countryside, Great Barrier Reef, river cruise to see crocks, Rain Forrest tour with a native ranger.
February 2016
We had a wonderful time! The weather, the water and snorkeling, the crew and the food couldn't have been any better. Everyone was friendly and helpful and we enjoyed Tom T Bone singing and playing guitar as we cruised back in..
February 2016
The 1st day snorkeling and 3rd day Cape Tribulaion were great. Everything was much better than expected, but 2nd day Kuranda village was not as interesting. We got 3 days to spare in Cairns, so this was perfect for us.
January 2016
This whole three day trip was worth every penny. My absolute favorite part was the Great Barrier Reef day--the boat was brand new--only 3 days old! I was scared to try scuba diving but the crew was so great in convincing me that I could do it. BUY IT NOW!
January 2016
My rating is 5 out of 5. So good!
I highly recommend it to my friends.
December 2015
This was a very well put together package. We thoroughly enjoyed all 3 days and would recommend to anyone who is visiting for a few days.
December 2015
This was an amazing 3 days for a very reasonable price. The trip to the GBR alone was worth it. The crew could not have been nice. They made sure that we had a great experience. Don't worry about your swimming abilities. They can ensure that you see it even if you are older, a poor swimmer, or not very strong. The outing to Cape Tribulation was a very long but beautiful day. Loved the beaches and lunch at the resort in the forest. We also loved Kuranda. There was lots of shopping and the Skyrail was amazing. Be sure an get off at the stops and walk the boardwalk into the forest.
Special Offer
$343.47 Save $24.91
Advertisement
Advertisement