Walk on the sea floor of the UNESCO-listed Great Barrier Reef with a Seawalker Helmet Dive. An expert guide accompanies you into the water while your head stays dry throughout this one-of-a-kind underwater experience. You'll ride a luxury catamaran to Green Island on this day trip from Cairns, and have the option to take a glass-bottom boat cruise, a guided rainforest walk, snorkel from the beach and enjoy an optional buffet lunch on board.
Highlights
Great Barrier Reef and Green Island day-trip from Cairns
See the world's most extensive coral reef ecosystem: the UNESCO World Heritage-listed Great Barrier Reef
Walk along the sea floor during a Seawalker Helmet Dive and watch vibrant marine life around you, no experience needed

Choose from a variety of activities including a glass-bottom boat tour, snorkeling and rainforest walks
Have the option of a buffet lunch on the luxurious catamaran that transports you to Green Island
Recent Photos of This Tour
Green Island Day Trip from Cairns Including Seawalker Helmet Dive
What You Can Expect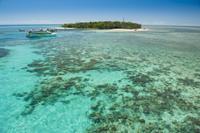 Check in at the centrally located Reef Fleet Terminal in the morning to confirm the time of your Seawalker Helmet Dive. Then board a high-speed catamaran for Green Island, located just 15 nautical miles (27 km) offshore from Cairns.
The coral cay of Green Island, covered by lush rainforest and sandy white beaches, comprises both a national park and marine park and is part of the Great Barrier Reef World Heritage Area — home to sea anemones, stingrays, giant clams, and green and hawksbill sea turtles.
Morning tea or coffee is served on board, while beverages are available for purchase all day from the licensed bar (own expense). In the afternoon, enjoy a buffet lunch, if option selected.
On arrival, your crew provides snorkeling instruction and suggests a variety of included activities in addition to the Seawalker Helmet Dive. You can take a glass-bottom boat tour, snorkeling tour or a guided rainforest walk.
At your allotted time, your guide accompanies you on the 45- to 60-minute Seawalker Helmet Dive — perfect for non-swimmers or anyone who might not be confident in the water. Your head stays dry in the helmet, allowing you to wear glasses or contacts and keep your hair dry. Suit up and get comfortable with the provided equipment, then take a walk on the sea floor of the Great Barrier Reef for a close-up look at vibrantly colored fish and coral.
Back on dry land, make use of the shower, restrooms and changing room facilities at the Green Island Resort. Canoes, sailboards, surf skis, beach chair and umbrellas are also available to rent before you're returned to Cairns at the end of the day.
Itinerary
The buffet lunch includes: (if option selected)
Chicken and vegetable stir fry noodles in a sweet chili sauce
Tasty beef and vegetable curry
Vegetarian pasta of the day
Steamed Jasmine rice
Cold meat selection of sliced Champagne ham, roast beef, turkey and mild Hungarian salami
Mesclun salad - mixed lettuce leaves
Coleslaw salad with red and green cabbage and carrot tossed in mayonnaise
Tomato and cucumber salad with onion and feta cheese
Salads of diced beetroot and sweet corn
Grated cheese
Fresh bread
Seasonal tropical fruit platter
Menu subject to change
May 2016
This was the most awesome experience ever, it beats swimming with the dolphins. And being a Jon-swimmer, perfect for me. The guides were really good and we were that close to the fish, we could touch them.
June 2015
Fred J USA
April 2015
January 2015
This was the experience of a lifetime! I am not fond of the water and rarely swim, so this helmet dive was perfect for me! I didn't even get my hair wet! They put this heavy helmet on my head, but when I was under the water, it wasn't heavy at all! There were fish all around me and I even got photo bombed by the resident Parrotfish! It was perfect!!!
December 2014
Great Great experience!Amazing nature and a must visit place!
November 2015
Somewhat disorganised on the boat, received different messages from different staff. We ended up having our helmet at the same time as lunch was being served so we didn't get lunch, we also found out later that we were booked in for our glass bottom tour at the same time so we missed this as it's difficult to be in 3 places at the same time! We were reluctantly given permission of go on a later glass bottom boat by an indignant member of staff, we were made to feel that it was our fault for not attending at the initial time that we weren't told about. On the up side the staff doing the helmet dive were extremely conscientious and attentive, we thoroughly enjoyed the experience.
November 2015
This trip provided lots of options. Enjoyed snorkeling. Was disappointed in the helmet dive - while it was a great experience for my friend who had not done it before and was a great opportunity to see fish up close, it provided no opportunity to view coral. I recall seeing much coral up close when I did a similar activity back in 1988. Glass bottom boat was good opportunity to see variety of fish and coral. Lunch was rushed with the long lineup and the booked commitments. Overall still a very good experience
December 2014
December 2014
Fun experience!. No cameras allowed so if you want pictures you have to buy them.
November 2014
We enjoyed this full day tour to Green Island a great deal. The crew on the Big Cat was watchful and made us feel secure on our trip to and from Green Island. Omce on Green Island we went on the helmet dive and again was impressed with how the crew members were safety conscious, as well as energetic in seeing that we had a good experience. It was incredible to be on the ocean floor with many different colorful fish swimming in such close proxsimity. We also went on the glassbottom boat and got some close up views of the reef and abundant sea life. I would encourage people to go on this tour.
Advertisement
Advertisement