Explore the Great Barrier Reef and a lush island rain forest on this full-day catamaran tour to Green Island from Cairns. Create your own perfect day on this protected coral cay with a variety of activities including snorkeling, scuba diving, Seawalking, nature walks and tours on a glass-bottom boat or semi-submarine. Upgrade to include a delicious buffet lunch on board the catamaran and hotel pickup and drop-off from Cairns. It's a fantastic way to discover the underwater wonders of the world's most famous reef!
Highlights
Explore the Great Barrier Reef and the rainforest on your Green Island day-trip

Variety of activities including glass-bottom boat tours, semi-submarine coral viewing tours, scuba diving and snorkeling
Buffet lunch option available
Choice of 9:00am and 11:00am departures
Optional hotel pickup and drop off available from Cairns hotels
Recent Photos of This Tour
Green Island Day Trip from Cairns
What You Can Expect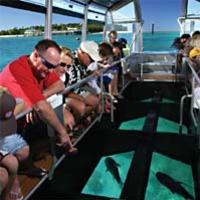 One of Australia's protected Marine National Parks, the low-lying coral cay of Green Island is situated 15 miles (27 kilometers) off the coast of Cairns and provides an excellent base for exploring the Great Barrier Reef. Choose from two different morning departure times and hotel pickup options to suit your sightseeing schedule, and climb aboard a luxurious air-conditioned catamaran for the cruise to the island.
Once you step ashore, choose from a wide variety of activities to design your perfect day (additional expenses may apply). Snorkel straight from the beach to swim among tropical fish and coral gardens, embark on a scuba diving tour or try the unique Seawalking experience, where a helmet allows you to breathe underwater while surrounded by swimming marine life. If you prefer not to get wet, you can still get a great view of the giant clams, sea turtles and tropical fish below the surface with a tour on a glass-bottom boat or semi-submarine.
If you choose the lunch option at booking, enjoy a delicious buffet meal aboard the catamaran midday. (See Itinerary below for a sample lunch menu.) Grab a drink at any time from the fully licensed onboard bar (own expense).
You'll be welcomed at Green Island Resort to use the facilities including showers, restrooms and changing rooms to stay comfortable throughout the day. You can also hire beach chairs, umbrellas, canoes, sailboards and surf skis from the resort and take advantage of several walking tracks to explore the island's tropical rain forest landscape.
After 4 or 5 hours soaking up the island paradise, relax on the return catamaran cruise to Cairns.
Itinerary
Sample Buffet Lunch Menu:
Chicken and vegetable stir fry noodles in a sweet chili sauce
Tasty beef and vegetable curry
Vegetarian pasta bake with broccoli, zucchini and corn with a sauce of sundried tomato, garlic and cheese
Steamed jasmine rice
Cold meat selection of sliced Champagne ham, roast beef, turkey and mild Hungarian salami
Mixed lettuce salad
Coleslaw salad with red and green cabbage and carrot tossed in mayonnaise
Tomato and cucumber salad with onion and feta cheese
Salads of diced beetroot and sweet corn kernels
Grated tasty cheese
Fresh Bread
Seasonal tropical fruit platter
Menu subject to change
June 2016
Wonderful trip and I made a new friend, beautiful,weather too.
May 2016
Another fun Viator day trip. We did the semisubmersible and glass bottomed boat excursions right after arriving which left the rest of the day for lunch and exploring the island. Staff and guides all friendly and well informed. Enjoyed by all.
Monica F Australia
May 2016
Everything was absolutely amazing. Thanks to all the staff
Monica and family
January 2016
Semi sub and glass bottom boat were great. Also boat to island was good. Amazing fish and coral. Lots of good pictures.
January 2016
January 2016
This tour was amazing. I would love to come back, the staff was very friendly and the things to do in here were very exciting, especially the sea walk.
January 2016
Great day weather wasn't too good but still had a good time. Staff and crew very helpful plenty of food at buffet lunch would do it again.
January 2016
This was one of my favorite days on the reef! It was here that we actually saw sea turtles and many types of fish. While on this tour, we did the glass bottom boat and the semi submersible, and I think that you could do one or the other seeing as they both showed and seemed to be very similar. If going to Green Island, be sure to swim to the point of the jetty because that is where we saw all of the marine life and turtles. Also, it will appear for a while that there is nothing in the water but fish, so just make sure you swim a ways out.
December 2015
Nice ride, expect to spend 2.5-3 hours in transit round trip. You'll have to plan carefully to take the best advantage of the approximately 5 hours you'll have on the island.
There's a national park on the island that should be taken in but that can be difficult, depending on the activities you've scheduled through the tour provider.
Here's the deal: Lunch is served from 11:15 AM to 1:15 PM and the glass bottom boat and semisubmersible rides are about 30 minutes each. Those activities can be scheduled in ways that pretty much preclude taking in the park walk, which was a problem for me.
Recommendations:
First, go snorkeling if you want to do that.
Second, take a nice walk in the national park.
Third, eat lunch at your leisure at the café on the island. The boat's lunch was no gourmet feast and I found the limited serving time to be incompatible with my preferred island activities.
If you want to tour the island zoo, do that fourth but be aware that it's just a few large crocs and native craft exhibits.
Lastly, schedule one of the last semisubmersible or glass bottom boat rides so you can maximize your island time. FYI: The semisubmersible ride had better views than the glass bottom boat.
December 2015
It was a vey enjoyable trip. I liked the submarine trip the most.
Advertisement
Advertisement