See snapping crocs in action on this half-day tour to Hartley's Crocodile Adventures. Departing from Cairns or Palm Cove, explore the five different zones of this eco-park and working crocodile farm, including a narrated boat tour through a coastal lagoon. Stroll along elevated boardwalks to observe cassowaries, turtles, lizards and koalas, and admire the mighty stars of the attraction at the thrilling Crocodile Attack Show!
Highlights
Spend the afternoon at Hartley's Crocodile Adventures

Hartley Crocodile Adventures is a great place to see crocodiles while staying in Cairns or Palm Cove

Explore the five different zones within the park each with their own unique animals

Take a boat cruise on Hartley's Lagoon to see crocodiles and other wildlife on our melaleuca wetland.

See the mighty 'death roll' during the Crocodile Attack show

Help feed the koala's and cassowaries

Recent Photos of This Tour
Hartley's Crocodile Adventure Half-Day Tour
What You Can Expect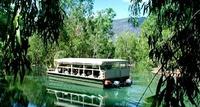 Situated between Cairns and Port Douglas, Hartley's Crocodile Adventures is an award-winning eco-park and working crocodile farm dedicated to educating visitors about local wildlife. Travel by coach to the park after pickup at your Cairns, Palm Cove or Northern Beaches hotel.
When you arrive, enjoy several hours of free time to explore the park's five different ecological zones at your leisure. Take a narrated boat tour through wetlands, where you might spot some of the 19 resident saltwater crocodiles lounging in the sun. Stroll along the Cassowary Walk to observe these fascinating flightless birds, and admire an array of other native species like koalas, turtles, snakes and lizards from a series of elevated boardwalks.
Live shows and feedings throughout the day offer a chance to learn more about Australia's amazing wildlife. Don't miss the Crocodile Attack Show, featuring massive crocs snapping food from a pole and showing off their infamous 'head shake' and 'death roll.' Tour the crocodile farm to learn how these prehistoric creatures are sustainably raised for their meat and skins.
See Itinerary below for a complete description of park attractions and a show schedule. After more than 3 hours of exploration, relax on the return drive to your hotel.
Itinerary
Hartley's Lagoon
Take a scenic cruise along the wetlands to spot crocodiles and other bird, and wildlife of the coastal melaleuca habitat. The purpose built boat has raised seating so you won't miss out on the view. During the cruise commentary is provided by the drivers, highlighting not only the behavior of the crocodiles but all the other plants and animals that share their home.
Cassowary Walk
The cassowary is native to the tropical rainforests of Australia. Learn about these magnificent and unique flightless birds, and help their keeper feed them. This zone features not only these amazing birds but also has information on their origins and their close relatives.
Wildilfe Discovery Trail
Wander along the Wildlife Discovery Trail boardwalks and see two species of crocodile, the estuarine (saltie) and the freshwater and be amazed at the size and power of the big male crocs. You'll see all sorts of other animals and plants that share the crocodile's world, from brilliant birds, flashing fish, lazy lizards and timid turtles - all of which are found locally in the wild alongside the crocs.
Crocodile Farm
Take a guided walk through Hartley's crocodile farm and learn how crocodiles are raised for their skins and meat. You will learn how it all works, and gain insight on how the sustainable commercial use of wildlife contributes to wildlife and habitat conservation.
Gondwana Gateway
Learn what makes Australia's animals some of the most intriguing and unique in the world as you wander the Gondwana Gateway. The interpretive signage alongside each exhibit, will guide you to put each animal into is evolutionary context.

Shows & Feeding Times
2.00pm Snake Show
2.30pm Wetlands Cruise
3.00pm Crocodile Attack Show
3.45pm Crocodile photo opportunity (own expense)
4.15pm Cassowary feeding
4.30pm Koala feeding
June 2016
Loved every minute of this excellent well presented tour. Very informative and lots of fun. Buffet meal was lovely too.
April 2016
this was a great afternoon, and the driver Rick was excellent a great person of information and funny.
well done
September 2015
Our entire family really enjoyed this adventure. It was very well organized, moving us as a group from one show to the next. We learned so much about the crocodiles! Don't miss the area with the roos and wallabies that are so tame- a fun place for the kids to pet a kangaroo!
This half day tour was the perfect thing to do with all ages! It never felt crowded and the pick up/drop off from the hotel was perfect.
November 2014
I absolutely loved this tour. The staff were friendly, engaging and knowledgeable. There was plenty of time to see exhibits and I highly recommend the boat trip.
June 2014
Fantastic setting with excellent knowledgeable staff with a good sense of humour. Lots to see in beautiful surroundings.

Susan Ireland
August 2012
Brilliant tour , well organized. The bus driver was very good and interactive with the children and others. You don't miss a thing and its was a great tour, you come away with a better understand of Australia's wildlife.
May 2012
Good shows! Need more time to enjoy!
December 2011
Brilliant place with very friendly staff. I had a terrific time.
HIEN V France
September 2011
Very well organized afternoon. The boat tour and the crocodile attack show were fun, scary and informative.

January 2011
Very nice and safe contact to awesome reptiles - Hartley's crew are wonderful cheerful people with a fantastic sence of humour! I've enjoyed this adventure a lot!
Advertisement
Advertisement