Explore the Kuranda Rainforest at night on this 4-wheel-drive adventure from Cairns and the Northern Beaches. Experience outback traditions as you sip billy-tea by a campfire, and fill up on an Aussie barbecue before traversing World Heritage–listed landscapes in a sturdy 4WD Hummer. Cross the Atherton Tablelands to Granite Gorge, look for wild kangaroos and nocturnal birds, and gaze up at the stars, away from city lights. Tour is limited to 20 people.
Highlights
Night tour by 4WD Hummer in the rainforest, from Cairns or the Northern Beaches

Start your evening with a barbecue and billy-tea, a quintessential Australian tea made by campfire in the outback

Explore the World Heritage–listed Kuranda Rainforest after dark, and cross the Atherton Tablelands to Granite Gorge

See nocturnal wildlife in its natural environment, and come face-to-face with rock-wallabies

What You Can Expect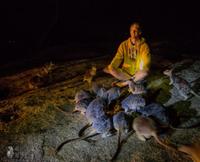 Your tour starts with evening pickup in Cairns or the Northern Beaches by coach for the drive into the rugged bushland just outside Kuranda. When you arrive at the outdoor campfire, enjoy a barbecue that includes kangaroo and crocodile sausage, toasted marshmallows and traditional Australian billy-tea. While you relax underneath a mango tree, soak up the outback atmosphere and gaze at the stars.

After eating, hop into your American military Hummer for your 4WD adventure across a creek and into the rainforest. Driven by your guide, the all-terrain high-performance vehicle has no problem navigating off-road trails and features a spotlight to help you catch sight of wildlife that roam the forest after dark. Traverse the Atherton Tablelands to Granite Gorge, and stop to check out curious rock-wallabies, who will eat right out of your hands (food is provided). Keep your eyes open for a lucky sighting of a mama wallaby with a small joey (baby) in her pouch.

Watch for nocturnal birds, and catch a glimpse of the large, animal-shaped, volcano-formed boulders that dot the savannah before your tour ends with the drive back to your hotel for drop-off.
April 2016
A very surprising trip!! Was short but worth the money!! Can't tell you, to ruin the surprise. Not for the fine, precise people. Have to be a adventous person to do this!!! We had a blast!!! We loved feeding the wallybys too! So much fun. Thank you. Kinner USA
June 2015
Absolutely fantastic.. the staff were magnificent..Shaun and Daryl were brilliant..Much better than anticipated.. Best trip ever..my children loved it sooo much. First class,superb !
May 2016
Well the night Hummer tour was not what I thought is would be. Not at all what was described in the online description. Hummer was old and almost didn't start, the tour was in a pasture in some guys back yard, where we went around the same trail like 3 to 4 times and then came back to his backyard, not too impressed! On a better note the highlight was going and getting to feed the wallabies, I did get the impression like we weren't supposed to be there though, maybe it was just because it was kind of late and the place is in a campground.
Advertisement
Advertisement