Splash into the spectacular underwater realm of the Great Barrier Reef on this full-day snorkel and scuba cruise from Cairns. Travel aboard a luxurious catamaran to three renowned dive sites to swim among magnificent coral gardens and tropical marine life. All experience levels are welcome, and expert guides are on hand to assist with your choice of snorkeling, introductory scuba diving or certified diving. Replenish your energy with a delicious buffet lunch midday plus morning and afternoon tea on the catamaran.
Highlights
Full-day cruise to the outer edge of the Great Barrier Reef from Cairns
Snorkel or scuba dive from the back of the boat
Visit three different sites and five hours on the reef
Beginners can snorkel or try an introductory dive
Experienced divers can complete up to three certified dives
Cruise on a luxurious catamaran accommodating up to 80 passengers
Recent Photos of This Tour
Outer Great Barrier Reef Dive and Snorkel Cruise from Cairns
What You Can Expect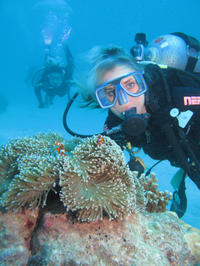 Customize your full-day Great Barrier Reef adventure to suit your style and preference, whether you're an experienced diver or a novice. On the morning of your tour, make your way to Marlin Wharf in Cairns and climb aboard a luxurious 95-foot (29-meter) catamaran equipped with restrooms, fresh-water showers and spacious sun decks. Head out into the Coral Sea and enjoy the aquatic landscape on the ride to the first of three dive sites, which may include Flynn Reef, Thetford and Milln.
At booking, choose how you'd like to explore the reef. Slip on a snorkeling mask and fins if you prefer to stay near the surface, or go deeper with a scuba dive. Beginning divers can take one of two introductory dives, and experienced divers can complete up to three certified dives throughout the day.
All equipment is provided, and expert guides are on hand to provide instruction and ensure your safety. Whatever you choose, expect to spend a total of 5 hours in the water observing the reef's famous marine life including fantastic coral formations, tropical fish, anemones and sea turtles.
In between dives, replenish your energy with morning and afternoon tea breaks and enjoy a delicious buffet lunch midday. Purchase a drink from the full onboard bar if you like, and soak up the tropical sun on the return trip to Cairns, where your tour concludes in the afternoon.
Note: Book early to secure your spot, and enjoy a flexible reservations policy that allows you to change the date of your tour at no additional charge once you arrive in Cairns.
March 2016
I can't say enough about this tour except that I wish I had snorkeled two days instead of one! We went to 3 different dive sights and it was magnificent! The coral and the fish were beautiful! We also saw reef sharks. The crew were very helpful and knowledgeable. We enjoyed ourselves immensely!
February 2016
this is by far the best value for the money. staff was outstanding. Marco was patient and just a pleasure to dive with. I cant thank him enough for ensuring us a great dive experience. We are planning another trip and will book with these guys in a second. don't waste your time looking. just go with these folks. you will be happy you did.
February 2016
excellent. very organized and a great value. staff was professional and informative. boat was very nice with plenty of room. 3 dives for the price of one or two with others. don't bother looking any further. this is the one to book period.
December 2015
an awesome day full of water, sun and fishies!!!.....a great experience made all the better by a great crew who are passionate about their jobs and keen to ensure all passengers are ok. A big thanks to whoever was the chef and food providers...great food to replenish hungry stomachs after lots of water fun. A big thanks to Jack who took us on our first ever scuba experience....so keen to do more now. I would highly recommend this tour to whoever is adventurous and wants to spend the day amongst equally adventurous and water keen passengers.

MaryJo A United States of ...
December 2015
Our guides were fantastic! This was very well organized and informative. They give you wet suites to wear and supply all the dive and snorkel equipment. Lots of food and beverages. We saw so many fish and coral on our 3 reef experiences. Loved it!
June 2015
This was a 5-star trip anyway, but the fact that we left our underwater camera onboard and didn't realize until we got back to the states.......and the swift boat company found it and had it shipped back to us was incredible!
February 2015
January 2015
Staff were very helpful and respectful, had a very bumpy ride, but everyone was a great help. Dive instructors are great, they really love their job, and want you to have a great experience. Seeing a sea turtle was the high light of my trip!!!!!
July 2014
Very well organized, the staff friendly knowledgeable of the reef. Definitely got your money's worth. The reefs were absolutely beautiful. The amount of food you got was good too. You got a morning snack, lunch and then an afternoon snack. Very memorable day thank you guys!
February 2014
Amazing. The staff are professional, yet friendly and approachable. I had never dived before and panicked a little at my first attempt but they were patient with me and helped me get over my initial fears. There may seem like there are a lot of people on the boat however this helps with the atmosphere and the number of people actually diving (and therefore require a little more attention/assistance) is a very manageable size. The food on on offer (breakfast and lunch) is plentiful and overall very good value for money. Cannot recommend this enough.
Advertisement
Advertisement