Take a scenic helicopter tour from Cairns and spend the morning relaxing on far-flung Vlasoff Cay, surrounded by the beauty of the Great Barrier Reef. You will land on this remote coral sand island with all the supplies you'll need for your two-hour island retreat: a gourmet picnic hamper including champagne and nibbles, picnic blanket, beach umbrella, deck chairs and snorkeling equipment. What more could you wish for!
Highlights
Helicopter tour from Cairns over the Great Barrier Reef to Vlassof Cay
Stunning 30-minute helicopter flight over the Great Barrier Reef
Two relaxing hours on Vlassof Cay to do as you please
Gourmet picnic hamper with champagne
All supplies provided, including beach umbrella, blanket, deck chairs and snorkeling equipment
Recent Photos of This Tour
Private Helicopter Tour: Great Barrier Reef Island Snorkeling and Gourmet Picnic Lunch
What You Can Expect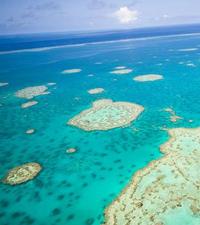 Scenic helicopter flights from Cairns take you over the stunning Great Barrier Reef, one of the world's greatest natural wonders. You'll have unforgettable views of the Great Barrier Reef's coral and marine life, plus the gorgeous tropical coastline and islands of Far North Queensland. While enjoying the incredible views of the reef, you'll take some of the most spectacular photos imaginable.
You'll then have two hours to relax, read a book, swim in the crystal-clear waters, snorkel, bask in the sun, snack on your gourmet picnic supplies and sip champagne. And as you soak up the magic of this idyllic world, you'll be equipped with life's little comforts, like a picnic blanket, beach umbrella and deck chairs.
April 2014
The people at the tour company were very friendly and comfortable to be around. The food was fantastic! We weren't exactly sure what we expected, but this experience far exceeded everything we could have imagined! Highly recommend it to anyone wanting a "private" experience on the Great Barrier Reef. Much better than riding 2 hours each way in a boat and having to spend 4hrs on a pontoon with numerous other vacationers.
April 2013
For a special occasion, or even just because, this is a sensational trip to do. On time, professional pick up from our hotel, followed by a required safety information session, but it wasn't long til we were in the sky. Landing on Middle Cay just as the tide was receding was fantastic. While we snorkelled, our pilot laid out a picnic rug and champagne brunch - a very generous offering compared to others we have experienced! Having two hours to snorkle, swim, lie in the sun and just enjoy the reef was wonderful. An experience we couldn't recommend more highly!
September 2011
I definitely recommend this trip to anyone - great experience with a very friendly and knowledgable pilot.
July 2011
The helicopter flight was wonderful, the staff, pilot and food provided were excellent. Unfortunately it was quite breezy on the day but you wouldn't have known it in the helicopter. Cannot rate the experience highly enough and will definitely do it again.
October 2008
we had a fantastic time. Our Pilot was very informative about the area and very easy going and friendly. We have been telling everyone about our trip. It was the best thing we've ever done!
August 2008
We had a fantastic time on this trip and would definitely recommend it. Our pilot was excellent, really interesting and good fun and helped make the trip even more special. Please pass on our thanks! The food was also excellent and loads of it. Sitting drinking champagne at 10am on a deserted sand island surrounded by sea was a perfect way to spend my boyfriend's birthday!
August 2008
I would highly recommend this tour to everyone. The picnic lunch was wonderful and the pilot was very personable. A once-in-a-lifetime experience.
January 2009
The Heli charter was awesome. My wife and I were on the Cay for a memorable mimosa and picnic. Water was a bit rough due to a storm, but you cant control a storm, can you. Great moments for our honeymoon! Food was OK, Mimosa was wonderful. Highly recommend. Note The pilot and the helicopter stay with you on the Cay. We did have some unwelcome boaters dock but left after 15 minutes. Also, if other people have arrived at the Cay before you, the helicopter cannot land and your package becomes a 1 hour great barrier reef and rainforest tour.
July 2014
The weather was the problem, the pilot did all he could to make the most if it but we couldn't have the picnic. I was dissapointed but it couldn't be helped. Wish I had more days there so I could have rescheduled in better weather.
Advertisement
Advertisement