Get your adrenaline pumping on a skydiving adventure from Cairns. Enjoy incredible bird's-eye views of the World Heritage–listed Great Barrier Reef as you jump out of a plane on a tandem skydive with an experienced diver. Fall freely from 14,000 feet (4,270 meters) in the air before floating by parachute back down to the ground. First-timers are welcome.
Highlights
Skydive from up to 14,000 feet in the air!

Spectacular views of the Great Barrier Reef and World Heritage–listed rainforests

Jump in tandem with a highly trained professional instructor
No previous experience required
Personalized dive certificate included
Why Our Insiders Chose This Tour
There is no better place to throw yourself out of a plane—the views of the Great Barrier Reef and rainforest are absolutely spectacular. The staff really help calms your nerves as you prepare to take the plunge. Just go for it—the freefall is awesome!!
Recent Photos of This Tour
Reef and Rainforest Tandem Sky Dive in Cairns
What You Can Expect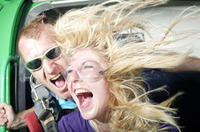 With an experienced professional strapped to your back, a tandem skydive is the ultimate way to truly appreciate the Great Barrier Reef as you look down on it from thousands of feet in the air. Start with a 15-minute lesson and safety briefing from your highly trained diving instructor before hopping in the plane and taking off into the sky.

Your drop zone sits between the World Heritage–listed rainforest and the reef, providing fabulous views of this Tropical North Queensland paradise. Surrounding Cairns are the Atherton Tablelands, the Daintree Rainforest, the Coral Sea and the Great Barrier Reef's Fitzroy Island and Green Island.

As you jump out of the plane securely attached to your instructor, enjoy the thrilling freefall before your parachute is released for the float down to the ground. If you wish to preserve your adventure in time, you may purchase photos and DVDs on the day.
June 2016
My tandem/instructor was Victor. He was very friendly he gave clear and precise instructions making me feel safe. The whole experience was incredible and not as scary I thought it was going to be. It was a beautiful day but we fell thought a cloud which was amazing!!!
One this to remember is that the cost of the photos and videos are not included in the price and are almost as expensive as the jump itself so keep that in mind but its worth every penny.
russ United Kingdom
March 2016
This was a well organised event. All the staff were professional and I felt that safety was paramount. The jump itself was amazing: you are securely attached to your guide who keeps on checking and tightening the buckles. Then you swing your legs out of the door. Next you know you are dropping downwards. No time to panic - it just seems natural. The freefall makes your ears pop but it all happens so fast that it is hard to take it all in first time round. Once the parachute is deployed things go quiet and peaceful and the view is amazing from so high up almost the height of turboprops.
The guide was clearly competent and in control so I had no worries at all - I could just enjoy the experience.
Landing: You hold your legs up and the guide lands on his feet and you walk forward. Easy. Some jumpers slipped along the grass a bit but that was no worry - the whole thing is sureprisingly gentle
Wear: they offer protective gear but most people didn't use it. They provide face visors for the first bit, then you can take these off once the parachute opens. Trainers are good I wore shorts and a t-shirt.
You need to be flexible: the idea is to bend neck back at the start and flex body and knees.
I am 54 years old and have dodgy knee and I managed it perfectly ok.
Note: for obvious safety reasons you empty pockets and take off necklaces. You can't tkae your own camera as it would fly off somewhere!
The cost doesn't include the Tax nor the photo/video stuff so this adds quite a bit so allow for this. You do need at least the pictures. Each guide has a GoPro atttached to his wrist. Excellent quality and well worth the cost about 80 pictures are taken, plus a very professionally edited video of 4-5 mins with soundtrack.
Before you jump you are sent an email to register yourself with the Aus Parachute club, a legal requirement and for 30 more you can have personal insurance too.
February 2016
Well done, good instruction, as advertised. I'd do it again!
January 2016
Amazing time! All the instructors were good fun and helpful and the views were unbelievable!! Would definitely recommend
December 2015
2nd time I've been mad enough to jump out of a perfectly good working plane, and to be fair I'll do it all over again as it was amazing and a thrill of a life time. Well organised and felt very safe with this company. The staff are friendly and will make your jump truly memorable, with pictures and a video of the experience small extra charge though but worth it.
stephanie_heuston United Kingdom
October 2015
Skydive was amazing !!
If you are nervous about sky diving for the first time don't be! My tandem master was THE BEST, made me feel super safe and was very enthusiastic. The location of the jump is stunning and I recommend getting the fabulous pics and video. You will regret it if you don't
September 2015
Unbelievable! I've wanted to skydive for years and never quite got around it to it. I'm so glad my first jump was in Cairns with it's stunning scenery, and amazing weather. The team were an awesome bunch, too. Would do this again in a heartbeat!
March 2015
No doubt that it's an experience of a life time and I would recommend to anyone! The divers are quite cheeky in that they joke around trying to scare you haha, I felt so safe though! I would also recommend buying the DVD and pictures so you remember the experience
June 2014
Tour company was efficient and communicative when there was a delay due to rain. The partners that you jumped with were fun and supportive. If you are considering doing this but are hesitate, give it a try, it is awesome and not scary at all when with your leader.
March 2014
Advertisement
Advertisement