Head back in time on this historic Alexandria Day Trip from Cairo that showcases the best of Egypt's second-largest city. Travel to this coastal destination founded in 312 BC and listen in as your expert guide shares how it was the nation's capital for some nearly a millennium. Venture into the dark Roman catacombs of Kom ash-Shuqqafa and explore the medieval Fort Qaitbey where the city's lighthouse was once located. Follow your guide into the Alexandria Library and tour the National Museum where you'll wind through halls filled with ancient artifacts dating back to the Greeks and Romans that highlight Alexandria's rich past.
Highlights
Full-day tour of Alexandria from Cairo, with an expert guide
Explore this laid-back Mediterranean city, founded by Alexandria the Great in the 4th century BC
Descend into the eerie Roman burial tunnels of Kom ash-Shuqqafa
Visit spectacular Alexandria Library, inspired by the city's great ancient library and home to eight million books!
Walk the ramparts of Fort Qaitbey, built where Alexandria's legendary lighthouse stood
Admire the Greek and Roman displays at Alexandria National Museum
Recent Photos of This Tour
What You Can Expect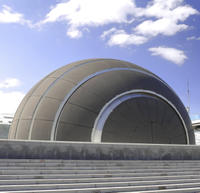 Kick off your Alexandria day trip from Cairo when you meet your guide in the center of the city. Travel in air-conditioned comfort aboard a luxury coach as you make your way to Egypt's second largest city.
Founded by Alexander the Great in 312 BC, the city's coastal views and easy access to the Mediterranean Ocean make it a destination for travelers to this diverse nation. Follow your guide into the dark Catacombs of Kom ash-Shuqqafa and venture into the three levels of tunnels that make up the world's largest Roman burial site. Learn about the chambers, sculptures and frescos and experience the spooky triclinium, where family held giant feasts to honor the fallen.
Next, your guide will take you to the former site of the Lighthouse of Alexandria, which was once recognized as one of the Seven Ancient Wonders of the World. Though the structure no longer exists, you'll learn about its mythical past and get an up close look at the 15th century citadel known as Fort Qaitbey, which was built on these hallowed grounds.
After a local lunch (own expense) your guide will take you on a tour of the Alexandria Library. Its disc-like shape is unusual for the area and is home to more than eight million books.
Finally, no trip to this fine city is complete without a stop at the Alexandria National Museum. Wind through the halls filled with Greek and Roman artifacts and gain a deeper understanding of how these European lands influenced the development of Egypt. At the close of the tour your air-conditioned coach will transport you back to Cairo and return you to your original center-city starting point.

May 2016
Had an amazing day in Alexandra, the guide was very well-informed and made sure I was comfortable with pace at which we were going, opting to spend more or less time as needed. Learned a lot about the city in-between sites we say, the education never stopped!
April 2016
Thankfully, traffic from Cairo to Alexandria was light due to a holiday. The drive is quite doable for a day trip.
My guide, Hend, was extremely thoughtful, knowledgeable and accommodating.
Each of the tour stops especially the catacombs and library was worth it.
October 2015
Long day, but worth every minute

March 2015
Our tour guide (Hind) was friendly, knowledgeable and accomodating. Some of us had to be back in Cairo for train rides to Luxor and Aswan and she was able to get us to all of the fascinating sites and back in time for our departures. The day before the tour, my ATM card was swallowed by the ATM machine and she even contacted the bank to have them hold the card for me until I returned. 5 stars for Hind.
July 2015
Fun trip with a great guide. Drive was long but not bad at all. The tombs here were different than we saw anywhere else in Egypt, and the museum, while small, was incredibly informative and well designed. As long as you don't expect the grandeur of Giza pyramids this trip is definitely worth it.
March 2015
This trip to Alexandria was great, the travel agency could not have done a better job. Dalia was a great guide and Farrak an excellent driver, kind and cool people. I was the only guest and they made a few changes to the plans for the day, no hassle. The Alexandria library is worth the trip, it is incredible.
It is however a VERY long trip (4 hours from Alexandria to Cairo...), on a very busy road, be ready for that!
December 2014
First time to meet Hend and right from the start, we enjoyed her company. We visited all the places in our itinerary with complete narration. I forget the driver's name, but kudos to his pleasant personality.
November 2015
Nice visit but hectic traffic
February 2015
Interesting connection to the Greek and Roman rule, along with being beautiful along the Mediterranean. The round trip time in transport takes a while, so please be prepare to spend the majority of the day in transit.
Advertisement
Advertisement