This dynamic tour gives travelers a chance to explore more than just the pharaohs and pyramids that make Egypt famous. Visit the Citadel of Salah el Din, the Khan el-Khalili Bazaar and Sultan Hassan on this private tour that showcases the rich culture and history of this diverse nation.
Highlights
Private tour to Alabaster Mosque, Sultan Hassan and Khan el-Khalili from Cairo

Go inside the Alabaster Mosque, where you'll learn from your guide the beliefs of Islam
Enjoy free time to shop and bargain at the Khan el Khalili bazaar
Private tour allows you to determine the amount of time spent at each site
Qualified Egyptologist guide, hotel pickup and drop-off, and air-conditioned transportation included
Recent Photos of This Tour
What You Can Expect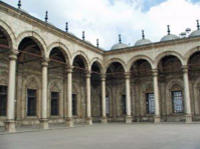 The Alabaster Mosque at the Citadel of Salah el-Din is the most famous—and most significant—mosque in the city of Cairo. And while it still serves as a place of worship, travelers of all faiths are welcome at this limestone monument overlooking urban streets. Your expert local guide will take you through the mosque and explain the basic beliefs of Islam as you explore the grounds.
Next you'll head to the Khan el Khalili bazaar, where you'll learn about the famous market that serves as a hub for local culture and commerce. Wander the lively maze of stalls and wonder at the souvenirs and local goods sold by Cairo's finest craftsmen.
Once you've had your fill of the market, continue on to the Mosque and Madrassa (school) of Sultan Hassan. This impressive structure was constructed between 1356 and 1363. Your guide will highlight its unique Mamluk architecture and explain why it remains one of the finest examples of this style in the city. Mosque and Madrassa of Sultan Hassan is one of the largest in the Islamic world, making it an essential stop on any tour of Cairo.
Since this is a private tour, you can determine the amount of time spent at each of the sites. Interested travelers can also visit the Papyrus Institute to see how this anient artwork is made and purchase genuine papyrus items. Inform your guide if you'd prefer to skip this stop.

September 2015
Excellent tour. Our tour guide was Mohamed Atef Ahmed. He did an excellent job of taking time to explain each location, its history, and asked us what more we wanted to know about each location. He knew the best locations to take pictures and which vendors were good to shop at. When it came time to drop us off at the airport, he went in and found our gate and where we could something to eat. He then even walked us back up to the airport terminal, helping us with our bags. I would highly recommend Mohamed to anyone wanting to see Cairo.
August 2015
The tour guide was amazing! He had great insight on the history and allowed me to enjoy it like a local. Visiting the mosques were beautiful and he made the experience a great one
June 2015
Awesome Tour! Our tour guide Ahmed was the best!
March 2015
We learned so much about Islamic beliefs on this tour. My husband and I now have a deep respect. Thanks to our Egyptologist guide Ahmed Kamal who not only served as our guide but our teacher as well.
March 2015
outstanding knowledge and focused spots to take excellent pictures. thank you
January 2015
Excellent tour. Fouad was an excellent guide and was very knowledgeable and answered all questions.
April 2012
This tour provides an excellent taste of Cairo. The driver was very professional and the tour guide was friendly, knowledgable and seemed genuinely interested in sharing his knowledge of Cairo. I recommend this tour.
October 2011
I had the most wonderful guide, he was asking me the entire time if I am still satisfied, if I want to hear more, if I want to go to the loo, if I'm thirsty, I can defnitely recommend this tour.
August 2011
Our overall manager, from South Sinai Travel, was Remon, who was excellent. Our guide was a woman called Hanan, who did a great job. Everything went smoothly from start to finish, and was most enjoyable.
February 2011
Incredible, but mostly because my tour guide was so informative and personable.
Advertisement
Advertisement