Discover the delights of Egypt's second largest city on this private day trip to Alexandria from Cairo. Traveling by air-conditioned minivan with your own private Egyptologist guide, uncover the Greco-Roman origins of this beautiful, laid-back Mediterranean city and see its stunning highlights. Descend into the eerie Roman catacombs of Kom ash-Shuqqafa; see the Roman amphitheater and Pompey's Pillar; and visit the awe-inspiring contemporary library: a spectacular, disc-shaped building that echoes its forerunner, the once-great ancient Library of Alexandria. Enjoy a flexible, personalized itinerary and an included lunch during your trip.
Highlights
Private day trip to Alexandria from Cairo
Kom ash-Shuqqafa Roman burial site
Pompey's Pillar and Roman amphitheater
Alexandria Library, home to a copy of every book published in the world
Enjoy privileged, personalized attention from your expert Egyptologist guide on this special private tour
Pickup and drop-off from central Cairo and Giza hotels
Recent Photos of This Tour
Private Tour: Alexandria Day Trip from Cairo
What You Can Expect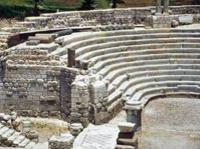 Depart your central Cairo or Giza hotel by air-conditioned minivan and travel north to the coastal city of Alexandria. On the way, let your Egyptologist guide know if there's something you want to see more or less of: as this is a private tour, the itinerary can be tailored to suit you.
As you travel, hear the history of this lovely city, the second largest in Egypt. As well as its relaxed Mediterranean atmosphere and setting, discover how it's famous for its Greco-Roman ruins, having been founded by Alexander the Great in 312 BC.

On arrival, visit the Roman burial catacombs of Kom ash-Shuqqafa. Descend into the eerie tunnels to see their carvings and sculptures — all displaying ancient Pharaonic and Roman influences — and visit the Hall of Caracalla, where the bones of massacred Christian soldier were found.

Emerge into the daylight to view Pompey's Pillar, an 82-foot (25-meter) column dedicated to the Emperor Diocletian who freed the besieged city and brought food to its starving residents.
Then, stay on the Roman theme with a visit to the Roman amphitheater. Considered the best-preserved Roman site in Egypt, the relics here include the crumpled vestiges of Roman-era houses and roads.

After an included lunch, tour Alexandria's must-see modern landmark — the spectacular city library. Shaped like a giant, angled disc, this incredible piece of architecture was completed in 2002, and commemorates its predecessor, the fabled Library of Alexandria, once the largest in the ancient world.
Look around the interior with your guide and learn how it has shelf space for a staggering eight million books. See the exhibitions on Egypt's history and if you wish, view the displays of rare antique books (additional cost).
Afterward, relax on your ride back to Cairo where your trip ends at the original start point.
July 2015
Worth doing! Again Osama took us out to Alexandria. He was great, and kind and showed us the key spots. My only regret is to have spent more time here but we only signed up for the day. Great city.

May 2015
Great day out with a great guide
October 2014
Some people don't get a guide in Cairo. That's a mistake. If you have a private guide with you, like we did, your days (and I mean, every single day) will be just amazing. Firstly, our guide spoke great english. Secondly, he is a fun, approachable, professional and extremely knowledgeable guy!!! Our guide was very proud of their history so it was just very exciting to listen to everything he had to say. The guide was also very flexible!! We had a day trip to Alexandria that we decided not to do anymore, as we felt there was still quite a lot to learn and see in Cairo. So, our guide asked us what we wanted to see and we managed to change our plans and have a great day. He quickly realised we didn't want to, for instance, do the cruises and all the super touristic stuff so he took us to a restaurant he goes to very often and likes very much. We tried a very traditional meal called 'Kushari' and it's delicious, really worth trying! Anyway, definitely take a guide. It's worth the money, you feel safer, less 'uncomfortable with the guys staring at you etc.
A guide is essential for you to have a great time and learn a lot!
July 2014
A wonderful trip. I required a Chinese speaking guide trially, they did that! Surprised me! I have to say that it was perfect trip. Generally we visit four attractions and a restuarant in Alexandria. Not too many people there and the food was really good. An amazing city. Driver and guide are highly recommended. The guide name is Mahmoud Mohamed Fayed, If you are a Chinese visitor, he will be the right person for you.
July 2012
Nice drive to Alexandria. Interesting tour.
June 2011
Again Khlaed Lotfy our Egyptogist and our driver were superb.We were able to modify our standard agenda and skip some of the planned sights and have a wonderful pinic on the Alexandria coast with our tour group providing a pinic lunch and allowing us to see the lovely Egyptian families at play on the beach.Definitely the best group of tour personnel.

June 2010
Our guide, Mahmoud, was amazing. We would highly recommend him to anyone. He was friendly, kind and knowledgeable. He was also very flexible when we wanted to change our schedule. We don't think we could have had a better guide.
Genesis A Philippines
May 2010
The tour overall was amazing! You have an exclusive and very comfortable ride all throughout the tour. The tour-guide was very friendly, accomodating, and informative. All the sites visited were magnificent and awe-inspiring especially the Library of Alexandria. And most of all, you are in control of your time for the whole duration of the tour! I highly recommend this tour especially for group of friends!
Halsi H Canada
April 2010
It was unbelievable to have our own personal guide. He was so knowledgeable, he not only explained the history of the sites but was also willing to answer questions we had about society and the Egyptian way of life. The van was clean, comfortable and air conditioned with a driver that made you feel safe. Highly recommended, and prices were comparable to vendors in town.

Jim B Canada
March 2010
The tour was a small group - myself and one other person. The guide was very knowledgeable, and added some extra stops that weren't on the main itinerary, based on what both of us wanted to see.
Advertisement
Advertisement