Discover the historical treasures of the Coptic Christian community on this 3-hour private tour of Coptic Cairo. Travel into this captivating neighborhood, also known as Old Cairo, with your private guide, and visit a medley of early, icon-adorned churches, including the Hanging Church and Abu Serga, where the holy family is said to have found refuge. Learn about Egypt's rich Coptic heritage, and visit the Coptic Museum, a treasure trove of ancient artifacts that tell the story of this Christian community, one of the world's oldest.
Highlights
Private tour of the Coptic sites of Cairo
Learn about the history of Christianity in Egypt
See the oldest Christian church in Egypt, The Hanging Church
Visit Abu Serga, one of the places the Holy family rested when fleeing Israel
Ben Ezra Synagogue, one of the oldest synagogues in Egypt
Visit to the Coptic Museum
Enjoy privileged, personalized attention from your expert Egyptologist guide on this special private tour
Recent Photos of This Tour
Private Tour: Coptic Cairo, The Hanging Church, Abu Serga, Ben Ezra
What You Can Expect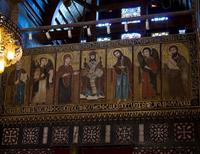 Leave your Cairo or Giza hotel by minivan and start your 3-hour tour. If you have any particular areas of interest, let your private guide know. Your commentary and itinerary can be tailored to your wishes.
Head into Coptic Cairo, an area also known as Old Cairo. This colorful quarter is the original home of the Coptic Christians, one of the world's oldest Christian denominations.
Stop to see the Hanging Church, aka St Virgin Mary's Church. Built in the 7th century, this old church takes its name from its location: sited above a gateway in the old Roman fortress.
Admire the courtyard and interiorwith its screens, marble pulpit and icons, and hear about its long history.
Next, after a visit to the Monastery and Church of St George, an early 20th-century church that is the only round church in Egypt, call at Abu Serga, a 5th-century Coptic church.
View the 24 interior columns and 12th-century icons on the walls, and learn how the church stands where the holy family is thought to have stayed during their flight into Egypt from Israel's King Herod.
Then, take a look at the Ben Ezra Synagogue, once a Christian church, before finishing your tour at the Coptic Museum, located in one of Coptic Cairo's oldest areas. See some of the 16,000 ancient artifacts on display, including precious icons and books that illustrate the history of Egypt's Coptic community.
Before your tour ends, take the opportunity to visit a papyrus institute to see artisans paint on this natural material, and perhaps purchase some artworks.
Your 3-hour tour then ends with a hotel drop-off.
May 2016
We had an excellent guide for our half day tour of Coptic Cairo. We saw all of the sites listed and we were given lots of information about each from our guide. This tour shows you this part of the city in a snap shot.
June 2015
Surprisingly I found this the most interesting of trips whie visiting Cairo. Thoroughly recommend this tour. Guide was very open minded on religion and its continued influence in modern Eygpt.
March 2015
Excellent tour! Tarek was knowledgable, patient and still as enchanted by the rich history as I was seeing it for the first time.
March 2015
We had a fantastic tour of Coptic Cairo with our excellent guide, Amgad. He was very well informed, and able to answer all of our questions. Amgad's english was perfect, and he was very passionate about his work. It was an amazing experience - one that we won't forget.
December 2014
The experience was wonderful and the guide made the tour. Not enough finger time to describe. All of Egypt was magnificent and the people!!!
October 2014
Amazing Tour! We had a great guide Fouad Salah. Very knowledgeable. I was overwhelmed standing at the entrance to the cave where The Holy Family lived for 3 months. Love it all Coptic Caire, The Hanging Church, Abu Serga, Ben Ezra. Owsome.
April 2013
Excellent tour with knowledgeable guide. Pickup and drop-off were punctual and the tour stops covered very well. The sights were far less crowded than many other Cairo tours. Thoroughly enjoyed by all of us.
April 2012
This tour was wondeful. The guide was very friendly, helpful and extremely well informed about the history of the times, area, activites, and the items in the museum. Would recommend this tour and guide to everyone.

July 2011
Tour guide Ans was very knowledgable, good tour, very happy .

June 2011
Many thanks to our guide Shereif for making this segment of the trip both educational and enjoyable.
Advertisement
Advertisement