Special Offer
Book by June 8, 2016 to save 10% off our previously offered price!
Witness the Giza pyramids, the Egyptian Museum and Khan el-Khalili bazaar on this full-day tour of Cairo, with a private Egyptologist guide. See the ancient pyramids and Sphinx at el-Giza; and discover the mysteries that surround these age-old monuments. Visit the atmospheric Egyptian Museum to see the treasures of Tutankhamun, including his gold death mask and coffins. Then, finish with time at the colorful Khan el-Khalili bazaar to barter for bargains. Enjoy a flexible itinerary that can be tailored to your interests, and upgrade to enjoy lunch during your tour.
Highlights
Private day trip to the Great Pyramids, Sphinx, Cairo Museum and Khan el Khalili bazaar from Cairo
Guided introduction to the three pyramids
Free time to enter one of the pyramids (additional cost)
Visit the enigmatic Sphinx
Tutankhamun's coffins and death mask in Cairo's Egyptian Museum
Free time to shop in bustling Khan el Khalili bazaar
Enjoy privileged, personalized attention from your expert Egyptologist guide on this special private tour
Pick-up and drop-off from central Cairo hotels
Recent Photos of This Tour
Private Tour: Giza Pyramids, Sphinx, Egyptian Museum, Khan el-Khalili Bazaar
What You Can Expect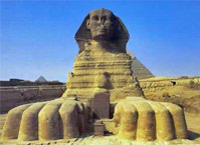 Start with a pickup from your central Cairo or Giza hotel by private, air-conditioned vehicle. Meet your Egyptologist guide, and set off to explore the city's highlights.
If there's something you want to see more of, let your guide know: your tour is private, so the itinerary can be tailored to your interests.
Visit the Giza Plateau in the el-Giza district, to admire the three Giza pyramids. Marvel at these massive ancient burial tombs, built around 2,500 BC, and learn how and why they were constructed.
Get free time to enter one of the pyramids (additional cost) and explore its empty inner chambers independently — your guide is not permitted to enter with you.
Gaze up at the colossal Sphinx, the enigmatic statue of a human-headed lion that guards the pyramids, and if you wish, visit the Solar Boat Museum (additional cost); home to the funerary boat of Khufu, the pharaoh for whom the Great Pyramid was built.
Admire the beautiful wooden boat, once used to transport Khufu's body to the site, and learn how its remnants were discovered and reassembled.
Then, head inside Cairo's Egyptian Museum, home to some 120,000 incredible ancient artifacts.
Let your guide introduce you to some of the highlights, including the star attraction: the treasures of Tutankhamun.
Admire the boy king's gold death mask, coffins and funerary treasures, and learn about his short and troubled reign. Then, enjoy some free time to explore the museum at leisure.
Finish with a visit to Khan el-Khalili bazaar, Cairo's main souk. Meander through the bustling lanes and perhaps haggle for goodies such as gold, rugs, spices and other wares.
If you've upgraded to include lunch, take a break for your meal as you travel between the sites. In addition,
pay a short visit to a papyrus institute to see how time-honored papyrus artworks are created. See some artists in action and if you wish, purchase some papyrus paintings.
When the time comes, your tour ends with a drop-off back at your hotel.
May 2016
Think we were given the very best guide in Egypt for this trip! His English was excellent, his knowledge was extensive and he was so personable He will not be forgotten!! My husband now has a heart that is lighter than a feather,K, and I thank you for that!! Wherever people choose to visit in this beautiful world, choose Viator as your trip advisor!!!
May 2016
Incredibly honored to have stepped in this 5000 years old site. The pyramids are just as mythical as they are great. We went inside up to the tomb and it's just an unique feeling to be there. The Khan el-Khalili Bazaar is a true culture immersion and full of beautiful Egyptian tokens/gifts. Our guide Ossama Sharaf was very knowledgeable and guided us through every step. We ended with a traditional mint tea in a cafe by Khan el-Khalili after going over the sites of the tour plus a few n surprises on the way I would definitely do this again and if you can, ask for this guide, he was awesome.
April 2016
Our trip was amazing. From the moment we were collected from our hotel our very professional guide Muhammad and the driver were amazing. We were treated so well and our guide was friendly and extremely knowledgeable with fantastic stories that were captivating and sparked our imagination.
March 2016
We had an excellent time seeing Cairo!
March 2016
Ahmed did a fantastic job!
February 2016
We had a full day tour with Ahmed guide and Zaki driver. Both were extremely professional and courteous. Ahmed was a very knowledgeable and personable guide. He made good recommendations and gave advice re: tourism in Cairo, without being forceful or persistent. We really enjoyed his company for the day, and were delighted with our Cairo tour experience.

February 2016
Our guide and driver were both fantastic, took us everywhere we wanted to go, spending basically as much time as we wanted at each incredible attraction and adjusting the itinerary as needed! Hit the pyramids first in the morning, especially if you want to go inside cost about 20-40 depending on which pyramid is open as there are fewer people - only a few dozen at 9am when we visited in November!
With only my friend and I on the tour, it was a very personal and enlightening experience - be prepared to haggle politely in the Bazaar, be approached to buy every trinket at every stop, asked to ride camels, horses and pose for photos for free nothing is free! and remember - لا شكرا la shukraan for no thanks with a smile, still wins a lot of friends! I would totally recommend this tour for anyone, big thumbs up to South Sinai Tours and their amazing staff! :
January 2016
It and #39;s worth it. Highly Recommend it!
December 2015
This tour is a must do! It was incredible. We went into one of the pyramids which wasn't much more . We got great pictures in front of the pyramids. We also paid extra for the camel ride. Our tour guide Tito was awesome! He's very knowledgeable. We didn't end up doing the Bazaar and chose to spend more time at the pyramids.

December 2015
It was really enjoyable. Our guide Rafat was very friendly and helpful. He not only limited to show us the monuments/places but also the culture and life style in Cairo. 100 Recomended.
Special Offer
$69.00 Save $6.90
Advertisement
Advertisement