Enjoy the personalization and intimacy of your own, private Egyptologist on this one-of-a-kind tour of the Sphinx, Dahshur, Memphis and the Giza Pyramids. Travel back in time as you explore some of the ancient world's most prized sites with the help of your expert, local guide.
Highlights
Private tour to Giza pyramids, Sphinx, Memphis and Dahshur; lunch option available

See Pyramid of Khufu, Pyramid of Khafre and Pyramid of Menkaure
Enter one of the pyramids for an additional cost
Drive to the Sphinx and explore the Mummification Temple
Qualified Egyptologist guide, hotel pickup and drop-off, and air-conditioned transportation included
Recent Photos of This Tour
Private Tour: Giza Pyramids, Sphinx, Memphis, Dahshur
What You Can Expect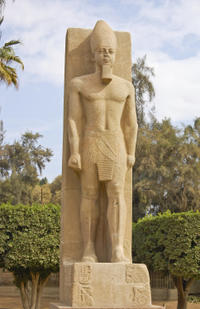 Make your way from your Cairo hotel to the Giza Plateau and prepare to embark on a memorable journey into ancient times. Your expert Egyptologist will show you the exteriors of three pyramids—Khufu, Khafre and Menkaure—as you learn about the history of this famed destination. Choose to enter one (additional cost) on your own to explore, since guides are not permitted inside.
Follow your guide to the nearby plateau to capture photos of the three pyramids emerging from golden sands with the Cairo skyline in the background. Once you've snapped your shots, make your way to the feet of the Sphinx, where you'll learn about the iconic lion with the head of a king from your Egyptologist.
From there, head to Memphis, the ancient capital of Egypt. Check out age-old artifacts like the fallen statue of Ramses II. Then head to Dahshur, where your guide will explain the differences between the true and step pyramids that emerged during the 3rd and 4th dynasties.
Because this is a private tour, you're free to determine how much time is spent at each of the destinations, making for a truly personalized experience. Travelers can opt to visit the Papyrus Institute to learn more about how this famous artwork is crafted.
July 2015
This was a great tour. Thanks to Osama for all his efforts and dispensing his great wisdom. Moufassa was a great driver! We would recommend this tour to anyone travelling to Egypt. I would also like to say, it was completely safe and I felt totally at home here!
May 2015
Khaled Lotfi was our guide. He was terrific! Incredibly informative and interesting. Definitely one of the best tour days that I ever have experienced. I look forward to my next trip to Cairo. Khaled will definitely be my first choice for a guide!
April 2015
I highly recommend this tour. The guide was phenomenal, lunch, was exceptional, and it was very well organized. I loved every minute!!
March 2015
Excelent! Fuhet, our guide was very good!
May 2013
A very long, fulfilling day. Fuad did a good job laying out our trip and giving us ample time at each venue. Having a private tour really helped gain the most out of each place. Was very surreal to be standing at the base of the red and bent pyramids with my wife and nobody else was around. What a moment. Giza and the Sphinx of course were much more crowded but we were still able to walk, talk and learn. Fuad certainly didn't oversell the prize of the stop in Memphis - the statue of Ramses. One cannot fathom how big the statue is until you see it. Also a nice touch of the trip - a stop at a family restaurant in Sakkara where a mom and her daughter were baking bread for our lunch right in front of us. Just a very enjoyable, educational day.
Juan Jose G USA
May 2010
The tour was great, we wanted to go inside the big pyramid but couldn't get tickets, they get sold out very quickly. Instead, we bought tickets for the smaller pyramid, the tour guide told us it was exactly the same. The tour guide was very nice, she helped us get some really nice pictures. She asked us if we wanted to go to any shops, something we weren't asked before in other tours, I think that was good because we got to spend more time in other places. We really enjoyed the tour, these are places you could go by yourself but if you don't have enough time and don't feel like bargaining this tour is a must.
November 2008
Note Sign up for the "Giza, Sphinx, Memphis and SAKKARA" tour. Our tour guide was awesome. When she picked us up, she gave us a great history on the pyramids and timeline. She also explained that Sakkara was the oldest pyramid and that we could see Dahshur pyramid from there if we wanted to change our itinerary. It was great being on a private tour with just our family, the guide and driver. I am SOOOO glad we did it this way rather than go on a traditional tour with a busload of people. You get to spend as much time as you want, where you want. Also, you get to go shopping during the tour and our guide was very flexible about lunch which was a plus since we had our 8-year old with us. One note - if you want to ride the horses or camels, have your guide negotiate a good price for you. Also, you can go into the Great Pyramid, but make sure you let the travel agency know when you set up the pick-up time for this tour. The guide needs to get your tickets early it is an extra charge. They only allow 300 people inside the pyramid per day 150 in the morning, 150 in the afternoon. Unfortunately, we didn't know this and missed it - but apparently it is just an empty area anyway.
Edward H USA
October 2008
Be prepared for the obligatory shopping stops that eat away some of your time, and the aggressive but not dangerous merchants that are present at all the sites. Great guide and driver. Skip the lunch
Russell O Australia
August 2008
This tour was very good. We didn't take the lunch deal because of the cost and we were happy we did not, as a lunch at that price in Cairo would be a total ripoff!
Kelly H United Kingdom
August 2008
Tour guide was great, everything is extremely professional and fantastic!!! Don't recommend going to Dashur though, should have chosen the Sakkara tour instead, but that's nothing to do with the company itself, simply an bad choice of place!
Advertisement
Advertisement