167 Reviews
Location:

Cairo, Egypt

Duration:

3 - 4 hours
Special Offer
Book by December 31, 2015 to save 10% off our previously offered price!

No visit to Cairo is complete without seeing the majesty of the Great Pyramids of Giza and the Sphinx. With your own private Egyptologist guide to lead the way, you'll enjoy personalized attention on your private tour of these famous symbols of Egypt's ancient civilization. As this is a private tour, you can determine the amount of time you'd like to spend at each of the sites you'll visit.
Highlights
Private day trip to the Great Pyramids and Sphinx from Cairo
Guided introduction to each of the three pyramids
Free time to enter one of the pyramids (additional cost)
Photo opportunity of the pyramids and Cairo skyline
Visit the enigmatic Sphinx
Enjoy privileged, personalized attention from your expert Egyptologist guide on this special private tour
Pickup and drop-off from Cairo and Giza hotels
Recent Photos of This Tour
Private Tour: Giza Pyramids and Sphinx
What You Can Expect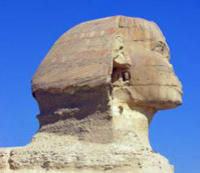 On the Giza plateau, the Great Pyramids and the Sphinx date back over 3,000 years. While there are actually over 100 pyramids in Egypt, the Pyramids of Giza are by far the most famous and are the last of the original Seven Wonders of the World. Your qualified Egyptologist guide will provide a fascinating introduction to each of the three pyramids: Cheops, Khafre and Menakaure. You will have free time to enter one of the pyramids (additional cost), although your guide is not permitted to enter with you.

After visiting the pyramids, you'll then continue across the plateau for a photo opportunity of the three pyramids rising from the sands, with the Cairo skyline in the background.

A short drive to the city side of the plateau finds you standing at the feet of the Sphinx, for thousands of years the enigmatic symbol of Egypt. The Sphinx has the body of a lion and the head of a king, and is surrounded in mystery, including the unanswered questions: who built it and why.

In addition you will have the chance to visit a Papyrus Institute to see how this famous artwork is made. If you do not want to include this visit, just inform your guide on the day.

November 2015
The best part of our tour. Drivers were very skilled at getting through the Cairo streets and outlying areas. We waited a long time to see the Sphinx and Giza Pyramids. It was awesome! Ahmad was our tour guide, spoke very good English and was very funny and knowledgeable. Thanks for a wonderful vacation. We couldn't have done it without Viator!
November 2015
Fabulous Trip - Our guide Ahmed Kamal was very knowledgeable, passionate about egypt and egyptology and had a great sense of humpour. We had an easy rapport with him and nothing was a problem. He gave us great advice on how to deal with the touts, children etc and ensured that we were well looked after and that all our questions were answered.
November 2015
Mohammad our tour guide was exceptional. His depth of knowledge and skill in teaching about the pyramids made this one of the best tours we have ever taken. I would highly recommend asking for him specifically. He puts his knowledge over in an easy to understand way. Great value in my opinion.
November 2015
Tour was of the pyramids was great. Guide was very knowledgeable. Transportation was also good...timely hotel pick-up.
November 2015
Guide was excellent. Definitely recommended.
November 2015
Clear communication, good organization, great guide!
October 2015
Best tour so far. Great guide and 5 service.
Guide spoke English, gave lots of info, not pushy and made us feel comfortable so we can do things at our pace. Driver was lovely too. I am surprised at what we got out of this. They were so considerate and made sure we got the most out of it and saw everything.
Will be booking again when I go back :
October 2015
Exactly what we wanted - picked up as arranged from hour hotel by very knowledgeable guide - would recommend
September 2015
Pyramids and Sphinx are wonderful. Guide was brilliant. Excellent English speaking and very knowledgeable. Very good value all round.
September 2015
The Giza Pyramids and the Sphinx are one of those bucket list things that everyone talks about doing and that get a lot of hype. Let me tell you, they completely and totally live up to their reputation. I've wanted to visit them since I was six years old I was a precocious kid, and when you build something up for over a quarter century, it has to be pretty spectacular. The pyramids and the Sphinx are there's no way to describe how incredible it is to get to interact with ancient history on such an intimate level you can even climb inside the Great Pyramid, although be aware that it's pretty tight inside and a physically challenging climb. The tour takes you up close and personal and then out to a plateau with a view that makes you feel like you've stepped inside the pages of National Geographic. Our guide, Mahmoud, was incredibly friendly and knowledgable he took care of everything we needed and I would highly recommend requesting him specifically for your tour. A, can't recommend highly enough.
Special Offer
$37.00 Save $3.70
Advertisement
Advertisement