155 Reviews
Location:

Cairo, Egypt

Duration:

3 - 4 hours
No visit to Cairo is complete without seeing the majesty of the Great Pyramids of Giza and the Sphinx. With your own private Egyptologist guide to lead the way, you'll enjoy personalized attention on your private tour of these famous symbols of Egypt's ancient civilization. As this is a private tour, you can determine the amount of time you'd like to spend at each of the sites you'll visit.
Highlights
Private day trip to the Great Pyramids and Sphinx from Cairo
Guided introduction to each of the three pyramids
Free time to enter one of the pyramids (additional cost)
Photo opportunity of the pyramids and Cairo skyline
Visit the enigmatic Sphinx
Enjoy privileged, personalized attention from your expert Egyptologist guide on this special private tour
Pickup and drop-off from Cairo and Giza hotels
Recent Photos of This Tour
Private Tour: Giza Pyramids and Sphinx
What You Can Expect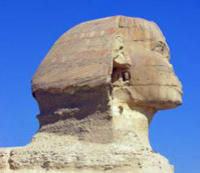 On the Giza plateau, the Great Pyramids and the Sphinx date back over 3,000 years. While there are actually over 100 pyramids in Egypt, the Pyramids of Giza are by far the most famous and are the last of the original Seven Wonders of the World. Your qualified Egyptologist guide will provide a fascinating introduction to each of the three pyramids: Cheops, Khafre and Menakaure. You will have free time to enter one of the pyramids (additional cost), although your guide is not permitted to enter with you.

After visiting the pyramids, you'll then continue across the plateau for a photo opportunity of the three pyramids rising from the sands, with the Cairo skyline in the background.

A short drive to the city side of the plateau finds you standing at the feet of the Sphinx, for thousands of years the enigmatic symbol of Egypt. The Sphinx has the body of a lion and the head of a king, and is surrounded in mystery, including the unanswered questions: who built it and why.

In addition you will have the chance to visit a Papyrus Institute to see how this famous artwork is made. If you do not want to include this visit, just inform your guide on the day.

July 2015
This tour is a must do when visiting Cairo! Our tour guide was very knowledgable. Also recommend doing the camel ride around the Pyramids. Caution, the guide of the camel will want a large tip, 20 pounds is sufficient enough as the camel ride is 100 pounds.
June 2015
Excellent tour! Our guide did a great job of showing us the sights, giving us some of the history of Egypt, and taking some great funny pics of us kissing the Sphinx. The full-day tour is definitely worth it!
June 2015
Excellent!!! An extraordinary experience! Our guide Ahmet was very personable, kind, intelligent, a great storyteller, and made sure everything was amazing and totally comfortable from start to finish. I look forward to exploring more of Egypt with Ahmet as our guide. A true asset to your company. Thank you very much!
June 2015
The tour was amazing. Our tour guide was extremely informative and made the tour highly enjoyable. I would highly recommend the pyramid tour and museum tour to really make your day worthwhile because it just completes the historical voyage.
May 2015
Outstanding. My guide Achmed spoke perfect English and was eager to answer any question I had. Provided lots of useful and interesting information on the pyramids and sphinx. He was happy to take pictures for me. He also kept the aggressive vendors away and navigated my way through the security checks and crowds. This trip also features a trip to a papyrus/art shop afterwards.
May 2015
This was an excellent tour. Fouad was very knowledgeable and great company along our journey. Don't let the media reports steer you away. Not once did we feel uncomfortable.
April 2015
Fantastic tour guide! Extremely knowledgeable and gave us the ins and outs of getting around the Pyramids and the Sphinx. What an experience! Definitely will book with Viator again they contract with great representatives. He was prompt, courteous, and easy going. Gladly tipped for his expertise, and honestly regretted not tipping more. I hope we get set up with this guide again when we return to Egypt.
April 2015
This is a must do on anyone's trip to Cairo! Our tour guide was very knowledgeable about the pyramids and the Sphinx. He also was very helpful pointing us toward the souvenir dealers and camel ride providers that wouldn't try to hassle us. He took excellent photos of us during our tour. I highly recommend having a tour guide while visiting the pyramids instead of trying to do it yourself.
April 2015
My tour guide was very knowledgeable, spoke great English and was very kind. If I wanted to go somewhere or spend more time somewhere, he was more than willing to let me. Oh, and Giza was incredible!
April 2015
Great guide, great driver, highly recommended!
Advertisement
Advertisement