Discover Memphis and Saqqara on a 3–4-hour private tour from Cairo with an Egyptologist guide, and explore some of the country's most iconic pyramids and royal tombs. Walk the perimeter of Saqqara's distinctive step pyramid, which is just one part of the vast necropolis at Memphis. Learn the stories behind the ancient city, and customize this tour to your own interests; after strolling through tombs and pyramids, you may opt for a trip to the Papyrus Institute to learn the ancient Egyptian art of scroll making.
Highlights
Private tour from Cairo and Giza to Memphis and Sakkara

See two of the most important archeological sites in Egypt
In Sakkara, you'll see the Step Pyramid, the oldest pyramid in Egypt
Private tour allows you to determine the amount of time spent at each site
Qualified Egyptologist guide, hotel pickup and drop-off, and air-conditioned transportation included
Recent Photos of This Tour
Private Tour: Memphis and Sakkara
What You Can Expect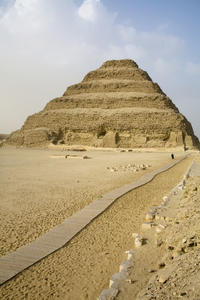 Memphis, founded around 3,100 BC, is the legendary city of Menes, the King who united Upper and Lower Egypt. Early on, Memphis was more like a fortress from which Menes controlled the land and water routes between Upper Egypt and the Delta. Having probably originated in Upper Egypt, from Memphis he could control the conquered people of Lower Egypt.
A 20 - 30 minute drive away from the Pyramids of Giza, Sakkara, home of Egypt's oldest pyramid. Built by Imohotep for pharaoh Zoser in 2650BC, the famous Step Pyramid is well preserved. Your guide will give you a brief history of the site before allowing you free time to walk around the perimeter of the impressive structure.
Sakkara is one section of the great necropolis of Memphis, the Old Kingdom capital and the kings of the 1st Dynasty as well as that of the 2nd Dynasty. are mostly buried in this section of the Memphis necropolis. Three major discoveries have recently been made at Sakkara, including a prime minister's tomb, a queen's pyramid, and the tomb of the son of a dynasty founding king.
This is a private tour allowing you to determine the amount of time spent at each site during the tour. In addition you will have the chance to visit a Papyrus Institute to see how this famous artwork is made and have the chance to purchase genuine items if you wish. If you do not want to include this visit, just inform your guide on the day.
December 2015
The Sakkara step pyramid was incredible! It's really close to Giza. Memphis didn't have as much, but it was still great to see. Our tour guide Tito was so informative! I highly recommend asking for him!
November 2015
Two unknown gems that people should really see on their trip to Cairo. Travel was easy and Ahmad was the best guide and very knowledgeable. Thank you Ahmad for taking such good care of us!
October 2015
Step back in time and walk through one of the ancient capitals of Egypt. Truly an amazing opportunity plus a great young Egyptologist who have gave us great insight into the history of this wonderful place. I would highly recommend friends and colleagues to visit this place along with this tour company that have taken us on this tour.
September 2015
A fascinating look at the early pyramids and some of the finest art from ancient Egypt and the reign of King Ramses. Highly recommended. Request Mahmoud as your guide he's very personable, knowledgable, and takes wonderful photographs if you're in a group!
May 2015
Again another highly experienced guide who added so much to our trip.
October 2014
Amazing Tour. We had the same tour guide Fouad Salah and driver Husam with us everywhere. They were very friendly and helpful very knowledgeable. Loved the first pyramid in Sakkara and the Mamphis with statue of Ramses owsome.
June 2013
Again, great tour guide mixed with some must see sights. The first pyramid (step pyramid by Imhotep) built almost 5000 years ago to be so well preserved, also got to go into the pyramid of Tite in Saqarra. Then memphis, with the statue of Ramses (worth the price alone) With your own Egyptoligist. (was alone and it became a private tour) Heaven for a man or woman that loves history!!
February 2013
An absolutely wonderful tour. Chaly was a fantastic tour guide. My friend and I were picked up to the hotel and taken to Memphis. The tour guide spoke English very well and explained everything very in-depth. I highly recommend that you do this tour.
November 2012
good value for money and a great guide
November 2012
We had a great time. I went with my husband, 9 and 11 year old and my 2 month old. We travelled in a private van so I could take breaks to feed the baby. We had a fantastic time! The Guide was very knowledgeable and spoke excellent English.
Advertisement
Advertisement