Travel back in time on this family-friendly private tour of a pharaonic village in Cairo. Bear witness to life in ancient times in this living museum of Egyptian life. Tour an amazing replica of Tutankhamun's tomb and gain expert insight thanks to your own private Egyptologist.
Highlights
Private tour to the Pharaonic Village in Cairo
See a replica of King Tutankhamun's tomb
Family friendly activity
Experience life in ancient Egypt during the time of the pharoahs
Enjoy privileged, personalized attention from your expert Egyptologist guide on this special private tour
Recent Photos of This Tour
Private Tour: Pharaonic Village
What You Can Expect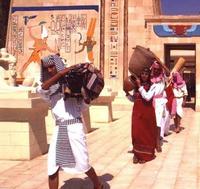 Enjoy a look at ancient Egyptian life on this private tour of a pharaonic village in Cairo. Experience daily life as it unfolds around you and wonder at the authenticity of this living museum. Check out reenactments of historic scenes, like Moses floating in the Nile, and tour a replica of King Tutankhamun's tomb. This recreation allows travelers to see the original tomb in all its splendor, since treasures inside the original at Valley of the Kings were emptied long ago.
Local experts also demonstrate the art of mummification in a truly memorable presentation and an on-site museum showcases the history of Alexandria as well as Islamic and Christian religions.
August 2015
June 2015
Amazing! Our tour guide was informative, energetic and catering!

August 2012
This trip was awesome. I wish for the life of me that I could remember my tour guides name, as he was incredible and even told me I shouldn't tip him (I did anyway) as they have guides at the village that explain things. My boss told me to make sure I stopped here and I am so glad that I did, as you get a glimpse of how things were made during the pharaonic times.
Maureen H United Kingdom
November 2008
Only regret is not enough time to linger and absorb so much fascinating information
April 2012
Very enjoyable and a well worthwhile place for students of all ages

June 2011
This is a tour best done after visiting the Pyramid and Museum; it puts a face to the history . It also helped that our guide Shereif was so good a explaining the history at the other sites that we really enjoyed this experience.
November 2010
Informitive.

Cromaris Brazil
February 2010
The guide was extremely helpful and polite to us, answering all our questions concerning our tour as well as adding information about all the places we saw. He was an excellent guide and I would for sure recommend him and your company to my friends. Not only would I recommend him, but also would contact him and your company in case I return to Cairo in the near future.
Deborah D United Kingdom
November 2008
Great for families and our Pharaonic guide was wonderful.
February 2011
Okay tour, better for children than adults. Guide good and driver also.
Advertisement
Advertisement