Location:

Calgary, Canada

Duration:

Flexible
GyPSy Guide is the perfect tour guide for your driving holiday in western Canada. You can install it into any vehicle by simply attaching it to the windshield and then just start driving. It is easy to use, very entertaining and since it always knows where you are, you can just relax and enjoy the commentary as it automatically plays at just the right time. Easily navigate routes across British Columbia and Alberta, including the Rocky Mountains, Banff, Calgary, Vancouver and Victoria.
Highlights
GPS guide for your Canada vacation

Navigate like a pro with the easy-to-use GPS navigation system

Get directions for routes across British Columbia and Alberta, including the Rocky Mountains, Banff, Calgary, Vancouver and Victoria

Enjoy commentary about the sights you pass

What You Can Expect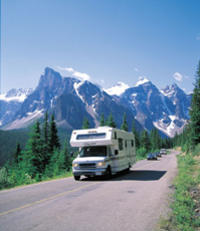 Just because you want to drive yourself on vacation through the Canadian Rockies and around British Columbia, it doesn't mean that you miss out on learning about what you are seeing and be able to enjoy it even more. If bus tours don't suit you and you like doing the driving, then renting a GyPSy Guide is the answer.

GyPSy Guide allows you to travel at your own pace, visit the places you want to see. The tour commentary has been built by a team of accredited, professional tour guides so you will learn much more than a single tour guide would be able to share with you. Think of it as a local friend, who will share interesting stories and entertain you along the way.
GyPSy Guide tells shares interesting facts and stories with you about the things you see as they come into view. The guide is filled with great activity suggestions, history, explorers, hidden viewpoints, photo opportunities and quirky tales you won't hear anywhere else!
GyPSy Guide has an extensive range of popular, self-drive touring routes across British Columbia and Alberta, including the Rocky Mountains, Banff, Calgary, Vancouver, Victoria, and the routes connecting them.

Reserve your GyPSy Guide rental today and get the most enjoyment from your visit to Western Canada.

Please note: to reserve 1 GyPSy guide, simply select 1 adult. Only 1 GyPSy guide per vehicle is needed.
Itinerary
How It Works
The GyPSy Guide is a small device (PDA) that rides along with you in your vehicle and transmits through the vehicle's stereo. As you drive through an area of interest, the device automatically plays an audio commentary specific to that location.

The commentary is an entertaining mix of interesting stories, facts and figures, history, geopgraphy, directions and Canadiana, all recorded by professional tour guides. And the best thing is, the commentary starts and stops by itself because the device always knows where you are! You can leave the vehicle for a hike, lunch or rest break and it will start up automatically at the next point.

The technology is sophisticated but simple to use. Once its attached and turned on, there is nothing else for you to do - other than enjoy the commentary and entertainment as you take in the spectacular scenery and points of interest.


FAQ's
How do I get the GyPSy Guide into my vehicle?
The device attaches to the windshield of any vehicle. It has a cord you can plug into a cigarette lighter to ensure that the device has sufficient power, but it can run for hours on its own batteries. It is attached to the windshield so it has a clear view to overhead satellites, using a suction cup that leaves no evidence or damage of any kind.

Can I use it in a rental car?
Yes. Because the device has no effect on the vehicle and causes no damage, it can be used in any vehicle - your own or a rental. You can attach it to any type of windshield including cars, SUVs, minivans, or RVs.

I'm not very good with computers. Can I still use the GyPSy Guide?
That is one of the great things about GyPSy Guide. After you attach it to your windshield, all you have to do is turn it on. Using the GPS, the device always knows where you are and automatically plays a commentary relevant to your location.

What if I go off the suggested route?
It's okay if you leave the route for which there is content. You can rejoin the route later. You don't have to follow the route in any specific order. If you miss a major turn, you may be asked if you meant to miss that turn. That's the beauty of the system. You can go off on your own side trips and then return to the tour.

Is it safe to use while driving?
Yes. Most of the files are audio, so you can concentrate on the road without any need to look at the device. It requires no more concentration than listening to a radio. If there is a visual presentation for an area, the device will advise you to pull into a viewpoint or safe point on the side of the road. At which time you will be able to activate the slideshow or video, without being in a dangerous position.

Is it available in languages other than English?
Tours can be heard in English or German.

But I have a guidebook already?
Yes, but with the GyPSy Guide you don't have to look at the book while you are traveling. Everything happens automatically. You don't have to guess or assume you are looking at the right thing because the device lets you know when it's the right time to notice a point of interest.
Advertisement
Advertisement