25 Reviews
Location:

Cancun, Mexico

Duration:

9 hours

(approx.)
Explore Cancun like never before - through the jungle and in a Hummer! Hop aboard a fully automatic Hummer and take the adventure of a lifetime, visiting an authentic Mayan ruin and interactive zoo, snorkeling in an underground cave and going on a thrilling ziplining adventure! Book your all-inclusive Cancun Hummer tour today and experience the very best of the Riviera Maya!
Highlights
All-inclusive Hummer tour of the Cancun area

Stop at an authentic Mayan ruin and feed the local iguanas

Visit an underground sinkhole where you can cliff dive, swim and zipline

Explore an interactive zoo and get up-close and personal with all the animals

Why Our Insiders Chose This Tour
It's a hodgepodge of history, wildlife and adventure. See a Mayan ruin, feed iguanas, ride an ATV through the jungle, and -- if you're up for it -- dive or zipline into an underground sinkhole. A very active day!
Recent Photos of This Tour
All-Inclusive Self-Drive Hummer Tour: Snorkeling, Ziplining and Interactive Zoo
What You Can Expect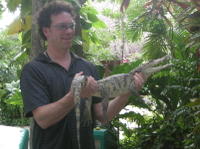 Boarding your Hummer vehicle, you'll head directly for the "El Rey" (The King) Mayan ruins, a magical archaeological site near the Cancun hotel zone. Spend approximately one hour here, interacting with the Mayan culture, animals and nature. You'll also have the opportunity to admire and feed the hundreds of iguanas which call "El Rey" their home!

Then, go for a 60-minute drive in a two person ATV along an off-road track through the jungle and swamps to a cenote, an underground sinkhole with crystal-clear waters. With the clearest and purest water that you could ever imagine, you'll be able to see the bottom of this 65 foot (21 meter) sinkhole without a problem! If you're feeling adventurous, jump off of two different cliffs into the clear, underground cenote. You'll also have the chance to zipline into the cenote from approximately 10 feet (3 meters) high or enjoy views from above the treetops on a three line zipline course that also includes two hanging bridges.

While at the cenote, you'll learn about the religious beliefs and importance of the area to the Mayan people. Discover facts about the geological aspects of stalagmites, stalactites and of course the underground rivers which are a natural formation found all over the Peninsula. You can swim and cliff dive at these natural wells or spend more time on the zipline!

Next on the itinerary is a private beach club, where you'll have time walking along the beach or swimming in the water. You'll also enjoy a delicious lunch here and savor the true taste of Mexico!

Your last stop is the interactive zoo called Croco Cun. Here, you'll have the chance to feed and interact with various types of animals, including monkeys, macaws, snakes, deer and, of course, crocodiles! Get as close to the animals as you can possibly imagine and learn interesting facts about them before jumping back into your Hummer and heading back to Cancun!
September 2015
Great tour guide and a lot of fun!
July 2015
We had a great time. We had a group of 8, 3 adults and 5 kids ranging in age from 10 - 15, boys and girls. Every one of us had a super time. Merak is an excellent guide - great balance of knowledgeable and fun.
June 2015
Great trip. Guide was very knowledgeable, spoke "perfect" English , and was very attentive to our needs. We couldn't be more pleased.
May 2015
Guide merak was brilliant! Full of knowledge and fab sense of humour.The mayan ruins are magical. The zoo is amazing and you get so close to the animals. Partner loved driving the hummer! Zip line and ATV were fun - ATV is extremely bumpy!Centote is beautiful and refreshing. Private beach/food fab!
April 2015
Meraki was amazing he is so much fun and knowledgeable, he made the tour perfect. This tour is great because you get to do a little bit of everythING and it's totally worth what you pay for.
March 2015
Me and my Fiance booked the jungle tour for our trip to Mexico. It was one of the best excursions we ever been to. First and foremost, our tour Guide was amazing. his name Merak and he did a wonderful job of showing us around mexico. He had great knowledge about the mayan ruins and took us to great place for lunch. They had the best fish tacos. We also enjoyed the interactive zoo and Atvs. I would highly recommend booking this trip
March 2015
This is a great excursion to do get a little bit of everything action , culture ,knowledge ,and local history tour guide was great hummers were very nice the one small down fall was the atv were pretty rundown an beat up but other then that was a great day highly recommend it good time for the money
December 2014
This was sooo much fun! We recommend this to anyone wanting to experience everything. We had the best guide and would do it again! Just make sure you are up to all the activities listed so you don't hold anyone else back on the tour. (We had this problem w/ people in our group)
June 2014
This tour is a must for adventure seekers. Our tour guide Merak was excellent and very trustworthy. The driving is fun and easy so nothing to be afraid of. The Interactive Zoo is great and you get closer to some animals than you ever will (crocodiles.) The Ziplining and ATV riding was awesome, bring a GoPro Camera if you can its worth capturing although they will take pics for you. And the Cenote swimming and cliff jumping was out of this world. A MUST DO TOUR!!!! The best tour I have ever done so far.
April 2014
Advertisement
Advertisement