Delve into the waters of the Yucatan's vast subterranean caverns on this exclusive 2-tank trip for certified scuba divers. Along with a professionally trained guide you'll experience the famed Mayan cenotes or sinkholes just beyond Cancun. Witness the impressive visual effects of haloclines while diving among the many limestone rock formations of this massive underground cave system, and learn about its unique role in Mayan history as you go.
Highlights
Enjoy a cenote dive off the coast of Cancun

Explore the famous Mexican cenote system

Dive through the impressive stalactite and stalagmite cave formations

Hotel drop off and all equipment included

Why Our Insiders Chose This Tour
A cool and different experience for certified divers. All equipment and lunch are included on this tour that introduces you to Mexico's remarkable underwater caves.
What You Can Expect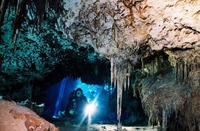 Explore the Yucatan's famous underground cavern system with an expert guide. Plunge beneath the waves on a 2-tank cavern dive of Cancun's cenotes, sinkholes that lead to massive underwater caverns. Just like the caverns on land, cenotes have interesting topographic features including stalactites, stalagmites and haloclines, an aquatic phenomenon that occurs from fresh water sitting on top of salt water, creating a spectacular, swirling, filmy effect.

Your guide will lead you into the depths of this magnificent underwater world and explain how the cenotes were central to the life of the Mayan. They provided the Yucatan's indigenous people with water, hiding places and ceremonial venues. After you've plunged to the depths of the cenotes, lunch is included at a small palapa lunch area.

Please note: this dive is for certified divers only. The caves visited are Cavern Chickin Ha on Mondays, Tajma Ha on Wednesdays and Dos Ojos on Fridays.
February 2015
Amazing best dive I've ever done. I don't know of many places of the world for cave diving. Inside the xenote the phenomenon of fresh water on top of salt water is mind blowing. It looks like a lake at the bottom of the water. The guide Hector was super friendly and made me feel safe.
August 2013
Our family had a great time.
July 2013
The actual diving was good. The Cenotes were amazing. But the operators (company you subcontract) need to step up. Equipment didn't look trustworthy which is extremely important due to the tremendous risks of having something failed underwater undercavern. Wetsuits with holes and regulators attached with tie wraps not good at all. Also the bathrooms of the installation (in store and in the cenote area) were simply deplorable. We had to go downhill down stairs and to the cenote and back up with two buckets of water to drain the toilett. They should put more effort on keeping the area decent for tourists and for them.
Advertisement
Advertisement