Special Offer
Save up to 11% on attraction admissions by booking this package with us!
Experience some of the Yucatan's most exciting and exhilarating activities with a Cancun Combu tour. Select from four outstanding options, visiting captivating attractions such as Xcaret, Xel-Ha, Xplor and Chichen Itza. Immerse yourself in the natural and historical majesty of some of Mexico's best aquatic, adventure and archeological parks, touring ancient sites and legendary landmarks with a knowledgeable and experienced guide. Convenient round-trip transportation from your Yucatan hotel is included, in addition to delicious food and drinks inspired by local specialties. Simply take your two selected tours with 15 days of each other to enjoy this excellent economical offer.
Highlights
Cancun combo with admission to two attractions
Get acquainted with Mexican history and cultural traditions at Xcaret (if option selected)
Dip into the world's most beautiful natural aquarium at Xel-Ha (if option selected)
Soar through the Cancun jungle on ziplines at Xplor (if option selected)
See the pyramids of Chichen Itza and enjoy the renowned gastronomy of colonial Valladolid (if option selected)
Food and drinks plus equipment included
Round-trip transport by luxury coach from regional hotels
Why Our Insiders Chose This Tour
This unique combo tour is great for families! It allows you to select two admissions that take place over two days – all entrance fees included.
Recent Photos of This Tour
What You Can Expect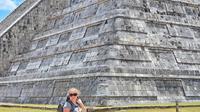 Rise early and enjoy convenient and comfortable transportation from hotels in Cancun, Tulum, Riviera Maya and Playa del Carmen with this exciting and economical combo tour.
Delve into natural splendor at the majestic paradise of Xcaret, an alluring aquatic park located upon the crystal clear Caribbean Sea. Discover a shimmering tableau of tropical fish and exotic flora and fauna at the ecological preserve of Xel-Ha. Satisfy an appetite for adventure at Xplor, an amazing adventure park boasting subterranean caverns and ancient history. Uncover the Mayan mysteries of Chichen Itza and gain insight into the indigenous culture of Valladolid to enjoy a selection of sumptuous culinary specialties. (see complete tour descriptions in the itinerary below.)
Itinerary
Option 1: Xcaret
Xcaret boasts more than 40 aquatic activities, natural attractions and cultural shows, including a butterfly pavilion where native butterflies of the Yucatan Peninsula fly in their natural habitat, a coral reef aquarium, a henequen hacienda with its Museum of Popular Mexican Art and a seven-level Mexican cemetery with 365 tombs!
Enjoy access to beaches, bays and natural pools with complimentary lounge chairs, hammocks, lifejackets and inner tubes. Swim or snorkel in the pristine waters of Xcaret's underground rivers and stroll through the Tropical Jungle Trail. Marvel at the views from the Rotating Scenic Tower, visit the House of Whispers and see the Living Museum of Orchids. At the end of the day, dazzle your senses with a musical spectacle of light and color that takes you on a journey through the history of Mexico since pre-Columbian times.
Your admission includes a buffet lunch with one beer and unlimited beverages (soft drinks, flavored waters and coffee) with your food.
Option 2: Xel-Ha
Considered the world's largest natural aquarium, the park offers snorkeling among hundreds of tropical fish and more than 90 marine species that inhabit the creek. Enjoy the best marine and land activities in Xel-Ha's series of inlets, lagoons, sinkholes and caves, where seawater mixes with the fresh water of the world's longest underground river system. Take advantage of educational programs such as the conservation of the endangered queen conch.
Enjoy complimentary lifejackets, inner tubes and bicycles with access to lounge chairs, hammocks and rest areas. Slide down ziplines and splash into the crystal clear waters of a cenote or dive into a spectacular cove. Vsit Xel-Ha's vegetation nursery, and marvel at the mangroves and rainforest dotted with orchids. See the apiary of the Melipona bee (with a traditional Mayan harvest of honey twice a year) and learn more about the Mayan culture.
Your admission includes buffet-style breakfast, lunch and snacks (international and Mexican cuisine) with unlimited drinks and a domestic open bar.
Option 3: Xplor
Explore the dimensions of the adventure park and its natural beauty: Fly through the air and speed down ziplines ranging from 26 to 148 feet (8 to 45 meters) in height, then land in the crystal-clear waters of the cenotes where you can climb suspension bridges.
Drive an all-terrain amphibious vehicle through jungle trails and fascinating caves where you'll marvel at the extraordinary rock formations. Paddle a raft through underwater caves and discover fascinating grottos. Swim along the river between stalactites and stalagmites in this spectacular underground world. Trained staff are on hand to ensure your safety at all times, and all equipment (including lifejacket and helmet) are included.
Your admission includes an all-you-can-eat buffet (go as many times as you wish during the day), unlimited fruit-flavored drinks and hot chocolate when you get out of both rivers.
Option 4: Chichen Itza - Valladolid
See Chichen Itza, a UNESCO World Heritage Site and one of the new Seven Wonders of the World, on a first-class guided tour of the ancient city. Discover the magnificent buildings and get deep into the history of the Mayan civilization and its glorious past. After visiting a Mayan cenote, head to Valladolid, a beautiful and quiet colonial city known for its culinary delights.

Learn about the archeological significance of the Pyramid of Kukulcán (also known as El Castillo – The Castle), the Temple of the Warriors and its adjacent Temple of the 1,000 Columns, as well as the Temple of the Jaguars. View Mesoamerica's largest Ball Court in addition to the Observatory, La Iglesia and the Nunnery. After your tour, stroll around charming Valladolid, and admire the restored French floors and balconies of the main facade at La Casona as you savor regional specialties.
Your admission includes a light gourmet breakfast on board (baguette sandwich, fruit, muffin and natural juice) and a delicious lunch buffet with drinks at the exclusive Casona de Valladolid. Enjoy unlimited soft drinks, fruit juice, coffee, bottled water and beer – along with refreshing facial towels – while aboard the bus.

June 2016
Xel-Ha was fantastic! Well worth the money in my opinion. We loved that you could purchase a photo package as we didn't bring any water proof cameras. Photos were wonderful and great color too! Food was great and having all you can drink beverages helped on the very hot day we were there. Loved the interaction with the dolphin but the trainer did seem a bit rude at times. Kids loved the snuba dive with the fish. Overall a great park to visit, but you have to love the water and swimming, otherwise you might get bored. Not able to go to Xcaret this visit, but hoping our next trip we will be able to make it. Xplor was wonderful too! I could have spent all day doing their awesome zip lines. The cave or under ground swimming was quite relaxing. Rafts were a struggle at times as those hand paddles are hard to use, but it was fun. This park also had the picture package available for purchase which was nice, but unlike Xel-Ha, we had a lot of photos of people who were not part of our group. That was disappointing. Xel-Ha scanned a bracelet before a picture was taken, Xplor used some type of sensor in the helmet you wore in the park, so I guess if someone was close to you, your photo ended up in their package and vice versa. Anyway, the food was fantastic! Both parks were all you could eat. Overall I think well worth the price of admission to both parks. Disney has nothing on these parks! They could learn a thing or two from Xel-Ha and Xplor. Thank you for a wonderful time. I only wish I lived closer so I could go more often.
June 2016
We loved both tours, xcaret was my personal favorite because I love water, so we swam all day and we walked the entire park. Chichenitza was very educational but it was a very hot day, all in all it was well worth it, the people that were in charge of the tours were great, friendly and helpful!!!
June 2016
GREAT TIME WORTH EVERY CENT
May 2016
it was truly a wonderful trip,my wife and I felt we were literally in PARADISE!!!
July 2015
transportation was very comfortable
June 2015
Very well coordinated with schedules!!
June 2015
Overall both trips well organized. Buffet that came included in the Chichén Itzá trip was not impressive, but not completely terrible. Only other thing that could have made it better was for the tour company to allow guests to sit in the front row of the bus rather than use them for guide's bags.
June 2015
We were picked up at 7am and taken by tour bus to the Xcaret Xperiencas transfer center, then took another tour bus to the parks Xcaret and Xplor are right next to each other, which are another hour away, so it was almost 10:30 by the time we got into the parks.
Xcaret is like a small zoo with some activities. We swam the 50/50 swim half caves, half outside and it was beautiful, but crowded. I didn't bring a towel, but luckily you can rent one at the park. There are several different shows, both during the day and later in the evening if you want to stay we took the 4:30 bus back to the hotel, but you can stay until 9:30 if you want to catch the shows. It is a LOT of walking but not as much as Xplor, so wear the most comfortable shoes you own. The best part of the day was the shark swim, where we snorkeled with nurse sharks. You learn about them and get to pet them, then you swim with them for about a half hour.
Xplor was much more active. I probably shouldn't have done most of the activities since I have back problems, but I did them anyway because I'm stubborn. We did all 14 ziplines, including one waterslide and three ziplines into waterfalls/cenotes, so be prepared to get wet! Also, be prepared to walk and climb stairs until you can't move. We also did the rafting and the ATVs, which are really just golf carts the track is incredibly bumpy and they don't go very fast, but it was fun all the same. Admission includes all day access to the buffet, which was not bad.
General notes for both parks: The other tourists were really inconsiderate, but that's just people being people - from pushing through lines to smoking in covered common areas. Both parks have RFID-triggered cameras everywhere, so if you like to pose, this is your chance you can buy a USB with your pics on it for about 75. The bus home takes you directly to your hotel, so it's a much shorter trip than the morning ride.
Overall we had a great time both days. Enjoy!
February 2015
We had a lot of fun. Food was good at both places. Transportation was good but long. I didn't realize we would have to pay more to do other activities in Xel-ha, as I thought everything was covered in the voucher.
January 2016
The tour was great! I would recommend this to everybody. The only problem was that the agent sold me the tickets to Xplor knowing that we had an infant in our family and it took me a while to change it to Xel-xa with the help of Experience Xcaret when I called to find out my pick-up time... Otherwise, everything was great!!!
Advertisement
Advertisement