Explore Xel-Ha's natural aquatic park and the Coba ruins on this full-day trip from Cancun. Ride a bicycle around Coba's archaeological site, then climb Nohoch Mul, the tallest pyramid in the Yucatan, for amazing views of the surrounding area. Eat lunch at Xel-Ha and continue your adventure by kayaking, ziplining and trekking around this spectacular eco-park. This small-group tour of less than 20 people ensures that you receive personalized attention from your guide.Pickup and drop-off at Cancun hotels is included.
Highlights
Coba and Xel-Ha combo tour from Cancun
Bike around the archeological ruins of Coba with a professional guide
Climb to the top of Nohoch Mul for panoramic views of the Yucatan Peninsula
Explore the pristine waters of Xel-Ha Park by zipline, kayak and more!
Dine on a delicious buffet lunch with regional dishes and an open bar
Hotel pickup and drop-off included
Small-group tour limited to 20 ensures a more personalized experience
Why Our Insiders Chose This Tour
If you climb the Yucatan's tallest Mayan pyramid – Nohoch Mul – you'll enjoy 360-degree views from a remarkable height!
What You Can Expect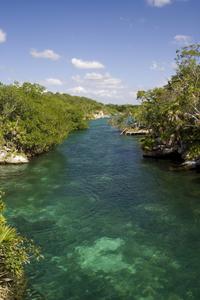 Upon morning pickup at your Cancun hotel, enjoy a light breakfast aboard your comfortable vehicle. Dine on muffins, baguettes, coffee and juice during the trip to the Coba ruins.
Explore Coba with your guide and small group by bicycle or pedicab. During the 3-hour tour, climb to the apex of Nohoch Mul, the tallest pyramid in the Yucatan at an impressive height of 140 feet (42 meters.) Enjoy panoramic views of the surrounding rainforest in all directions. Learn about the Mayan citizens that once inhabited Coba, which includes nearly 6,500 significant archaeological structures.
Board your bus to travel to your next stop: the natural aquatic park at Xel-Ha. Spend the day however you wish: swim through the network of underground streams and rivers or snorkel in the lagoon. Zipline, kayak, rock climb, or swim with sea turtles or manatees. Bike through the rainforest or simply find a hammock or lounge chair and doze off. Enjoy a lunch buffet and open bar all day with your all-inclusive admission. Your day of cultural and ecological adventure ends with drop-off at your hotel.
February 2016
We really enjoyed this tour. I read the reviews of the 2 all-day tours and read quite a few stating they would have preferred 1/2 the time at both. While I agree that 1/2 a day at Coba was sufficient, my husband and I in our 30's with no kids would have preferred a full day at Xel-Ha. There was so much to do at Xel-Ha that we would have loved to have had more time to explore there and time to meet the dolphins and do the zip bikes. We chose the 1/2 day since we more or less thought it was more of a children's park, which it's not. There's plenty to do regardless of age. Both were great!
December 2014
It was amazing and we'll def. go back! People from experincias xcaret are very nice!
December 2013
We had a great time at the Ruins, my husband and I rode bikes to save time. Their wasn't enough time to enjoy Xel-Ha on this combo tour. However, I would recommend it if your schedule is tight because you get to see and do alot. You could spend all day at Xel-Ha alone!! Food was great and the all inclusive was awesome....
December 2013
The tour guide was great. I had to call the day before to arrange pick up. They arrived on time. However when we got to the main office there were so many busses and the guide gave us the wrong sticker to go on the wrong bus. Luckily our tour didn't leave with out us.
May 2015
Fantastic tour guide, great shopping opportunity with locals, loved cycling through the jungle at Coba and climbing the pyramid there was just incredible. Make sure you take snacks, because it was about 6hrs between breakfast and lunch at Xel-Ha.
April 2015
Can't remeber the tour guides name but very nice. Rode bikes which was fun!
April 2014
Coba was a very interesting experience with a Mayan guide who was very passionate about her history. There are bikes to get you around the site as it is quite spread out. if you are not sure about being able to ride a bike then there are trikes ridden by someone else for you!
Xel ha was lovely and the snorkelling was quite good but after the Coba trip it did not leave enough time to do this attraction properly
Advertisement
Advertisement