Experience a close encounter with dolphins during this 45-minute Cancun Dolphin Encounter Program. Learn about the biology, characteristics, and behaviors of this marine mammal from a trainer. Watch the dolphins perform entertaining tricks and enjoy the unique opportunity to receive a kiss from one of these amazing ocean-dwelling creatures.
Highlights
Dolphin encounter program from Cancun, Mexico
Watch dolphins perform tricks and experience the sensation of being kissed by them
Fun-filled environment ideal for children of all ages
Why Our Insiders Chose This Tour
Here's a chance for kids of all ages to spend some quality time with a dolphin! A gentler dolphin experience, this outing is about watching the lovable mammals perform tricks and cuddling with them rather than riding them.
What You Can Expect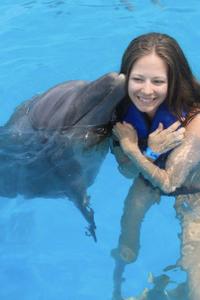 Board the ferry from Cancun and enjoy the approximately 30-minute ride to Isla Mujeres. Transfer to the dolphin park, where your adventure with the world's most intelligent marine mammals begins.

After a 15-minute safety briefing, slip on the provided lifejacket. As you enter the water, the expert trainers will teach you about these amazing animals; their behaviors, characteristics and biology.

Take this unique opportunity to hug and kiss a dolphin, which will respond with a kiss on your cheek. This gentle experience is suitable for families, including all children over the age of 1 year.

Watch as the dolphins display a series of spectacular tricks and behaviors. The marine park's professional photographers will be on hand during your 45-minute dolphin encounter, and the photographs will be available for sale in the gift shop after your swim with the dolphins.

Finish your animal adventure with the scenic ferry ride back to Cancun.
January 2014
Clarissa C USA
July 2010
This was FINtastic! I'm planning on building a pool and getting one of my own!
February 2016
This was great! But the price of getting your pictures was staggering!!! So we did this with our mental pictures!

February 2016
Purchased this experience to tick off my bucket list and the experience with the dolphins was worth it. However certain elements of this program lowered the quality of the overall package.
Firstly, arriving at the Dolphin Discovery centre on the mainland everything seemed confusing and I needed to ask several members of staff for direction. They were extremely unorganised. They weren't rude or anything, just lacking on some basic customer service skills.
The ferry ride over to the island was beautiful, it included breakfast bread, croissants etc which was okay. Arriving at the centre on the island, again the staff seemed unorganised at directing customers. Lockers are free which is good and the facilities are superb.
The experience with the dolphins was excellent and so was the instructor. You see them perform tricks and have the opportunity to engage personally with them performing tricks etc whilst having your photo taken. All with the dolphins was an unforgettable experience.
My main problem with this experience is that they charge 40USD for a one person photo which seems absolutely extortionate. It's even more expensive for family photos. It certainly left a sour taste in my mouth. Paying so much for the experience then they milk you for all they can. Don't misunderstand me, I realise they're a business and need to make money but I find that price ridiculous. There's no chance to take a photo using you own camera whilst with the dolphins so it's their photo, or no photo. I felt 'tourist-trapped' by this tactic and thought it was a cheap shot by the company. Obviously I didn't buy one but I have my memories.
Overall, It's definitely a worthwhile experience for all ages. The dolphins make it great but in regards to the operating company Dolphin Discovery they could improve. They need to review their pricing and how they organise the customers arriving at both the the mainland and island centres.
I would however use this company again.
Advertisement
Advertisement