Special Offer
Book by May 31st, 2016 and travel by December 2016 to save 10% off our previously offered price!
Make your dreams of swimming with dolphins come true with a 1-hour Dolphin Royal Swim from Cancun. Venture to the idyllic Isla Mujeres to swim with these intelligent and friendly mammals during an immersive and interactive experience; feel your adrenaline levels soar as you're towed around the water at high speeds and forge special bonds with the animals during this intimate and unforgettable session.
Highlights
Royal dolphin swim off the coast of Cancun, Mexico
Swim, touch and kiss these amazing marine mammals
Experience the adrenaline filled dorsal ride and foot push
Why Our Insiders Chose This Tour
A high-adventure dolphin encounter! Two of the sociable mammals whisk you through the water at high speeds. Don't forget to check out the photos!
Recent Photos of This Tour
What You Can Expect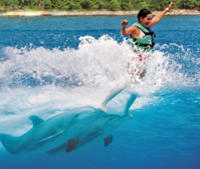 Depart from the ferry port in Cancun and enjoy the scenic sail to Isla Mujeres. Enjoy stunning coastal scenery as you cruise towards the wildlife wonderland, feeling your excitement heighten as your draw closer to the dolphins.
Greet your guide at the park and listen to a brief 15-minute orientation, in which the best ways to interact with dolphins are explained. Without further ado, wade into the water to get acquainted with the majestic mammals; enjoy an affectionate handshake and kiss on the cheek as photographers capture your magical moments.
Feel your heart rate quicken as you grab hold of the dolphin's fins and soar around the water during a high velocity dorsal tow ride. Then, heighten your adrenaline levels with an exhilarating foot push, a maneuver that involves being pushed across the water from the bottom of your feet.
After your enchanting experience, purchase your photographs for special souvenirs and enjoy a delicious lunch and open bar. Take advantage of the park's VIP facilities, the use of which is included in your tour.
November 2015
I highly recommend taking this tour! I loved it and my dolphin trainer Yvon was excellent. We had two dolphins for our pleasure to do tricks and then do the heel push and the dorsal fin tow. Wow, it was amazing. We had a nice lunch buffet, too and the little town was fun to see and we rented golf carts there. I would do it again!
November 2015
AMAZING! i booked the Dolphine Royal Swim for myself and my mother as its her dream. Then on arrival she paid for us to upgrade to include the sealion and manatee swim. its amazing! the photos you receive are great, the dolphins lifted me right out of the water. You get lots of information and the staff are friendly. there is a VIP open bar, restaurants and pool. there are a number of other pools, hammocks, snorkelling and sun loungers for people. It is a beautiful little island and we loved spending the whole day there.

September 2015
Just great :
If your mate comes along and does not want to swim as well, he can buy a VIP ticket for 22USD in order to access the VIP area and the all you can eat buffet
August 2015
Would so recommend it! Dolphins are such an amazing part of this world, and they're the sweetest! Loved it so much and would do it again.
May 2015
Queue was huge in aquatours get there early! Ferry was good (45 mins) and you get lockers when you get there. We had access to free food and drinks - waiters are very attentive and nice. Dolphin experience was amazing! Pictures are pricey so do your research before you go for the best deal.
April 2015
The tour was awesome. I swam with dolphins before and thought it was fun but this tour was amazing. I would defiantly recommend it. The sea lion and Manatees were also fun. We had such a great experience.
February 2015
Excellent. Lots of time in the water with the Dolphins. Great experience. Better to take the earliest time so is not too hot and dolphins are not too tired
September 2014
This experience was absolutely amazing. We hugely enjoyed the entire experience from the ferry ride to the island and the awesome swim with the dolphins to the all inclusive food and beverages. An amazing day! Would absolutely recommend to anyone.
August 2014
I've done dolphin swims and encounters is different places and this one is by far the most fun and organized... It is a must do here... I cannot wait to go back and do it one more time...
January 2014
Had a wonderful time everyone must go here.
Special Offer
$178.99 Save $17.99
Advertisement
Advertisement