Swim with dolphins on Isla Mujeres during this 45-minute activity. Ride the ferry from Cancun to Isla Mujeres, where you will have the opportunity to interact with friendly, playful dolphins in a safe environment. Get a handshake, a kiss, a hug and a belly ride from your new friends. Enjoy incredible underwater views of these graceful animals, as well as an open bar and a lunch buffet.
Highlights
Dolphin swim adventure off the coast of Cancun, Mexico
Swim, touch and kiss these amazing marine mammals
Enjoy incredible underwater views of the dolphins
Why Our Insiders Chose This Tour
It's an unforgettable opportunity for adults and older kids to ride an adorable, friendly dolphin. You have the better part of an hour to get to know the intelligent mammals. Prepare to fall in love!
Recent Photos of This Tour
Cancun Dolphin Swim Adventure on Isla Mujeres
What You Can Expect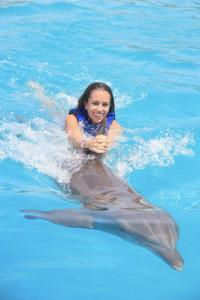 Meet the expert trainers at the Cancun Dolphin Swim Adventure and don your lifejacket prior to getting in the water. Listen to a safety orientation that includes information on dolphins biology, physiology and behavior. The trainers will give tips on how to best interact with these smart, mischievous marine mammals.
Slip into the dolphin lagoon where you'll meet your new friends. Receive a kiss, a hug or a handshake and opt to participate in belly ride around the pool. Watch the dolphins speed and spiral through the water around you, demonstrating their effortless agility.
The water park's staff will take photos of you during your dolphin encounter, which will be available for purchase before you leave.
When your experience is over, dry off and enjoy a buffet lunch and an open bar. Board the ferry back to Cancun at your leisure, taking your memories of this special experience with you.
July 2013
Loved it however price of pictures was too high! Wish we would have known ahead of time so we could have been prepared. We didn't get to purchase any

March 2013
An amazing day altogether, and a wonderful time with the dolphins in the sea! Excellent restaurant and open bar service at the park, very friendly and helpful staff, beautiful place, and unforgettable interaction with these smart and sweet animals!
February 2012
Excellent... this is a must do if you go to Cancun. You will not be disappointed. If you are staying in one of the hotels in the Cancun hotel district it is very easy to catch a bus to where the ferries leave for Isla Mujeres.
August 2011
fabulous, best activity we have ever done. Thoroughly enjoyed the experience and were pleasantly surprised at how long we got to spend in the water. The instructor was great and we loved every minute.
Stachia J USA
August 2009
The swimming with dolphins was great and affordable.
Angela S USA
August 2009
This is a must do. Thank you for a great experience. Everything was all set up, and this was a memory to last a life time.

January 2016
dolphin time was about 3 rides, and touching the dolphins for about 20 mins, which was cool. THey take lots of pictures of you but they charge you 70 dollars PER PERSON for all your pictures digital. I stormed out. When they saw that they came after me and offered me 60 dollars total for 2 people. so i did that. I was pissed and still am though. pretty decent open bar and all that.
November 2012
It was truly amazing to be so close to the dolphins. It wasn't amazing to learn we didn't get the same package as the people next to us who seem to be doing more with them. Would have liked all the options ahead of time. When booked, the only differences were the time alloted with the dolphins.
November 2010
It should have vehicle transportation
Jenna G USA
January 2010
A great time! Just wish we would have had more time with the dolphins! There were 10 people in our group.
Advertisement
Advertisement