14 Reviews
Location:

Cancun, Mexico

Duration:

4 hours

(approx.)
Revel in a 'Pirates of the Caribbean' experience on this fun and entertaining dinner cruise from Cancun. As you sail out to sea on the 'Jolly Roger,' an impressive replica pirate ship, enjoy a dinner of lobster, filet mignon or other delicious choices. Then watch a swashbuckling, family-friendly pirate show, complete with fireworks. You can dance and play pirate-themed games until you return to shore.
Highlights
Pirate dinner cruise in Cancun
Set sail on the Jolly Roger, a replica of the Spanish ship Santa Maria
Watch an action-filled pirate show, with fireworks
Enjoy a dinner of lobster, surf and turf, chicken or filet mignon
Sip drinks from the open bar while you dance and play pirate-themed games
Recent Photos of This Tour
Cancun Pirate Dinner Cruise and Show on the Jolly Roger
What You Can Expect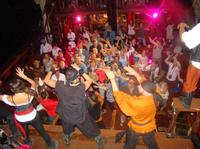 Your evening of pirate antics on the high seas starts at El Embarcadero de Playa Linda in Cancun, where you'll board the
Jolly Roger
(what else?) and be greeted by the adventure-loving pirates.
As the
Jolly Roger
, a replica galleon based on Christopher Columbus'
Santa Maria
, sets sail and heads out to sea, grab a drink from the open bar and find a good spot to watch the pirate show, a lively performance of swaggering, sword-wielding pirates that ends with an exciting fireworks display.
Dinner is up next — a hearty meal of your choice (see options below) accompanied by red or white wine. Then work off your meal on the upper deck, where you can dance the night away with the pirates or join the kids to play buccaneer-themed games. The bar is open for the majority of the cruise.
At the end of the night, you'll be returned to the marina, where your dinner cruise ends.
Dinner options
Regular menu (choose one of the following):
Filet mignon
Chicken cordon bleu
Fish fillet stuffed with cheese and dressed with mango sauce
Vegetarian option (either ravioli with cheese and a spinach tomato sauce or vegetarian lasagna with cheese and tomato sauce)
Premium menu (choose one of the following):
Children's menu:
Hotdogs, chicken nuggets and french fries


Chantale C Canada
February 2016
We had so much fun! The pirates show is hilarious and the dinner was delicious.
August 2015
We couldn't believe how fun this trip was! Family of six with four teenaged boys, and everyone had a great time. The show was terrific, the food was delicious, and service was great. Very international crowd which only made it more fun. Each of the different pirate characters were very engaging - great cast and audience interaction. We laughed the entire trip. The total trip was about 3.5 hours plus 30 minutes to get organized and on the boat. There was a big dance party at the end of the cruise which just topped off the giant party. Highly recommended for all ages - go and have a great time!!!
August 2015
A must see for all ages! If I liked this show/experience then you will!!
June 2015
Very entertaining and funny show.
June 2015
Absolutely awesome from the time you arrive to the end great show and actors.
March 2015
February 2015
The show was great and the service was better. Everyone was very friendly and accomidating. We were even a couple of minutes late and missed the ship, so they loaded us onto a smaller boat and took us out to the ship! Highly recommended.
November 2014
The night was lots of fun. The staff was able to get everyone up off their feet and having a blast!!!! The show was delightful - included a sword fight, fireworks, etc. The pirates were amusing and made sure that all ages could participate
June 2014
We did not know what to expect when we booked a night trip on the Jolly Roger, but what we got was the most fun evening of our vacation. We got to the ship at around 6 PM and by 6:30 we had already boarded. The show begins from the moment you get to the pier: the pirates arrive and you already get to meet some of the main characters, Billy the drunken pirate, Captain Morgan, his uncle and captain of the ship, Grouch, his second-in-command, Gorgola, Charlotte, Blaze, Rasta, Calaveras (hopefully I remembered them right) and all the others.
The trip, lasting about 4 hours, includes dinner (costs extra with lobster, but it's worth it) and free drinks all around. The main attraction, however, is the show these amazing pirates put on. The first part of this show, before dinner, is very interactive and it encourages people to meet and get to know each other. There are also activities for children, such as a treasure hunt guided by the pirates.
The second part of the show, after dinner, is where the surprises come out. There is a plot, and twists, and cliffhangers that keep you on the edge of your bench. It's highly entertaining to watch.
The night ends with dancing, drinking and partying, but by the time you get back to the pier, you are left wishing for more. You already feel like you are friends with these fun pirates and you'd like to see them again.
Tip: get the picture with the treasure chest.

Terence W United Kingdom
October 2015
Our hotel was in Riveria Maya which is 1 hour away from Cancun. We had to pay 600 peso for a taxi to take us there and 600 peso for a return taxi. Which turned out to be a very expensive excursion. This excursion is better if you book via your hotel if you are not in Cancun as they will arrange for transportation to and from. Once you arrive the fun starts. We were greeted by a pirate who opened our taxi door. We got given wrist bands. The fun began by the crew lining us all up and acting out their show. We were then all escorted onto the stunning Captain Morgan ship. This is a very highly recommended excursion with all the interactive side from the crew and food was very good and the crew was all attentive and great. Our waiter was good and very attentive. We flew from England London. We was a little unsure what to expect but this is great for all countries. Thoroughly loved and enjoyable.
Advertisement
Advertisement