Take an introductory SCUBA course in Cancun and dive at one of Mexico's best diving spots. During this all-day adventure, learn the basics of scuba in a resort pool and then move to your first open-water dive. The one-tank dive on Cancun's local reefs does not require full certification, and all equipment is provided for you. Expert instructors are on hand to ensure you are safe and enjoy your time underwater.
Highlights
Learn to scuba dive at a resort in Cancun

Take to the open water for a 1-tank dive

Keep an eye out for the Caribbean's spectacular marine life including colorful fish and turtles

Why Our Insiders Chose This Tour
In just a few short hours, this tour takes you out on your first open-water dive! You learn scuba basics safely in a hotel resort's pool before delving into the crystal-clear Caribbean.
What You Can Expect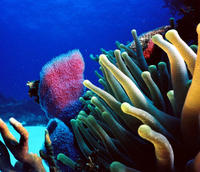 Explore the underwater world that scuba certification opens up with this beginner's dive course in Cancun. Start with a 2-hour class on dry land, where you'll learn about breathing techniques, underwater communication and equipment care and operation in a lecture format.
Slip into the resort's pool to test out your equipment and apply your newfound knowledge. Practice underwater hand signals and get the hang of buoyancy. Make sure your equipment fits properly and ask your instructor if you have any questions or concerns.
Next, it's time to head out into the ocean to visit one of Cancun's spectacular diving spots. The instructor will lead your small group on their first open water dive using one oxygen tank each. Explore the Caribbean's underwater world safely with your foundational knowledge of scuba. Keep an eye out for nurse sharks, lobsters, and several varieties of turtles.
January 2016
Had the beast trainer and team in the sea ever. It was my first time and I was fairly scared. I had the diver literally holding my hand all the time and the experience was just unforgettable. Just glad I lived something like that and had help to overcome my own fear. Thank you!

January 2016
August 2012
fantastic , scuba instructors at aqua world the best in mexico . i would go back anytime
June 2015
I'm not terribly comfortable underwater, so this is well outside my comfort zone. The instructors explained everything both in and out of the pool and were very patient when it took me a little extra time to figure out how to maintain buoyancy. The reef dive was cool, but insanely crowded and not as bright and colorful as you hope for. The best part was actually the boat ride out to the reef riding through the mangroves and seeing the hotel zone from the water was just gorgeous, and I didn't get sick, which makes it way better. My mask didn't fit quite right, so I kept having to clear it, so if I want to dive again I'll consider buying my own mask.
February 2013
Great class. I was disappointed with the reef dive, only because there wasn't much too see. Did the 2 dive day trip to Cozumel the following day which was remarkable!
May 2012
My boys enjoyed this very much. Only complaint I heard was that there were some of the other divers having difficulty so the boys didn't get as much diving time that they would have liked.
Advertisement
Advertisement