Explore Cancun's waters on this submarine-style glass bottom boat ride. Cruise through a mangrove swamp during this 2- to 3-hour excursion to Punta Nizuc, the second-largest coral reef in the world. On this family-friendly adventure, learn about the local fish, coral and other animals in this marine habitat through your guide's informative commentary. Opt to snorkel on the reef with provided equipment.
Highlights
Sub See Explorer submarine-like ride

Snorkeling adventure in Punta Nizuc, the second-largest coral reef in the world

Why Our Insiders Chose This Tour
A glass-bottom boat offers glimpses of a variety of marine life. And you have the opportunity to snorkel the second-largest coral reef in the world. You even get to keep your snorkel to use on future adventures!
What You Can Expect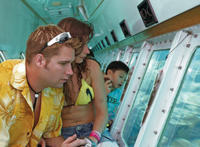 Board a reef shuttle boat and cruise through the mangroves of Nichupte Lagoon towards Punta Nizuc. Climb aboard the Sub See Explorer, a submarine-style glass bottom boat that allows crystal clear views of the second-largest coral reef in the world.

Peer through the boat's panoramic windows at clusters of bright coral and schools of tropical fish. Listen as your guide gives details about the animals and plants that thrive in this marine environment. View butterfly fish, barracudas and maybe even dolphins on this family-friendly underwater journey.

Opt to use the area's floating platform as a jumping-off point for a snorkeling adventure. Dive into the gentle aqua waters surrounding Punta Nizuc's spectacular reef to get up close with some of its vivid plant and animal live. Follow your guide through the maze of coral as they point out species and varieties of coral and fish. The snorkel is yours to keep and enjoy other snorkeling opportunities in the Cancun area.
December 2014
Great experience.
Highly recommended.

October 2014
A totally different experience of you are sea sick maybe not the tour for you but amazing to see all the fish and coral
January 2014
We spent excellent time, thank you! But, please, inform the clients that they should reconfirm departure time not 48 or 24 hours before, but much earlier. Otherwise the operation company Aqua World is likely to charge additional +7,50 USR per person.
December 2011
We had the most enjoyble time. The young lady that naratted the trip was great to point out things that she saw so we could find them on either side of the sub. The sub was confertable as it could be and there were some older people than us. ( We are early sisties-they were in seventies)
WE also did the snorkeling trip , and it was great . There were trained swimmers with us all the time. My wife was afraid at first , but after a few minutes she was very confertable , then I could not get her out of the water.
Very good time
March 2011
Beautiful view of the coral reefs, stingrays, flourescent fish!
Beautiful water to snorkel in!
February 2013
The boat, submarine, and snorkeling were great, but the last ten minutes of each involved the crew begging for tips incredibly hard. Our reservation indicated that lunch was included, but we were told that's not available in Cancun. I would do this trip again, but I would bring small bills for tips.

MAX South Africa
June 2014
Reasonable. Saw very little. All staff fantasic and friendly.

February 2012
Great organization and staff. I was a bit disappointed as I thought there would be more color distinction in the corals themselves being that it is the 2nd largest reef in the world. Volume could be turned down on the system used by the Guide and the tips boxes held by staff while exiting both on the submersible and transportation boat are a bit offensive. Glad I did the excursion though.
January 2013
Local provider and the whole service were fine.
I guess we had bad luck - water was rather muddy and hardly transparent.
Some fish were seen and some corals but everything was greyish.
I would recommend to travelers to use their time to enjoy the beaches/pools
and spend their money on cocktails.
September 2011
Difficult at best. Extra fee added when we got there that we were not told about. Boat ride to sub perfect could not ask for better. On sub guide spoke 90 % spanish and threw a few comments in english to the rest of us. Reef was a dieing reef little to no color. So all in all we 4 thought it was a waste of money.
Advertisement
Advertisement