Explore the waters off Cancun with a BOB underwater scooter on this 3-hour excursion. Use a Breathing Observation Bubble to discover Mexico's sea life without getting your head wet. Ride a submersible scooter to the shallow seabed around the Chitales reef to see vibrant coral and tropical fish. After your BOB underwater adventure, slip on some snorkel gear and explore the reef from above.
Highlights
Underwater ride on a BOB scooter in Chitales reef area from Cancun
Propel around the warm water on a submersible scooter
Snorkel in the Chitales reef area

Enjoy diverse marine life, including tropical fish and coral

Safety gear, snorkel equipment, bottled water and snacks provided
Option to purchase custom photo of BOB ride
Recent Photos of This Tour
What You Can Expect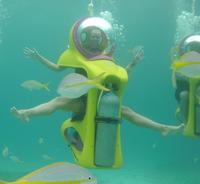 Arrive at Aquaworld Marina in Cancun to meet your guides for your BOB underwater adventure. Walk a short way to your boat and set out on a 15-minute cruise to Chitales Reef.
Listen to your BOB guides as they explain basic piloting maneuvers, common operating procedures and easy-to-understand hand signals and give a snorkeling safety briefing. Decide whether you'd like to ride the BOB underwater scooter and explore the reef from below first, or snorkel and get the topside perspective to start with. Whatever your experience level, this is a fun, safe way to experience underwater adventures.
On the snorkel portion of the trip, float around the top of the reef at your own pace. Enjoy seeing the marine life and coral reef from the top-down perspective. Feel free to ask your guide any questions or request help with your gear.
Climb on your scooter and propel down into the 30-foot (9-meter) deep water. Travel at a safe and relaxed 2 knots as you view the surrounding environment for about 30 minutes. Keep an eye on your guides as they point out marine life on the stunning coral reef during your BOB adventure. Snap custom photos of your underwater excursion to purchase at the end of the outing.
Return to Aquaworld Marina on the boat and make your way back to your hotel.
April 2016
Our bob tour was very interesting the sea life was amazing the only problem was the waters were a little choppy that day and it included snorkeling they said it was too rough to snorkel so we didn and #39;t get to do it but being able to do the Bob was awesome.
April 2015
The tour was simply amazing.

Kimberly A USA
September 2014
This excursion was soooo much fun. I am afraid to scuba dive, but my husband loves it. So when I saw this excursion where I did not have to carry a tank or wear a mask, I was really excited that I had found something my husband and I could both do. The scooters are quite slow, so I guess if one encountered a shark they would be in big trouble, but that didn't happen. We got to see the reef, a sea turtle and hold a starfish. I loved that the guide took a video and photos so we have memories from this excursion. I would do it again in a heartbeat. The only downfall to this excursion was the fact that I suffered a perforated eardrum. I popped my ears at every time the guide said, however, at one point I felt a great deal of pain. As I have never scuba dived I thought that this might be normal, as my husband said that you feel discomfort in your ears. However, after the pain did not subside for the rest of the week and upon my return home I went to the doctor and found out I had a perforation. My husband said that they took us down much quicker than is recommended for scuba diving and that this is probably why. I would just recommend they slow the descent down so that others do not have this problem. It has been three weeks since we have been home and I am still waiting for this to heal. Other than that absolutely amazing excursion.

August 2015
We had so much fun. We got to see so much underground life. The instructors were great at explaining what we should do to use the bob. The only complaints were #1 that it would last longer (overall inside the Bob only about 30 mins or less) #2 that we would be able to head out a bit farther.
June 2015
It's so beautiful to see the crystal clear water, while you snorkel. Then you get to see just how beautiful the water really is, when you are now submerged under, and see all these amazing water species. Fishes got so close to me and got to see a huge water turtle.
December 2014
Cool idea, drive your own little submarine thingy. Very slow, calm water only, and you will see much more if you go snorkeling instead. After the BOB part was over, there was only 10 minutes to go snorkeling. Less claustrophobic than snorkeling, but still uneasy to dive underwater and swim into sub.
Advertisement
Advertisement