15 Reviews
Location:

Cancun, Mexico

Duration:

2 hours

(approx.)
Dive in for a once-in-a-lifetime snorkel tour at Cancun's newest attraction, the Underwater Museum. Snorkel amongst the various exhibitions and learn about Cancun's preservation efforts. With over 400 life-size sculptures to discover, this aquatic exhibition is sure to leave you spellbound!
Highlights
Snorkel tour at the Underwater Museum in Cancun

Take a boat ride to and from the Underwater Museum

Take a high-powered speed boat ride to and from the Underwater Museum

All essential snorkel equipment included

Why Our Insiders Chose This Tour
This is not your average snorkeling tour! You'll take an exhilarating speedboat ride out of Cancun and then snorkel among 400 life-size underwater sculptures. An amazing sight!
Recent Photos of This Tour
What You Can Expect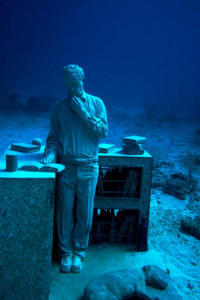 The snorkel tour begins with a boat ride to the "Silent Evolution" site off Isla Mujeres. You'll then have 40 minutes of snorkel time to enjoy the museum's sculptures and the marine life that will swim your way. Then, another boat ride will take you back to the Cancun marina. A perfect way to start your day!

The newest and most spectacular addition to Cancun, the Underwater Sculpture Museum is an under-sea sculpture gallery of more than 400 figures. The monumental underwater sculptural museum was established in the surrounding waters of Cancun, Isla Mujeres and Punta Nizuc in 2009 by British artist Jason DeCaires Taylor. The project has sparked great interest worldwide and will be an ongoing project for years to come.

The main body of the museum is called "The Silent Evolution" and consists of 400 life-size figures molded in pH neutral clay. The main goal of the museum is preservation, so the clay promotes marine growth to form a complex structure inhabited and colonized by various forms of marine life. Eventually coral reef will form on each sculpture, making them change appearance over time.

The total museum installation occupies over 1,600 sq. feet (150 sq. meters) and weighs over 120 tons, and will one day form an artificial ecosystem where various fish and marine mammals will thrive.
August 2015
Such a great experience. If you are not PADI certified and don't want to spend the money getting the certification go this route. You can see everything just as clear and it's so beautiful. Just be prepared to swim as there is a lot of swimming involved. This day we also saw the reef and all fish.
April 2015
Great experience! On time. Courteous. Plenty of time to see all of the figures. Enjoyed seeing sting rays and various fish. Boat was clean and sturdy ! Would highly recommend
February 2015
The guide and boat captain were great. They did an outstanding job and the trip was outstanding. The seas were a little rough but the guide did everything he could to ensure we had a great time and saw the museum and some coral reefs in the area. I would do this again if the opportunity presented itself. Highly recommended.
January 2015
Having never snorkelled in my life - I was a bit apprehensive - no need. The level of patience was phenomenal. The boat ride was exhilarating. Information about the museum would have been great. The museum itself was breathtaking and you get to see a bit of the coral reef as well.
Word of warning: check the cost of travel for the distance between your hotel and the port.
November 2014
Best snorkeling I had done Unbelievable clear water and so many fish and the museum was very interesting. Tour guides were Great!!
August 2014
The guides were very attentive, making sure we all had water during the trip there and back. They also gave a great tour of the museum and were able and willing to answer any questions we had.
April 2011
The water was very choppy/wavy when we went out to snorkel that day, but the boat crew made it feel very safe and they were very professional/fun overall. Although we only saw a very small part of the museum, the fun, exciting and dizzying boat ride back made it worth the trip!
November 2015
The ride to and from the site and the snorkeling tour were both enjoyable, although I'm sure the scuba tour would provide a much better view of the artwork. If you are inexperienced in the art of snorkeling and are expecting some instruction, be advised that there is none. Once you reach the site, everyone is quickly ushered into the water and you are expected to follow your guide swimming over to where the Underwater Museum is located, and later swimming to another area to view more sea life and coral.
August 2014
Something different and fun, we saw fish, natural coral and formations, as well as the statues. It was only us and one other family so it was a very personal tour, the boat met us at the last statue so we did not have to swim too far at the end. I would recommend as a quick excursion that does not take your entire day or leave you exhausted.
April 2013
The speed boat ride out to the museum was really fun and more like an amusement park ride than a quiet boat ride. The water was rougher than I expected but the guide was excellent at keeping us safe and all together. I really appreciated that he clearly pointed out each installation on the tour so we were sure to see it. I recommend this for anyone who enjoys snorkeling and is looking to do something a little different.
Advertisement
Advertisement