Special Offer
Book and take the Steak or Chicken Option by September 22, 2016 and your second adult or second child booking is FREE! In order to redeem the offer, you must choose the 2x1 option upon booking. You must book at least one adult and/or at least one child to get this offer. See pricing options for details.
Enjoy the Captain Hook dinner cruise from Cancun aboard an 18th-century reproduction of a Spanish galleon ship. Watch entertaining pirate antics, play swashbuckling games and engage in a ship-to-ship battle. Dine on steak, lobster or chicken and enjoy an open bar during this evening adventure with views of Nichupte Lagoon and the Mexican coastline.
Highlights
Captain Hook Pirate Dinner Cruise in Cancun!

Enjoy an exciting dinner cruise and open bar on the Caribbean Sea
Participate in games and dancing, and watch as your ship gets attacked
Enjoy great views of the Mexican coast and Nichupte Lagoon
Recent Photos of This Tour
What You Can Expect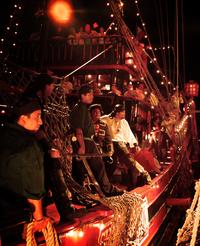 Board El Bucanero or El Galleon for your Captain Hook cruise from Cancun. Admire these replicas of 18th century galleon ships, each 93 feet (28 meters) long, but complete with modern features like a kitchen, light and sound systems. As dark falls, watch your ship light up and sail out to sea on a pirate adventure.
Sip a delicious Caribbean cocktail as you listen to Captain Hook share his famous backstory and tales about his adventures at sea. Listen as the cannons fire, announcing the Captain's claim to the Caribbean Sea.
Choose lobster, chicken, steak or Surf & Turf (make your selection at the time of booking,) dinner fit for a pirate. Enjoy cooked vegetables, salad, baked potato, rice and dessert. Non-paying children enjoy a grilled chicken entree. Sip drinks from the domestic open bar.
Listen to music, watch contests and participate in games after dinner has finished. An enemy ship will approach, and you'll witness the ensuing battle between the two boats, complete with dramatic sword fights.
Take to the dance floor as the boat heads back to shore after about 3 hours of pirate-themed adventure.
May 2016
We bought the BOGO chicken dinner package. Dinner was very good. Our waiter was Monkey and he was phenomenal. Definitely took care of us. Ask for Monkey when you go. I would definitely recommend to everyone.
May 2016
We had so much fun on this tour! We were impressed that the show lasted the entire cruise of about 3 hours. Our waiter was very attentive and he was part of the show too! We highly recommend this dinner cruise. The crowd was engaged throughout the evening thanks to the crew. They know how to get people involved. We enjoyed the food too.
Thank again Captain Hook and crew for a wonderfully fun evening. It was a highlight of our trip to Cancun.

May 2016
Totally amazing night aboard Captain Hook, we were lucky enough to be onboard with Cap. Jack Sparrow and Monkey and these guys were awesome. The show was amazing and the food was beautiful!! I'm going back to Cancun in December and this is definately going to be done again!!
April 2016
Excellent experience. The show and dinner were very good
March 2016
Our group had an amazing evening on the Captain Hook Dinner Cruise. If you are looking for a quiet romantic dinner cruise, this is not the tour for you. If you want an evening of lively excitement for any age, this is a great option. We laughed, dined and danced the night away. The crew is one of the hardest working that I've even seen on a tour. We enjoyed our evening and would do this again.
December 2015
Great dinner and a great show. It was a blast watching the pirates entertain everyone. Age really won't matter, it appeals to anyone for it's uniqueness. Ship set sail from the dock around 7:30 and didn't return till about 3 hours later. The captain was a real character. Our boat was attacked and boarded by another crew, but our crew fought back and defeated the other ship. All in all it's a great experience and well worth the night.
November 2015
The show was very entertaining, the staff was attentive and the food was good. Would recommend to all.
andrew.cameron22 United Kingdom
September 2015
September 2015
Went with my kids, ages 4 and 7. They both had a blast, as did I. Food was really good, and the service was great. I recommend this trip for families OR groups of adults. This was definitely a good party boat.

July 2015
Highly recommended. We had a great time. We both had lobster and dinner was excellent. Especially an great experience if you have children. Our server Baracuda made our cruise. Great customer service.
Advertisement
Advertisement