47 Reviews
Location:

Cancun, Mexico

Duration:

3 hours 30 minutes

(approx.)
Special Offer
Book and take the Steak or Chicken Option by March 18, 2016 and your second adult or second child booking is FREE! In order to redeem the offer, you must choose the 2x1 option upon booking. You must book at least one adult and/or at least one child to get this offer. See pricing options for details.
Channel your inner pirate and spend an evening on the Captain Hook Pirate Dinner Cruise in Cancun. Board a true-to-life replica of an 18th-century Spanish galleon for a swashbuckling meal at sea. As you cruise along, enjoy a delicious chicken, lobster or steak dinner; then be entertained with games, pirate antics and a ship-to-ship battle.
Highlights
Captain Hook Pirate Dinner Cruise in Cancun!

Enjoy an exciting dinner cruise and open bar on the Caribbean Sea
Participate in games and dancing, and watch as your ship gets attacked
Enjoy great views of the Mexican coast and Nichupte Lagoon
Recent Photos of This Tour
What You Can Expect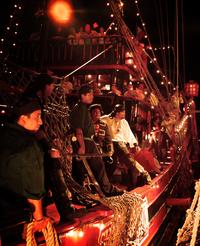 Your Captain Hook Dinner Cruise in Cancun begins as you board your ship, either El Galleon or El Bucanero, both of which are 93-foot (28-meter) detailed replicas of 18th-century Spanish galleons. Equipped with a modern-day kitchen, light and sound systems, and other conveniences, your ship will light up the night sky and take you on the ultimate pirate adventure.

Captain Hook's crew will welcome you on board with a refreshing a Caribbean cocktail. As the ship begins its magical journey through the Caribbean, Captain Hook will share with you his legend and adventures at sea, and the galleon's cannons will announce that the bay now belongs to Captain Hook and his mighty band of buccaneers.

Then, it's time to feast on a delicious dinner; you have your choice of chicken, a juicy steak, tender lobster or the Surf & Turf (make your choice when you book). Also included are a side salad, boiled vegetables, rice, baked potatoes, desserts and a domestic open bar; non-paying children will receive grilled chicken.

Music, games and contests will entertain you until the real show begins -- an enemy ship will suddenly approach and attack your galleon. You'll become witness to an epic encounter between the two boats; as the enemy gets closer, Captain Hook and his crew will engage in a sword fight to prove he owns the seas and to keep his legend alive.

On the way back to shore, music will begin as you take to the dance floor.
December 2015
Great dinner and a great show. It was a blast watching the pirates entertain everyone. Age really won't matter, it appeals to anyone for it's uniqueness. Ship set sail from the dock around 7:30 and didn't return till about 3 hours later. The captain was a real character. Our boat was attacked and boarded by another crew, but our crew fought back and defeated the other ship. All in all it's a great experience and well worth the night.
November 2015
The show was very entertaining, the staff was attentive and the food was good. Would recommend to all.
andrew.cameron22 United Kingdom
September 2015
September 2015
Went with my kids, ages 4 and 7. They both had a blast, as did I. Food was really good, and the service was great. I recommend this trip for families OR groups of adults. This was definitely a good party boat.

July 2015
Highly recommended. We had a great time. We both had lobster and dinner was excellent. Especially an great experience if you have children. Our server Baracuda made our cruise. Great customer service.
June 2015
This Captain Hook Dinner cruise was fun, action packed, filling, engaging and down right entertaining. The staff was so awesome. Captain Hook and the pirates were all entertaining. The ship itself was a sight to see. The food was really good and the drinks really got things going on another level. Johnny was our server and he was the best. We danced and had a really good time with the other people from all over the country on the ship. The games were really funny and I got to be a part of them and represented for those in the USA. Go red white and blue. The staff speaks English and in Spanish so communication is not a problem. Thanks to Johnny and Captain Hook for winning the battle and capturing the treasures. We were the champions. I definitely recommend this dinner cruise to those who don't mind getting a little sweaty and ready to dance the night away. It starts off a family cruise but by the time we are full of food and drinks and the party starts, it's more for adults only.

October 2014
What can I say a fantastic experience one of the best nights we had the dinner was delicious the entertainment was amazing I must do in cancun
September 2014
awwww this cruise was amazing, the captain hook show is awesome I wouldn't say this is for children its more a booze cruise with adult entertainment, food is the best ive had at cancun, treated well but waited on drinks was getting a bitta of a pain
August 2014
nothing but fun. a dinner party on a boat? more like a dancing and singing party. great acrobats, swinging from the masts, sword fighting and canons. captain hook kept the night moving in spanish, english, portuguese, japanese and we all learned some of each language thanks to the casts interactivity with the visitors on board. the kids on board had a blast and the adults without kids had their fun too! when the 2pirate boats engaged the drama filled fun spilled over to each boat. very memorable and better than the night club scene in cancun!
August 2014
5 Stars 5 Stars 5 Stars........... I have been around the world a few times and have experienced quite a few things, this hands down was one of the best shows that I have been too. I would recommend you to stand buy the sidewalk instead of sitting on the steps to watch the pre-show before you board because if you sit you have bad seats on the ship and eat last, but you drunk and have a lot of fun. If you have 2 and under I would maybe not take them but i saw them on the ship.
Advertisement
Advertisement