Tour code:
5359CUNRAIATEA
Sail on a catamaran from Riviera Maya to Tulum, stopping to snorkel on a coral reef. On this all-day trip, depart from Puerto Aventuras and cruise down the coast to Tulum, where you'll take a guided walking tour of the ruins. Snorkel on the reef just off the coast of the beach at Tulum and enjoy an included buffet lunch and unlimited drinks.
Highlights
Sailing day trip from Riviera Maya to Tulum
Cruise along the coast aboard an 82-foot catamaran
Enjoy the Caribbean views on deck while sipping drinks from the onboard bar
Go snorkeling on a colorful coral reef and have a buffet lunch on the boat
Explore the Mayan ruins of Tulum, one of the most beautiful archaeological sites in Mexico
Recent Photos of This Tour
Catamaran Cruise from Riviera Maya to Tulum Ruins with Lunch and Snorkeling
What You Can Expect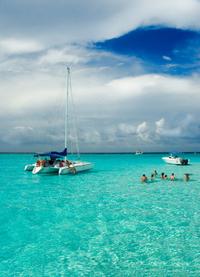 Find your way to Puerto Aventuras Marina in Riviera Maya in the morning to meet your 82-foot (25-meter) catamaran, 'Raiatea.' The staff will welcome you aboard and you'll depart for the 80-mile (130-km) trip to Tulum. Watch for dolphins and other ocean life as you relax on the open sun deck, cruising over the Caribbean's turquoise waters.
The next stop is snorkeling in Tulum. The Raiatea will moor near the coral reef so you can jump right in wearing the provided snorkel, mask and fins. Swim amongst schools of tropical fish and marvel at the different varieties of coral.
Climb back onto the catamaran and sit down for a buffet lunch, including unlimited drinks. Then disembark on Playa Zazil Kin for some free time to relax and beachcomb before your tour of the ruins.
Follow your guide through the well-preserved ruins of Tulum that date from the 13th century, when it was an essential trading port. Learn about the historical and cultural importance of the site while exploring on foot.
After your tour of the ruins at Tulum, head back to your Riviera Maya or Cancun hotel by van or by bus (own expense).

April 2016
We did this tour in April 2016 and had a great time. Another family we know joined us with their teenage kids and everyone seemed to enjoy it. About a 2 1/2 hour trip to Tulum, unlimited beverages great margaritas included plus lunch. Snorkeling portion was very average, but it was nice to get in the water! Catamaran was huge, like 80 long and made for a smooth ride. At Tulum, our guide, Eric, who was also on the boat trip, was great and engaging with everyone.

Kimberly A USA
September 2014
All in all this trip was quite enjoyable. The boat was clean and a lot of fun. The crew was upbeat and quite friendly. Our tour guide for Tulum, Erik, was very knowledgeable and made the tour enjoyable. Sugar was very fun on the boat and made sure everyone got drinks and was enjoying themselves. The only complaint I have whatsoever is with regard to the snorkeling portion of the trip. They anchored the boat and took us all in the water. They told us to stay together as a group. However, the spot they took us to snorkel was VERY far from the boat. I am an excellent swimmer and I had quite a bit of difficulty getting back to the boat from the spot where we snorkeled. I was not the only one who complained about this or who had difficulty swimming back. I would recommend they park the boat much closer to where the people will swim and snorkel to make it a little safer. I do not think I was ever more concerned about drowning than I was that day, which took some of the fun out of this excursion.
July 2014
Catamaran was beautiful and the staff were super pleasant and knowledgable - they obviously love their jobs! Food was good and tour of Tulum was just right in terms of length and content - only complaint is that the organizing company wasn't easy to reach and their representative seemed a bit confused so it took a couple of tries to get it all ironed out, but everyone was very gracious and apologetic for the confusion...we would take this excursion again!
January 2014
Very nice experience! A way to be on the beautiful waters of the Carribbean, see how the sea and land meet in this part of the world, experience the famous beach at Tulum, plus visit the ruins. Eric et son famille were top notch tour leaders. His crew, especially the muy energetico Sergio, were attentive and fun-loving. Snorkeling was an adventure. The lunch was excellent.The boat was spotless. I especially appreciated Sergio's ability to gauge the type of experience each person wanted to have, so that he was jumping enthusiastically up and down on the trampoline-like netting with the children, dancing with the middle-aged women, leaving us alone to enjoy the views and the quiet of the water. Eric was wonderfully knowledgable about the Mayan culture and was an excellent guide at the Tulum ruins. My only recommendation would be to dial down how much they push the open bar and availability of alcohol. Not everyone drinks, and not everyone is there to party. Would also encourage Viator to explain on the tour description that this marina is 1.5 hours from Cancun's hotel zone. I ended up renting a car and driving there because that cost pennies compared to what would have been a $200 round trip taxi ride. Still, a very enjoyable day with a capable and experienced crew. Merci, y gracias.
August 2014
Liked it quite a bit and the crew was quite accomodating while on the boat. Only issue was they hit us up for an extra 250 pesos for a ride back to where the tour started. We had no other options since Tulum is a 30 minute drive from where the Marina left from. Thought that price was included. Snorkeling was great as was as the tour of the Mayan ruins
June 2013
Directions were not accurate. It showed a marina in cancun, but it was actually 11/2 hours away in playa de Carmen. That being said once you find it it was great

July 2015
This tour never happened!! Viator told us to call but when we got to Mexico the number was wrong!! Then we asked them for help and told them we need a number to call from Mexico and they responded with the same wrong number!! Now they won't return any of my emails!!! Never again!!!
Advertisement
Advertisement