Set out from Cancun on a full-day visit to one of the New Seven Wonders of the World: Chichen Itza. This sacred Mayan capital and UNESCO World heritage site is the Yucatan's largest archaeological Mayan city. Embark on a guided tour of its ruins and learn their incredible history and significance before exploring on your own. See the iconic Pyramind of Kukulkan and the Great Ball Court where Mayans engaged in ritual-associated sports, and swim in an underwater grotto. After dinner enjoy a light and sound show incorporating the ruins.
Please note: this tour is not currently operating due to maintenance
Highlights
Full day trip to Chichen Itza from Cancun

After dark light and sound show displaying the culture and history of the Mayan people
Visit the Secret Cenote, the Ball Court and the Pyramid of Kukulkan
Complimentary pickup and drop off from most Cancun and Puerto Morelos hotels
What You Can Expect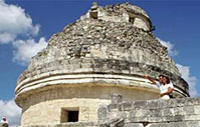 Upon arrival at Chichen Itza at 2:00pm, head directly to the archaeological site. Once inside, we'll divide into two groups, English and Spanish speaking. You'll be taken on a 1.5 hour tour with a certified guide who will introduce you to the secrets of the Mayans. Your guide will explain the historical significance of all the most important sites before leaving you to enjoy the ruins on your own.

After, you'll have the opportunity to visit an underwater grotto and admire its beauty and unique formation. Here, you can swim in the pure, crystal clear water and enjoy the beautiful nature. Then, you'll enjoy a delicious buffet dinner with fresh salads, soups, rice, meat, chicken, fish, vegetables and regional dishes. Included are two drinks.

After dark, you'll watch a projected light shadow over the architectural elements of the building. Witness a serpent descending to the ground (equinox show), Mayan warriors playing the ball game and the sounds of life and death. This is an exciting show full of history, awesome light effects and a brief glimpse into the ancestry of the once powerful Mayan people.
Chichen Itza has been declared a human heritage site and recently designated as one of the modern wonders of the world due to its extraordinary architectural beauty and its geographical location. The ancient history combined with the lush natural landscape make Chichen Itza one destination that you cannot afford to miss while in Mexico.
September 2012
It was very nice. The only downfall was we didn't get back to our hotel until 1 a.m. so when booking make sure you have nothing planned for next day! At the buffet, we did have to pay for sodas even though the voucher said it was included.
roxy Norge
April 2012
Jeg gir dette full pott, da serverdigheten Chichen Itza veier opp for alt annet. Turen var litt lang, men verd det. Besøkte en "mayan village" på veien dit, men det var ikke annet enn en stor souvernirbutikk. Med dyre souvernirer du får til halve prisen inne på ruinområdet (der er det tusenvis av selgere). Dette stoppet på en halvtime kunne de droppet. Vi stoppet også ved en cenote. Vi badet ikke, og den var ikke så imponerende som mange av de andre cenotene vi så på ferien. Dette kunne de også ha droppet. Ruinene var fantastiske og verd hele turen! Maten var grei nok, hadde 2 soft drinks inkludert, men rakk knappt nok en. Lyd og lys showet kunne vi vært foruten, men vi slapp ihvertfall å stå opp så tidlig, og vi fikk oppleve ettermiddagen ved ruinene når det tømmes for folk. Da var det enda flottere der. Denne 14 timers-turen kunne vært unnagjort på halve tiden om vi hadde droppet alle stoppene, og bare dratt direkte til ruinene. Eller vi kunne brukt tiden på ruinene, for der ble det litt knappt med tid. Buss-guiden/koordinatoren var flott, fortalte mye interessant om mayaene, (men får nok provisjon av den butikken vi stoppet ved, han reklamerte veldig for dem, men det tålte vi å høre på), guiden ved ruinene var sikkert flink, men gruppen vår ble slått sammen med annen/andre grupper, vi var for mange, så vi hørte ikke en brøkdel av hva han sa. Så: Selv om det var noen "men" på turen gir jeg denne turen full pott!! PS: Ta med niste! Ett måltid på 14 timer er ikke nok.
July 2011
Great! Great! Great! We had Victor as our guide and he was great! He was very knowledgable and answered all of our questions. The bus ride was comfortable, the time we had in the park was good (as well as the tour) and the food was good. The best part was Victor taking time after Lunch to give us more mayan history and culture info. Tip: Bring bug spray/sunblock, rent the english audio head phones for the light show so you can follow the story, and pack a good snack (lunch might not be until 5 pm).
July 2011
Excellent trip! Victor was the BEST!!!
George P USA
March 2010
We were very happy with the whole trip. The tour guide was very informative and knew the history of the the Mayans. If you do it, you should get the headphones because the light show is in Spanish and the headphones translate so you know what is said. The dinner was very good.
February 2010
Our guide was extremely helpful. Everything was explained to us in detail. It was a great day thanks to him.
Gary C USA
January 2010
One of the few tours where we got more than we bargained for! Very pleasant day, the guide did a good job, and dinner was very good. Professional in all aspects.
Rick M USA
March 2009
Our guide was very informative. Enjoyed the full day excursion. The light show did not have enough chairs for all of the people, so we stood the entire 45 minutes. The translator devices were not guaranteed to work, so we did not rent them. Having an English version of the history would have enhanced the program, we just listened to the Spanish version on the speakers, which we didn't understand. The light show was interesting, but we could have had it shortened as we didn't understand the narrative. Dinner was good.
Craig H USA
November 2008
Loved it.
April 2011
Great tour especially with our amazing tour guide! He made it feel like a science class field trip with his very helpful and informative explanation and demonstrations (while holding his binders full of pictures!). The included buffet in the evening was also very nice that came with an unexpected mini performance/show by the locals. However, the evening show at Chichen was a little too long (hence the 4 stars) or maybe we were just a little tired by then...
Advertisement
Advertisement