Uncover the Mayan mysteries of Coba's atmospheric ruins on an exhilarating full-day excursion from Cancun and Riviera Maya. Ascend to the summit of the ancient city's tallest pyramid and absorb panoramic vistas of the Yucatan peninsula. Enrich your knowledge of Mayan civilization with an accomplished guide and see archeological attractions with ancient origins. Convenient round-trip transportation from your hotel and a fulfilling lunch is included on this tour.
Highlights
Visit the archeological ruins and pyramids of Coba

Climb to the top of Nohoch Mul and enjoy panoramic views of the Yucatan Peninsula

Hotel pickup and drop-off included

Recent Photos of This Tour
Coba Ruins Day Trip from Cancun or Riviera Maya
What You Can Expect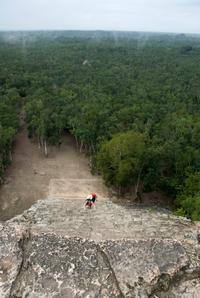 Depart from your hotel in Cancun or Riviera Maya in a comfortable, air-conditioned minivan and admire the rural scenery of the Yucatan as you venture to the ancient site of the Coba ruins. Listen as your accomplished guide sets the historical scene and explains how Coba played a pivotal role in Mayan civilization.
Arrive at the site and enjoy 2 hours of independent exploration; ascend to the summit of the tallest pyramid in the Yucatan region and enjoy panoramic vistas from a height of 140 feet (42 meters). After conquering the Nohoch Mul Pyramid, follow your guide to some of the park's historical highlights, perhaps renting a bike in order to explore the site with ease (own expense).
After thorough exploration, return to the coach and venture to a traditional Mayan village to interact with its indigenous inhabitants. Gain insight into the fascinating flora and fauna of the region and learn about the cultural customs of the Yucatan region. Conclude the tour with a revitalizing dip in a freshwater sinkhole before returning to your hotel in Cancun or Riviera Maya.

June 2016
Our tour guides were great. We went to a mayan village and did a religious ceremony, ate homemade tortillas, jumped into a cenote. The lunch they severed was amazing. Then we went to Coba, make sure you bring sneakers for Coba. I also recommend taking the mayan limo to the main temple. It's a far walk. Great trip!
June 2016
This was one of the better tours that we took during our vacation. Pick-up was at our hotel in cancun. Then we traveled in a passenger van to the Mayan Village where some of the tour people split to do the adventure part. Zip-line and repel We toured the Mayan Village and was blessed by their Shaman before jumping into their Centote. Afterwards we went back and met up with the group and had a wonderful traditional Mayan lunch! Loved the Chicken! Food was fresh and well made! Next onto the Coba ruins where we had our Mayan tour guide educate us on the Mayan culture and history!
October 2015
With his encyclopaedic knowledge, Alfredo was in inspiration to anyone wishing to gain an insight into Mayan culture and heritage.
This was a true privilege and one which we will always remember.
May 2015
Great tour. Our Guide Alex was informative and nice. Arrived at our resort on time. Ruins were imressive as were the Mayan families we went to visit.
May 2015
Absolutely awesome! Our tour guide, Saul, was very entertaining and knowledgeable. This tour includes some really unique and personal experiences that I don't believe many tour companies are offering. We were taken into rural Mayan peoples' homes, blessed by a Mayan elder, and allowed to swim in a sacred Cenote sinkhole which was a highlight of the trip. I strongly suggest jumping off of the high ledge into the water because it is one of the most refreshing experiences I've had in my life, and the water is so deep there is nothing to worry about. Lunch was delicious and all you can eat! The Coba ruins are, of course, stunningly awesome as well. Climbing to the top of the tallest pyramid was scarier than I expected because the steps are very steep, but it was totally worth it. Take advantage of the opportunity to climb to the top of this pyramid before they discontinue that option! It is the only Mayan pyramid that still allows it, so there is no telling when they will stop. Overall, this tour is a 10 out of 10. You will really enjoy it if you have any interest in the Mayan culture or just different cultures and customs in general.

Richard B United States of ...
December 2014
"Saul" our tour guide provided a well rounded experience by visiting two Mayan villages, a ceynote and the historic site of Coba. Great combination of physical activity and learning. Highly recommend!
June 2014
This tour is probably the best way to explore not only the amazing Maya ruins of Coba, but also to catch a glimpse into the everyday life of the Maya people living in the low jungle of the Yucatan peninsula. Our driver and guide, Saul, who by the way, is super fun, picked us up at 7 and took us directly to a small Mayan community called Esmeralda. There, the shaman, Don Benjamin, performed a very beautiful and moving purification ceremony, in which he asked the gods for protection and permission, so that we could later swim in the local cenote. This cenote, about 14 meters deep, with clear, amazing water, is in the middle of the village and can be access through a wooden staircase. In is partially covered and partially open, so that the daring ones can choose to jump straight in, from a rock some 15 meters above. We were provided with towels, life vests and swimming floats.
After Esmeralda, we stopped at Laguna Chabela, an even smaller Mayan community, home to maybe 3 families altogether. There, we visited these hospitable people's houses and kitchen. Dona Aurelia, the matriarch, was making corn tortillas and invited us to try some, which we gladly did, accompanying it with fresh made, spicy salsa.
During our tour of the Mayan communities, young boys kept snapping pictures of us, as part of a project. At the end of this part of the trip, you can purchase all the photos, from both locations, copied on a CD. We did, and are quite happy with our decision: not only did we get some 60 pictures of ourselves, but also amazing snapshots of the local flora, fauna and landscapes. We also got a recording of the purification ceremony.
A word of advice: if you want to buy a genuine piece of Mayan craftsmanship, make sure you visit the modest shops in these villages. What you can find here is not only authentic and cheap, but you know that by buying these objects, you are giving money directly to the community and not to some middlemen.
After this, we stopped for lunch, included in the trip price. We had very tasty local food and refreshments. From there, it was off to Coba, where a guide gave us a tour of the ruins. We left with plenty of time to rent bikes and go to Nohoch Mul. Climbing this very high pyramid is an amazing experience in itself, though not for the faint-hearted.
October 2013
Incredible - thank you. ~:D
August 2013
Fantastic... Saul, our guide, was great. Amazing day trip.
April 2013
There is more to this trip than is quoted in the flier. We went to a Mayan village and a cave to swim. It was a very interesting day.
Advertisement
Advertisement