Special Offer
Book and travel by August 31, 2015 and save 15% off our previously offered price!
Immerse yourself in the culinary and cultural wonders of the Mayan civilization on this comprehensive tour in the Yucatan. Observe the universe at a planetarium, learn to speak Mayan – a living language – and cook a regional dish for lunch. Then visit Chichen Itza, a UNESCO World Heritage Site and one of the new Seven Wonders of the World! See the Temple of the Warriors and the Pyramid of Kukulcán before relaxing at Mayaland Resort. Receive personal attention from your guide on this small-group tour, limited to 25 people.
Highlights
Mayan cultural tour with cooking class from Cancun
Participate in an authentic Mayan ceremony and see a show at the planetarium
Tour UNESCO World Heritage-listed Chichen Itza with an experienced guide
Relax at Mayaland Resort's swimming pool, botanical gardens and Xtoloc Cenote
Enjoy cooking traditional Mayan cuisine for lunch
Hotel pickup and drop-off by Mercedes Benz van with complimentary bottled water, soft drinks and beer on board
Small-group tour limited to 25 ensures a more personalized experience
Why Our Insiders Chose This Tour
This culture-infused tour includes a bit of everything – Mayan language, history and cooking – topped off with relaxation at Mayaland Resort!
What You Can Expect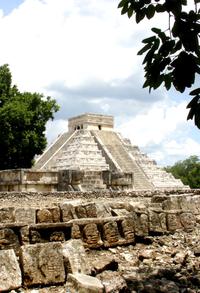 After morning pickup from your Cancun or Merida hotel by luxurious Mercedes Benz van, relax in your plush reclining seat and enjoy a light breakfast on board. During your small-group tour, your guide will shed light on the culture of both ancient and modern-day Mayans as you take part in spiritual ceremonies, culinary delights and astronomical observations before a visit to UNESCO World Heritage-listed Chichen Itza.
First, witness an authentic Mayan ritual and learn about offerings that only the H' men, or Mayan priests, can make to the gods. Next, discover the secrets of regional Mayan cuisine as you prepare pibil – one of the most traditional chicken dishes – during a small-group cooking class. For lunch, enjoy delicious Mayan appetizers with your creation, along with agua fresca, a fresh drink made of seasonal fruits. Your guide will offer a Mayan language lesson with the opportunity to speak with local Mayan people.
Afterward, receive a lesson in numerology and learn how the ancient Mayas calculated time. You'll appreciate the contribution of the Mayan civilization to the fields of astronomy, time measurement and mathematics before a trip to the planetarium. Here, watch a digital show produced by the Chabot Space and Science Center, and be transported back in time to the Mayan jungle of the Yucatan.
Once you've learned about this important scientific and cultural heritage, you'll be ready for Chichen Itza, considered one of the new Seven Wonders of the World! As you tour the sacred city with your small group, your guide will explain the archeological significance of its most important temples and pyramids.
Admire the Temple of the Warriors and its adjacent Temple of the 1,000 Columns, as well as the Temple of the Jaguars and the Pyramid of Kukulcán (the large central pyramid also known as El Castillo – The Castle). You'll visit Mesoamerica's largest Ball Court in addition to the Observatory, La Iglesia and the Nunnery before heading to the nearby Mayaland Resort.
During your free time, enjoy the resort's swimming pools, lounge chairs and botanical gardens, or visit to the sacred Xtoloc Cenote (no swimming permitted). With bottled water, beer and soft drinks available aboard the van at all times, you can relax on your return to your hotel.
April 2015
It was great The tour guide was very knowledgeable It was neat to cook chicken Mayan style and then eat it Only my wife comprehended Mayan math
September 2014
Wowzers! We had such an incredible time on our trip to Chichen Itza and learned so much about the Mayans from our tour guide Carlos! He was incredibly knowledgeable and clearly passionate about what he was sharing which brought so much of the history to life.
We would say though that the Viator description is slightly misleading. The cooking class involves cooking pre-prepared food, and the relaxation at the Mayaland resort involves eating and walking amongst the gardens on your way to different elements of the tour, but no use of the pool facilities. This wasn't a problem though as so much of your time is spent experiencing different elements of Mayan culture and of course going to the sight of Chichen Itza with our incredibly knowledgeable tour guide, Carlos, who could answer any questions you had about the sight and the Mayans.
We would highly recommend this tour as it was a huge highlight of our trip.
Special Offer
$148.99 Save $22.34
Advertisement
Advertisement