Experience multiple aspects of Mayan life with a cooking class, cultural workshop and visit to UNESCO-listed Chichen Itza. Start your day from either Cancun or Merida and delve right in with a Mayan ritual, followed by a hands-on lesson in preparing pibil—a traditional dish of slow-roasted chicken. Learn various Mayan phrases over lunch, test your numerology skills and stop by a planetarium to learn about Mayan contributions to astronomy. Afterward, explore the world-famous archaeological site Chichen Itza on a guided tour, followed by some pool time at Mayaland Resort.
Highlights
Mayan cultural tour with cooking class from Cancun
Participate in an authentic Mayan ceremony and see a show at the planetarium
Tour UNESCO World Heritage-listed Chichen Itza with an experienced guide
Relax at Mayaland Resort's swimming pool, botanical gardens and Xtoloc Cenote
Enjoy cooking traditional Mayan cuisine for lunch
Hotel pickup and drop-off by Mercedes Benz van with complimentary bottled water, soft drinks and beer on board
Small-group tour limited to 25 ensures a more personalized experience
Why Our Insiders Chose This Tour
This culture-infused tour includes a bit of everything – Mayan language, history and cooking – topped off with relaxation at Mayaland Resort!
What You Can Expect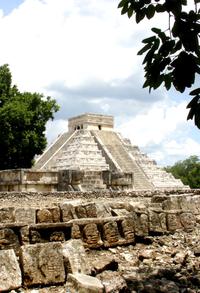 After morning pickup from your Cancun or Merida hotel by luxurious Mercedes Benz van, relax in your plush reclining seat and enjoy a light breakfast on board. During your small-group tour, your guide will shed light on the culture of both ancient and modern-day Mayans as you take part in spiritual ceremonies, culinary delights and astronomical observations before a visit to UNESCO World Heritage-listed Chichen Itza.
First, witness an authentic Mayan ritual and learn about offerings that only the H' men, or Mayan priests, can make to the gods. Next, discover the secrets of regional Mayan cuisine as you prepare pibil – one of the most traditional chicken dishes – during a small-group cooking class. For lunch, enjoy delicious Mayan appetizers with your creation, along with agua fresca, a fresh drink made of seasonal fruits. Your guide will offer a Mayan language lesson with the opportunity to speak with local Mayan people.
Afterward, receive a lesson in numerology and learn how the ancient Mayas calculated time. You'll appreciate the contribution of the Mayan civilization to the fields of astronomy, time measurement and mathematics before a trip to the planetarium. Here, watch a digital show produced by the Chabot Space and Science Center, and be transported back in time to the Mayan jungle of the Yucatan.
Once you've learned about this important scientific and cultural heritage, you'll be ready for Chichen Itza, considered one of the new Seven Wonders of the World! As you tour the sacred city with your small group, your guide will explain the archeological significance of its most important temples and pyramids.
Admire the Temple of the Warriors and its adjacent Temple of the 1,000 Columns, as well as the Temple of the Jaguars and the Pyramid of Kukulcán (the large central pyramid also known as El Castillo – The Castle). You'll visit Mesoamerica's largest Ball Court in addition to the Observatory, La Iglesia and the Nunnery before heading to the nearby Mayaland Resort.
During your free time, enjoy the resort's swimming pools, lounge chairs and botanical gardens, or visit to the sacred Xtoloc Cenote (no swimming permitted). With bottled water, beer and soft drinks available aboard the van at all times, you can relax on your return to your hotel.
brandt44 USA
April 2015
It was great The tour guide was very knowledgeable It was neat to cook chicken Mayan style and then eat it Only my wife comprehended Mayan math
September 2014
Wowzers! We had such an incredible time on our trip to Chichen Itza and learned so much about the Mayans from our tour guide Carlos! He was incredibly knowledgeable and clearly passionate about what he was sharing which brought so much of the history to life.
We would say though that the Viator description is slightly misleading. The cooking class involves cooking pre-prepared food, and the relaxation at the Mayaland resort involves eating and walking amongst the gardens on your way to different elements of the tour, but no use of the pool facilities. This wasn't a problem though as so much of your time is spent experiencing different elements of Mayan culture and of course going to the sight of Chichen Itza with our incredibly knowledgeable tour guide, Carlos, who could answer any questions you had about the sight and the Mayans.
We would highly recommend this tour as it was a huge highlight of our trip.
March 2014
The guide was very professional and knowledgeable. The hotel pickup was on time, everything was extremely well done.
February 2014
Our tour guide Carlos was very knowledgeable and interesting. We enjoyed the lesson in numerology, cooking like a Mayan and the show at the observatory very much. Chichen Itza is well worth a visit and Viator is the best!
December 2013
Great tour overall. It was only the two of us on the day we went, so I think ours may have been a bit different. We we're also a bit late being picked up, and after changing vans, arrived late to the tour. I think this hurried our classes (counting, language, cooking). No light breakfast or refreshments on the way, as noted in schedule details, so we were happy to have eaten a light breakfast at our resort prior to being picked up. After the planetarium (which was cheesy at times, but definitely a good history of the Mayan people and culture), we were supposed to go to straight to the ruins. However, we were starving at that point and asked to eat first, which they graciously accommodated. We had a feast! Multiple appetizers, entree choice of the chicken we cooked or another meat/fish, and dessert. However, we ate so much and for so long, that we cut our ruins tour down to only 1.5 hours. Luckily, we had Gil, the world's best tour guide who got us through the ruins efficiently. He was SO fantastic!!!
Overall, transfers and inclusions were an issue but at the end of the day I had fun, learned a lot, and came back thrilled!
August 2014
Our guide was very informative, but I think we should have gone to the ruins first. We went at the hottest point in the day and it was hard to focus with all the heat.
July 2014
Great exposure to the Mayan Culture..starting with an introductory film about Mayan history...prepared our lunch at cooking class...Highlight being the ruins..very crowded with flea market feel with all of the people selling souveneirs(worst part). Guide was very knowledgable and we came away with an appreciation of a culture long gone
January 2015
the ABSOLUTE best part of the tour is how informative the tour guide is! the bad part is that they rush this tour because they are on a schedule... so FORGET lounging in the hotel in your free time... there is NONE! ask to take pictures during the cooking lessons or with the cook and DO NOT be afraid to take out your camera during the entire tour, because if you are shy about it, you will miss the chance... the cook is the nicest and most patient man, despite the time limitation. I don't give 5 stars because it feels too rushed, and the tour guide does not miss a beat. I felt kind of bad for him because he needs to get all the things promised and back home with in the time limit given to him. Although very monotone when speaking, if you could get over that, he is a great tour guide and VERY informative and polite. they will constantly remind you that tips are not included both for him and the driver, so be prepared for that. I don't have problems with this because I understand this is how they make a little cash on the side. Over all I would recommend this tour to older couples and definitely NOT younger people looking to be free and really enjoy the tour.... I took my mom and she likes to walk away like any 3 year old would at her 63 years, so she felt hurried and confined. they will try to sell you the necklaces and names and some other things (which I bought) so be prepared for the extra spending money. Not for everybody. We got to eat what we prepared and it was ok. Make sure to eat or take snacks.. a long drive. they will serve you a light breakfast when you arrive of bread and coffee... over all it was a good experience.

January 2016
The local tour company had me travel to Chichen Itza on a bus with a whole bunch of people who had different tours for the day. Mine was supposed to be hours longer, with a much more detailed program. I ended up missing out on much of my program, including lunch. Bad, bad time management decisions on the part of the company.
May 2015
It was okay. We learned a little about the Mayan language, I thought it was going to more. It was like five minutes worth of leaning, we visit the shaman which was nice. We also learned the Mayan numbers and it was hard to understand. We cooked a dish, but it was moe like five minutes of preparation, but it turned out great. The planetarium was nice. However, we did the tour of the ruins towards the end when it was hot. We only had one bottle of water. We did not take any breaks during the ruins and I felt sick. I felt nauseous, dizzy and was about to pass out. The girl who was with us, also felt the same and was about to vomit. The tour guide Carlos was not going anywhere near the shade, we couldn't even sit down. I had to sit on the dirt in front of the ruin, in the hot sun. At the end, he asked were we okay, and I explained to him no, so we finally left to eat. Which he began walking slower to explain all the famous people who stayed at the hotel like Jennifer Lopez, and also tried to get us to buy a Mayan Neckless from someone. I never felt that sick in my life when they offer us fruit. I could not eat. I just drank water for about thirty minutes until I was able to eat. I must admit, the chicken we prepared was awesome. I never saw someone cook chicken in the ground before. Overall. I will still say I enjoyed myself because although I was sick, tired, and hot. I was able to see the ruins, one of the seven wonders of the world.
Advertisement
Advertisement