16 Reviews
Location:

Cancun, Mexico

Duration:

5 hours

(approx.)
See the exotic surroundings of Cancun by horseback on this relaxing day tour. Surrounded by Mexican jungle and stunning vistas, this trail ride is scenic and peaceful. This is a great way to escape from the bustling city of Cancun and enjoy a day in the Mexican outback!
Highlights
Horseback riding adventure from Cancun, Mexico
Enjoy riding through the Mexican jungle and outback
Why Our Insiders Chose This Tour
If you've ever wanted to ride a horse on the beach or through a jungle, you'll love this easygoing excursion. Beginners welcome!
Recent Photos of This Tour
Horseback Riding near Cancun
What You Can Expect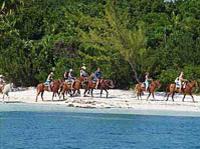 Located a scenic 40-minute drive south of Cancun is a ranch and stables with over 100 horses suitable for all riders from beginners to experienced. A 2 hour ride takes you through the exotic jungle, passing coconut palms and exotic nature.
Once back in the ranch, some Mexican snacks and soft drinks will be served. Alcoholic beverages are available for an additional cost. During the trip, a photographer will be taking pictures and these will be ready and on sale at the end of the journey. The ranch has a swimming pool for use and some farm animals are also on the premises.
October 2015
My girlfriend likes to ride horses but I am a bit nervous around them, we went to the Bonanza to ride the horses and this was my first time. The staff were great with teaching me the basics and reassuring me before we set off and we rode through the jungle. I enjoyed something that I didn't think was possible, we stopped and learned about the cenotes and how they connect to the underground river system before going back and having a snack and cooling off with a swim in another cenote.
We bought our photos as they were very well priced compared to many other attractions that rip you off and then they arrange your transport for you to go back to your hotel.
This ranch also rescues horses, donkeys, goats, pigs and dogs that have been abused so these guys are doing a great job looking after and caring for them so they get a thumbs up for that also.

Ryan USA
May 2014
This is the second time I have done this. Both have been great experience.

March 2013
January 2012
Brilliant tour well above expectations learnt lots about riding and the staff were tremendous would highly recommend for anyone especially beginners

Briana S USA
September 2011
Horseback riding on the beach for TWO!!! Just our luck we were the only two to book for an early afternoon ride, which made our ride on the beach very private and more special! The guide made us very comfortable and was full of information and extremely funny. I hadn't been on a horse in quite sometime and it was indeed a first for my companion. We both did well and would love to do it again in the near future!
Jasna G Canada
August 2008
Amazing. I love horseback riding. The horses were pretty small though so it felt more like a pony. The beach we went to was great as well and swimming with the horses was awesome because we got to ride bareback. Would do it again.
August 2015
This was a great tour if you like riding horseback. Our shuttle got us there late and we felt bad because the rest of the group had been waiting for 30 mins. No beach time with the horses but the forest and wildlife areas were awesome anyway. My wife's horse and mine were both a little skiddish but I think that was because we were the youngest and most energetic people on the tour, so they gave us matching horses. Overall great excursion, I would do it again.
June 2015
I really enjoyed this tour. This was my first time riding horseback and they did a good job of matching you up with a horse that reflected your skill level. Pictures are also available after the tour and we purchased 1. I would recommend!
January 2014
Horseback riding was fun! Even if you're a beginner, don't be alarmed. They will ensure you get a beginner horse and they will not go fast. We had quite a few advanced riders so they got an advanced horse so they do pair you up acccordingly. We rode throughout the jungle for over an hour. Some people were ready to go home and felt it was too long but BF and I didn't mind. We enjoyed it. We did have to wait an hour for a ride back to the hotel. That wasn't ideal time spent but they do have snacks and drinks while you wait so it wasn't too bad. Overall, I think it's a fun thing to do while on vaca. When else would you get the time to do it otherwise? IMO - Jeans and sneakers is the best attire as it can get pretty rough on your thighs if you don't ride regularly (think cowboys). Sunblock, hat, and mosquito repellent is a good bet. Enjoy.
June 2013
As advertised. Almost two hours in saddle. Not too much beach exposure but enjoyable.
Advertisement
Advertisement