Travel to Isla Contoy and Ixlache Reef aboard a comfortable boat on this full-day trip from Cancun. Snorkel on the reef amongst tropical fish, vibrant coral and sea turtles. Stop at Isla Contoy, a wildlife refuge and national park that protects 150 species of birds and several types of sea turtles. Take a tour of the island with a certified guide, then visit a nesting site and lounge on the pristine island's beach. Enjoy breakfast and an open bar aboard the boat, as well as a lunch buffet on the island.
Highlights
Snorkeling at Ixlache Reef, followed by a guided tour and free time on Contoy Island, from Cancun
Begin your day with a continental breakfast on the boat ride to Ixlache Reef
Witness marine life wonders at Ixlache Reef, including coral, a variety of fish, spiny lobster and queen conch
Enjoy a domestic open bar on the boat, which includes rum, tequila, vodka, beer, juice and water
Learn from a certified expert guide about Isla Contoy, a wildlife refuge for birds, sea turtles and other species
Choose one of several walking trails or lounge on the white-sand beaches of Isla Contoy
Feast on a buffet lunch with beer and soft drinks on the island
Snorkeling gear and safety briefing included
Recent Photos of This Tour
What You Can Expect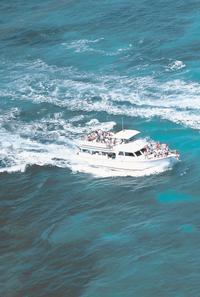 Arrive at the Scuba Cancun Marina on Kukulcan Avenue at 8:30am to catch your 9am boat. Enjoy breakfast onboard while being transported to Ixlache Reef. During this 90-minute ride, munch a pastry or sip some coffee while the tropical breeze and sun warm your skin.

The Mesoamerican Barrier Reef, the second-largest reef system in the world, is blessed with clear, shallow water (about 9 feet or 3 meters deep) and abundant wildlife. After a safety briefing from your guide, don the provided snorkel equipment and jump in. Be sure to apply your biodegradable sunscreen, which protects the reefs and your skin. Most hotels in the area sell this type of sunscreen. Look for sea turtles, schools of tropical fish, vibrant living coral and conchs scuttling along the ocean floor.

After an hour of snorkeling time, climb back on the boat and head for Isla Contoy (Contoy Island.) Only 5 miles (8 kilometers) long, this tiny island is boasts 150 species of birds like the majestic frigate, the double-crested cormorant and the brown pelican. Green turtles, hawksbill turtles and loggerhead turtles use the beaches on the island as nesting grounds to hatch their young. Because the island is protected, it only allows a certain number of visitors per day, and only from specific tour companies.

Take a 45-minute tour of the island with a certified guide, learning about conservation efforts and the island's unique biodiversity. After the tour, visit the island's lighthouse, the nature museum or the nesting lagoon. Relax on the beach before a buffet lunch is served, including beer and soft drinks.
Finish your full-day island adventure when you arrive back at Scuba Cancun Marina around 5pm.
Jane C USA
June 2016
This was some of the best snorkeling we have had in the Caribbean. We saw a turtle resting in thereef, a nerf shark, some porpoises playing, and some beautiful purple fan coral. We were rained out several days, but we got to go on a beautiful day later. The food at the island was terrific, with some of the best Amberjack fish I have ever tasted.
April 2016
April 2016
What a beautiful island. The boat ride was enjoyable and the stop for snorkeling was fabulous. We saw lots of coral, fish and sea life. The island was quiet and the tour to the other side was interesting. Lunch was delicious! The crew were attentive to everyone's needs and we had a wonderful relaxing afternoon on the beach and enjoying the shallow water. The departure location was easily reached from our hotel in the hotel zone via the local bus. I've already recommended this to friends returning later this month and I'll probably book this again on my next trip to Cancun.
March 2016
Awesome and great fun! A good mix of education about the island and wildlife and fun on the boat. The food was quite good! There was some confusion as to where we were supposed to meet the tour, but the staff called the owner who personally picked us up and delivered us to the dock. Excellence all around!
February 2016
Excellent day trip. Really enjoyed the island. The snorkeling was okay but not great, however the island part of the trip more than made up for it. The tour guide and the crew were wonderful. Very hospitable and knowledgeable. What a great day!
Victor H USA
November 2015
My wife and I had a wonderful time. The tur guide was exceptional and even though we were the only people to speak English he kept us well informed by repeating first in Spanish then in English. The food was great and the snorkeling was a highlight! Dr, Victor and Beverlee Hawkins, Carmichael, CA
November 2015
I recommend this Isla Contoy tour to healthy/active adults and mature/older children interested in nature and wildlife. I'd love to do it again. Isla Contoy hosts a huge breeding population of Magnificant Frigatebirds juveniles were mostly grown by late October. From the observation tower I also saw a Roseate Spoonbill and a crocodile while using 10x50 binoculars and 30x optical-zoom camera. A scope and higher zoom lens would've been very useful. Isla Contoy is literally crawling with hermit crabs and many iguanas. Visiting the mangroves requires serious protection from massive swarms of mosquitos, but it's a good opportunity to see more wildlife.
This is not a casual or luxury tour expect camping conditions throughout. The snorkeling segment requires decent swimming skills. The island tour includes a fast, challenging walk up a sandy/rocky path. Isla Contoy has no fresh water of any kind. Tour groups bring their own cooking/drinking water. The latrines are only accessible by steep wooden stairs.
Listen carefully and move quickly to keep up with your guide. There isn't much time to dawdle or examine details. As a wildlife enthusiast, the time limits were the most difficult aspect for me. I would like to return to see more.
It's essential to confirm your tour 24 hours ahead. Stormy weather postponed my Saturday tour to Tuesday. We couldn't visit Ixlache reef because of rough water instead we stopped closer to Isla Mujeres. Autumn weather often includes afternoon rain I regretted not bringing my poncho. The boat is mostly open, so only bring items that can either get wet or are carefully protected from water damage. Bring your own towels.
Vegetarians and those with special dietary needs must bring their own food. Breakfast was boxed juice, a container of coffee and a bowl of pastries. Drinks offered later were bottle water, juice, soda, rum and tequila. Lunch was communal with other tour groups. Hermit crabs and iguanas provided our dining entertainment.
October 2015
Had a great time, the boat staff was great, laid back with snorkeling and beer on the way back, what's not to love.
July 2015
This is an awesome tour. Everyone on the boat from the boat captain to his assistants were very nice. The crew took really good care of everyone. The food was delicious. Make sure to take a good repellent as their a lot of mosquitoes. Beach is absolutely beautiful. I highly recommend this tour.
July 2015
The local tour guides were extremely pleasant and helpful. Very relaxing tour, definitely recommended!
Advertisement
Advertisement