18 Reviews
Location:

Cancun, Mexico

Duration:

8 hours

(approx.)
Cruise on a comfortable vessel north of Cancun and soak up the beauty of Ixlache Reef and Isla Contoy. At Ixlache Reef, snorkel near coral, sea turtles, and fish of every color. Then join the privileged few allowed to visit Isla Contoy, a national park and wildlife refuge to various turtles and more than 150 species of birds. A certified guide takes you on a tour of the island, after which you have plenty of time to wander on a trail, visit a nesting lagoon or lounge on the beach. A continental breakfast and domestic open bar on the boat, along with a buffet lunch on the island, ensure you'll have the energy to enjoy the day.
Highlights
Snorkeling at Ixlache Reef, followed by a guided tour and free time on Contoy Island, from Cancun
Begin your day with a continental breakfast on the boat ride to Ixlache Reef
Witness marine life wonders at Ixlache Reef, including coral, a variety of fish, spiny lobster and queen conch
Enjoy a domestic open bar on the boat, which includes rum, tequila, vodka, beer, juice and water
Learn from a certified expert guide about Isla Contoy, a wildlife refuge for birds, sea turtles and other species
Choose one of several walking trails or lounge on the white-sand beaches of Isla Contoy
Feast on a buffet lunch with beer and soft drinks on the island
Snorkeling gear and safety briefing included
Recent Photos of This Tour
What You Can Expect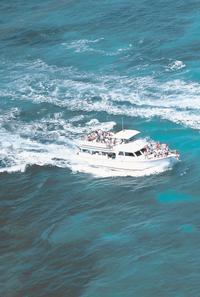 Meet your guides at the Scuba Cancun Marina on Kukulcan Avenue in the Hotel Zone, across the street from the Vacation Club International Hotel and the Casa Maya Hotel. Plan to arrive by 8:30am, as the boat will leave at 9am. Make sure to bring biodegradable sunscreen, most hotels in the area sell it, which is necessary to protect the marine life in the waters you'll be swimming in during the tour. A comfortable vessel transports you to Ixlache Reef, north of Cancun. If you missed breakfast, there will be some on the boat for you!

Grab a pastry or whatever strikes your fancy from the continental breakfast offered between 9am and 10am. Savor your morning coffee as you take in stunning blue waters and bask in the warm air. After about a 90-minute ride, you'll arrive at Ixlache Reef on the northern end of the Mesoamerican Barrier Reef, the second largest reef system in the world. Your guides will provide a safety briefing on snorkeling. Pull on your provided gear and jump in!

Pick a color, any color, and you'll likely spot a fish sporting that hue flash by you. The clear and shallow water — typically no more than nine feet (three meters) deep — makes it easy to spot swirling schools as they dance around the coral and queen conchs attached to the sea floor. Keep your eyes peeled for sea turtles, too!

After about an hour of snorkeling, get back on the boat and cruise to Isla Contoy, where you'll arrive around noon. Stretching five miles (eight kilometers) long, tiny Isla Contoy is home to more than 150 species of resident and migratory birds, such as the frigate, brown pelican and double-crested cormorant. Leatherback, loggerhead, hawksbill and green turtles use the beaches as their nesting grounds.

Because of the island's protected status as a national park, there's a limit to how many people can visit per day, and only a few tour companies are allowed to bring visitors here. You are one of the privileged few! A certified expert guide takes you on a 45-minute tour of the park, pointing out the wildlife and noting the importance of its preservation.

After the tour, enjoy the island on your own at the nesting lagoon, nature museum or lighthouse. Watch your step, an iguana could be sharing the trail with you. To unwind, meander to the beach and spread out your towel, and marvel at how the soft white sand doesn't stick to your skin.

In the early afternoon, a buffet lunch is served, with beer and soft drinks. Try the regional specialty tikin-xic — Mayan for "dry-wing" — fish. The whole fish is prepared butterfly-style and cooked over a wood or charcoal fire.

After lunch, hop back on your vessel to arrive back at the Scuba Cancun Marina around 5pm. Time flies on the ride, as you're probably busy scrolling through the dozens of pictures you took of this unique day.

July 2015
This is an awesome tour. Everyone on the boat from the boat captain to his assistants were very nice. The crew took really good care of everyone. The food was delicious. Make sure to take a good repellent as their a lot of mosquitoes. Beach is absolutely beautiful. I highly recommend this tour.
July 2015
The local tour guides were extremely pleasant and helpful. Very relaxing tour, definitely recommended!
June 2015
Awesome trip this is an all day adventure ... The boat ride is about an hour before we got to the snorkeling spot not a lot fish to see but it was a lot fun after about an hour we headed over to go contoy island this place is a national
Park beautiful beach and a grand a relaxation spot great times!
June 2015
The tour company did a great job. There was plenty to eat and drink and the island is beautiful. There were were only about 60 people on the island with two different tours so it was wonderful.
June 2015
A must do when in Cancun, the crew was awesome, the snorkeling great and when you get to the island it is just amazing. It was truly an amazing day.. I highly recommend it
April 2015
This is a must see while in the Cancun area ..boat ride was picturess ...snorkeling was fantastic...lunch was excellent. ..island was spectacular. ..crew was perfect
April 2015
Staff was great! Wear LOTS of sunscreen, it's a long day and the sun is very intense. The lunch on the beach at Isla Contoy was the best I have ever had on an excursion! The snorkeling because of the current was very vigorous - I would not recommend to anyone with health issues or the elderly. Unless it's a calm day. Very fun day overall!!
March 2015
March 2015
The tour was so relaxing... The staff was very nice, accomodating and you can tell they are very happy with what they are doing. The side trip to Isla Mujeres is short but I preferred a longer stay at Isla Contoy anyways. The snorkeling part was great. All in all a great experience!
December 2014
really was the best of our holiday, beautiful! unspoilt! and very welcoming!
Advertisement
Advertisement