55 Reviews
Location:

Cancun, Mexico

Duration:

8 hours

(approx.)
Special Offer
Book with us and save 9% compared to another travel site!
Sail on a beautiful Trimaran through the Caribbean Sea and travel to the tropical island that sits on the imaginary line between the Gulf of Mexico and the Caribbean Sea. Explore Isla Mujeres and enjoy a relaxing day on this beautiful, quiet island!
Highlights
Trimaran cruise to Isla Mujeres from Cancun
Escape from the urban setting of Cancun and spend the day on a secluded tropical island
Wide variety of aquatic activities including snorkeling and swimming
Stunning white sand beaches, turquoise waters and true Caribbean atmosphere
Why Our Insiders Chose This Tour
Isla Mujeres is as beautiful as Cancun but less crowded! Snorkel amid colorful fish, shop for unusual crafts and indulge in the all-you-can-eat buffet lunch and open bar on this mellow escape from the masses.
Recent Photos of This Tour
Isla Mujeres Trimaran Cruise
What You Can Expect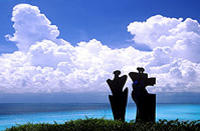 Isla Mujeres (Island of Women) is a casual, laid-back refuge from the conspicuously commercialized action of Cancun, visible across a narrow channel. Just 5 miles (8km) long and 2.5 miles (4km) wide, it's known as the best value in the Caribbean!

Request your tropical drink of choice from the bartender and take a seat in the shade or enjoy the unique experience of stretching out at the front of the ship across the open netting, the only thing between you and the beautiful Caribbean Sea!

Relax and enjoy the views as you cruise along, stopping at a coral reef national park along the way for an hour of snorkeling. You'll be guided through crystal clear 30-foot (9 meter) deep waters to admire beautiful coral formations, tropical fish and other fascinating animals. Your guide will sprinkle fish food into the water to completely surround you with schools of beautiful tropical fish. At the conclusion of your underwater journey, your catamaran will meet you at the other side of the reef and take you to the Beach Club.

As you make your way down the dock, don't miss the chance to have your picture taken holding a shark! (subject to availability). Then, take a seat on hammocks and lounge chairs and enjoy a delicious all you can eat buffet lunch.

Then re-board the catamaran and sail to the best shopping zone in Isla Mujeres. Browse a range of interesting shops with everything from classic souvenirs to incredible hand carved limestone and wooden sculptures. Although sometimes hard to find, you'll also find beautiful preserved sea creatures and shark jaws straight from the sea. The rule is, you never know what you'll find on Isla Mujeres!
January 2016
It was a nice sized boat and kept the experience more intimate. The crew supplied us withe drinks the whole time. The snorkeling was cool because we saw the underwater museum but the water was rough and I would recommend being a decent swimmer. Spent some time on the beach while we were at isla mujeres. Everything went really quickly but it was a good day and the water was beautiful.
December 2015
this cruise was amazing. our tour guides were fantasic. we saw so much and had so much fun. the food is great and the drinks are generous.
November 2015
Excellent service with Viator. Love the trip Isla Mujeres Cruise. I plan to come back with my Family. Thank you Viator for excellent service...I highly recommended.
October 2015
loved the tour, had a really good day, funny day as it was raining heavily at first we nearly decided to change the date, glad we didnt. the guides/sailors were very nice and friendly, very happy. the boat was very clean, lots of drinks. the water was so clear and so blue extremely beautiful. I didn't see much when we went snorkelling but not the guides fault. I'm not a very good swimmer at all and felt comfortable in the water with the help of the guides. We were supposed to go to the underwater museum as well but the waves were too rough, again out of their control. We rented a golf cart in Isla Mujeres, best way to see the island quickly, had so much on this. I was sceptical about the food at the buffet I am very fussy! but it was delicious! would def recommend and I would do this again!
October 2015
This was an unbelievable trip aboard the Lupita. We arrived at the port,,right at the Cancun Bay Resort at 9:30. We did have to get there ourselves, but the city busses run every 5 minutes and it costs about 10 1/2 peosos to ride. We watched the other large catamarans load up with 60-80 people. They looked like total party boats. We we were ready to go there were only 11 of us!! We felt like we were on our own personal boat trip. As many drinks as you wanted on board the boat, all day. We only snorkeled for about an hour, but two of the deck hands took us, one taking pictures the other leading. The boat met us after we had snorkeled. Lunch on the island was a buffet and was very good. Soda and water included, but liquor extra at lunch. Back on the boat after lunch and then got dropped off in the downtown area of the island.for an hour of shopping if you want. Then back on the boat for the trip back with a stop for swimming on the way. It was a perfect day!! I would recommend this trip to everyone!
Anonymous
October 2015
I loved this tour, it was so relaxing, just sailing out into the water and leaving Cancun behind. We went to an island for the buffet lunch and it was so relaxing! We were the only ones on the beach and we did stay there for about an hour and a half, which is plenty of time to enjoy the white sand beach. Then from there we went to Isla Mujeres which was really nice too! We rented a golf cart which was fun and then headed to the beach!
Anonymous
October 2015
This was a party on the boat! There was unlimited drinks, but of course that was after we got done with the snorkeling which was so much fun! We got to see the underwater museum, and it was something else! There was so many fishes and fishes swimming right underneath you too, definitely worth doing! We then went to a secluded island for a buffet lunch and we had time to swim there too and it was so peaceful. Afterwards is when we went to Isla Mujeres, which was beautiful! Definitely recommend this tour!
September 2015
We had a wonderful time!!!! The boat was nice and small. The snorkeling was cool, especially the ruins. Lunch was bomb.com!! Last part of the tour we didn't do any shopping, just walked over to the public beach and swam for an hour. All in all we really enjoyed ourselves!! awesome crew too!!!
August 2015
Great trip. Start to finish the team looked after our every need. Would thoroughly recommend it

August 2015
What a fantastic day trip! We had the Trimaran La Lupita with a great crew, hosted by Angel.
I would highly recommend them, as they took care of the entire group of cruisers and treated us all like VIPs. I like the trimaran, because it was smaller than the huge catamarans. Small group, less crowded on the boat, easier seating. You stop once to snorkel, once to eat and pet a shark, and then off to downtown Isla shopping.
Angel guided us so well in the water while snorkeling, even with other larger groups co-mingling, he kept us together. He gave us great advice for the shopping on Isla Mujeres, and told us where to go, and met us on/off the island and boat to make sure we were informed.
I just wish the Isla shopping was a bit more than an hour, as we were rushed to get to a few stores, and the shop owners really try to get you in at every turn. It was a little overwhelming.
Overall, a great tour. Angel and the crew were fantastic, and really blew away our expectations. They were entertaining, fun, engaging, and really made all the difference. They also took some great photos, and sold them to us at a fair price. Best part towards the end, we got to stop in the middle of the water to jump off and swim, which was amazing.
Special Offer
$81.99 Save $7.00
Advertisement
Advertisement