Experience one of Mexico's top adventure parks — Xplor — after the sun goes down! When the stars come out, the jungle comes alive with nighttime adventures that highlight the Yucatan's natural beauty. You'll get your adrenaline pumping as you raft, swim, drive and zipline through underground caves, jungle paths and treetops. It's an all-encompassing outdoor adventure that is the perfect end to a day in Cancun, Playa del Carmen or the Mayan Riviera. Hotel transport is included.
Highlights
Evening admission to the Yucatan adventure park Xplor
Experience the jungle after dark!
Raft and swim in underground caves
Zipline through the treetops while gazing at the stars
Drive an amphibious vehicle over jungle terrain
Hotel transport and all-you-can-eat buffet included
Recent Photos of This Tour
What You Can Expect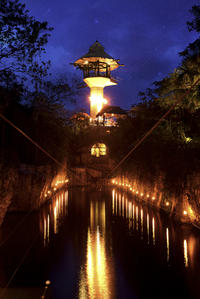 Your evening admission ticket to Xplor includes use of the park's four main activities: driving an amphibious vehicle, rafting through underground caves, swimming in a stalactite-covered river and ziplining.

When you enter the park, you may change your clothes in the dressing rooms and leave dry clothes in your locker. Then let the after-hours fun begin! Between adventures, head to the all-you-can-eat buffet to refuel, or relax for a bit in a hammock.

Amphibious vehicles:
Drive an open-air amphibious vehicle — think golf cart on steroids — along a 3.4-mile (5.5-km) path through exotic jungle terrain. In the dark, using the light provided by torches and the headlights on your vehicle, drive past waterfalls, hanging bridges and a crocodile pit, and storm over two river crossings. You must be 18 or older to drive; a valid ID is required.

Cave rafting:
Using special paddles that attach to your hands, make your way by raft along 580 yards (530 meters) of underground caves. As you travel through the shallow water, look around at the stalactites, stalagmites and other rock formations, all glowing in the dark. Water depth is only 3 feet (1 meter); lifejackets are not required.

Swimming:
Wearing a lifejacket, swim in the crystal-clear water of underground caves. All along the 437 yards (400 meters) of river, stalactites and stalagmites create a dramatic atmosphere, made even more magical in the dark.

Ziplining:
Fly through the air and admire the stars as you move from tower to tower on the ziplines. Bonfires, torches and fireflies light up the jungle as you zoom across the treetops, ending the zipline circuit with an exhilarating water landing.
November 2015
AMAZING!!!
because you arrive at the park at 5pm the crowds have gone so you have time to go on each activity twice. the rafting is horrible! i hated that. but the ziplining is amazing! they let you go as a single or couple, i was dreading the ziplining but felt so safe and the staff were great. The photos you receive are amazing. The vehicle is great, that was my husbands favorite activity.
We did not eat at the restaurant so cannot comment on the food, but the drink machine near the main heart was broke.
Overall brilliant little trip if you love Adrenalin
September 2015
My boyfriend and I took this adventure and absolutely loved it. We are in our early 50s and felt right at home in taking this tour. I would recommend this adventure. It was a lot of fun and the food was very good. Kudos to your staff. Very good experience.
June 2015
This was the greatest trip we have had throughout our whole 10 day trip. It was so amazing.
June 2015
SO MUCH FUN!!!! Ziplining at night is really an unforgettable experience. Workers were awesome, and the park is super cool! A MUST DO!
March 2015
June 2015
This tour was amazing . I really did enjoy it especially driving thr atv at night, fun and exciting . Swing under cave river .. I would do it again if I ever go back to cancun . Just dont forget to bring towels and bug spray ..
September 2015
Loved the park and the night entrance! Did not enjoy the tour group. Bus was late, had to change buses, overcrowded. We booked multiple tours this vacation and this by far was the worst experience

June 2014
Bring towels! We assumed they would have some at the park. Bad assumption. Also, you will walk... a lot. I hit close to eight miles in that park! The zip-line was the best part. You will sleep like a rock after this.
Advertisement
Advertisement