Travel efficiently between Cancun and Isla Mujeres with a convenient ferry ride from either of the two popular destinations. Simply board the Ultramar catamaran for the 45-minute ride, with a choice of one-way or round-trip ticket from Puerto Juarez (Cancun) or Isla Mujeres. Ferries depart every 30 minutes, making it easy to catch the boat at your convenience. Enjoy the breezes and views as you glide across the Caribbean with this deluxe ferry service.
Highlights
45-minute ferry between Cancun's Puerto Juarez and Isla Mujeres
Select a one-way or round-trip ferry ticket from either port with departures every half hour
Enjoy convenient transportation and reliable service on the Ultramar catamaran ferry
Soak up the picturesque Caribbean island views from the top deck
Have the option to purchase food and beverages on board
What You Can Expect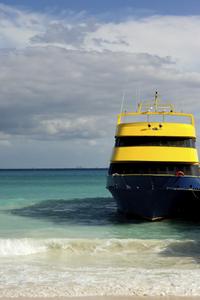 Book your one-way or round-trip ferry ticket between Puerto Juarez (Cancun) and Isla Mujeres, leaving from either terminal. Then hop aboard an Ultramar catamaran and coast comfortably across the Caribbean Sea! These ultra-modern vessels propel you at an average speed of 25 knots, bringing you safely to your destination in 45 minutes. Take a seat inside or settle on the top deck where you'll have panoramic views of turquoise waters and picturesque islands. Listen to music and feel the refreshing breeze as you're whisked away to Cancun or Isla Mujeres, depending on your departure location. Each boat is equipped with air conditioning, mounted television screens, a covered open-air area, a refreshments service, a bar and restrooms to ensure your greatest comfort during your trip.
You'll enjoy personalized, punctual and efficient service, including a friendly and helpful staff on board. Passenger capacities vary between 150 and 550. The rapid boats offer a smooth ride, with more than 70 crossings per day, leaving continuously from early morning through midnight.
Delight in the immeasurable beauty of Cancun and the Caribbean. Once you're on the 4.3-mile (7-km) long island of Isla Mujeres, it's just a short distance to some of the best attractions like the town center (Centro), turtle farm and Playa Norte Beach.
Itinerary
Option 1: One-way ferry ticket from either Cancun or Isla MujeresWith this one-way ticket, leave from either port with the schedule that best suits you.
Option 2: Roundtrip ferry ticket between Cancun and Isla MujeresWith this round-trip ticket, leave from either port with the schedule that best suits you.
June 2014
Islas Mujeres is too commercialized for my preferences. Ferry trip was fine.
April 2014
The ferry ride was great however a shuttle service should be included from hotel to Puerta Juarez due to it being away from everything else. Not an easy transportation arrangement. After being frustrated with not being able to ride bus there and time wasted we finally took a taxi.
Jackie United Kingdom
October 2014
August 2015
Not cool! Overpaid by 15 USD per person. Paid 23.98 roundtrip per person. When we went to exchange our vouchers for tickets, the price listed on the actual tickets was 146 pesos8.71 USD. I suggest you buy your tickets at Puerto Juarez. No need to worry about them running out as they have multiple boats every half hour.
June 2015
We did not get the trip we purchased. Your offices were closed by the time 9:30 we arrived at Puerto Juarez. We ended up having to purchase tickets with another company. I was not pleased at you stranding us.
Advertisement
Advertisement