Discover Chichen Itza on a private tour from Cancun. Explore this UNESCO World Heritage site outside of Cancun at your own pace; private tours allow you to dictate how long you'd like to spend at the site. Visit the ball court, the castle, and the Sacred Cenote, all integral parts of the most important archaeological sites from the Mayan Empire. Hire an on-site guide or upgrade your tour to include drinks and lunch, both at additional costs.
Highlights
Private day trip to Chichen Itza from Cancun

Spend as much of the day as you'd like at Chichen Itza, an ancient Mayan ruin and UNSECO World Heritage Site

Explore the observatory, the Sacred Cenote, the ball court and the castle

Complimentary roundtrip transportation from your hotel in a private vehicle

You choose the start and end times for your private tour

Upgrade to include lunch or lunch with drinks

Why Our Insiders Chose This Tour
Chichen Itza is a truly captivating archeaological site, and taking a private tour allows you to see it on your own terms. Start out whenever you're ready and spend as many hours as you'd like exploring this ancient Mayan capital.
Recent Photos of This Tour
Private Tour: Chichen Itza Day Trip from Cancun
What You Can Expect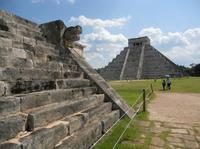 Meet your professional driver at your hotel for your trip to Chichen Itza. Private tours allow you to set your own pickup time and dictate how long you spend wandering amongst the ruins at this UNESCO World Heritage Site. Chichen Itza lies approximately 2 hours south west of Cancun, and your private car will ensure you get there in comfort.
Upon arrival at this marvel of the ancient Mayan Empire, opt to hire an on-site guide at an additional cost of about US $50-60. Guides can take you a little deeper into the historical significance of sites such as the Sacred Cenote (Cenote Sagrado,) the castle, the ball court and the observatory. The Yucatan's most important archaeological site deserves to be explored at your leisure, which you can do on a private tour.
Upgrade to include lunch at a local restaurant. Enjoy regional dishes like salad, rice, soup, chicken and fish while watching a folkloric show.
When you've explored Chichen Itza and the surrounding area sufficiently, meet your driver for private transportation back to your Cancun hotel.
June 2016
My wife and I had an excellent experience. Jorge was our driver and was very professional and spoke great English. The van was newer and very clean with great AC It is worth the price for a private ride to and from chichen itza. You leave when you want and stop anytime you need.
June 2016
Awesome! Miguel is the best :
June 2016
The private tour of Chichen Itza was the highlight of my family's trip to Mexico. Our driver, David and guide, Hugo arrived at our resort early and were waiting for us to start our day. Hugo was knowledgeable, friendly and very easy going with our family of four. Without him, I'm certain we wouldn't have covered as much ground as we did. Chichen Itza is one of those sites you'll want to visit every chance you get as you're certain to uncover something new each time. After our tour, we were offered refreshments on the drive to the Cenote. There, we had a buffet lunch which we washed down with agua frescas. It gave us just enough energy to take a dip in the cool water of the sinkhole. A wonderful experience overall!

May 2016
Driver, Manuel, was great. Very polite and courteous. Its a long drive from Cancun and almost nothing to see on the way, but Chichen Itza is very nice. Worth the trip. Go early, its very hot by noon. Cenote was the highlight. Bring pesos as the dollar rate is very poor. The buffet lunch was terrible. They cram you in a room with hundreds of people. You can't get more than 1 serving because the lines are so long. If you don't have pesos, the dollar equivalent cost is 30USD per person.
November 2015
August 2015
Excellent service. Our driver was professional and helpful. We also like the flexibility of the tour. We did not want to see a village as suggested by the agency so we wanted to see Ek Balam instead and the driver took us there. Of course, we bought our own ticket entrance since this was not in the original plan but it was okay. We really enjoyed the trip and the service.

July 2015
Excellent tour. Our driver was Victor. He was 20 minutes early for us! That was unfortunate for him because we are not an early family lol! But all in all he was helpful, a safe driver, knowledgable and was extremely pleasant to be around. He recommended a guide for us, and the guide - Guillermo was waiting when we arrived. He was prompt in getting tickets etc and from Chichen Itza to the Cenote. Unfortunately due to our time constraints we did not get to spend as long as we would have liked at the Cenote.
It was lovely to learn about Mayan culture, and the guide was exceptional. The weather was extremely hot, and the less clothes you wear, the better, but load up on sunscreen or you will get burnt! Hats can be purchased as you arrive for about 5 USD before you go in to the venue itself.
Just to be clear, what's included in the package I took: 7 persons, 114 USD per person - tickets to Chichen Itza and the Cenote, buffet lunch nothing special, personalized tour times - decide your own start point and end point, as well as transportation to and from the site.
Will highly recommend this tour.
For the Mexican government or whoever is in charge of running Chichen Itza, please please reduce the number of vendors you have lining the walkways around your beautiful ruins. They are cumbersome and definitely take away from the experience.
Will highly recommend this tour to anyone!
June 2015
The trip was great but the best part about it was our private driver -Ray Gonzalez! Ray made everything fun and easy. He is an amazing host and we felt very safe with him.
June 2015
We had the perfect day, our driver was fantastic attending to everything and more. Have used Viator in the past and will be definitely using again. Thank you Viator for making our holiday more special.
June 2015
Incredible experience, your tour guide and all of his suggestions made the trip a wonderful family experience we will all remember for the rest of our lives! Well worth the money! Thank you. Paul
Advertisement
Advertisement