Explore the Rio Secreto Nature Reserve outside of Cancun on this full-day excursion, where you'll swim and wade in one of the most spectacular underground caves in Mexico. Experience the serenity of the famous crystal caves of mexico, a tour that showcases the spectacular natural wonders of the Yucatán. Choose round-trip transportation from your Cancun hotel, or meet your guide a central Cancun location.
Highlights
Rio Secreto Nature Reserve

Swim through an underground river and enjoy the tranquility inside an ancient cave
See gorgeous crystal-like cave formations above the turquoise water
Hotel pickup and drop-off from most Cancun and Playa Mujeres hotels (if option selected)
Recent Photos of This Tour
Rio Secreto Underground River Tour with Crystal Caves
What You Can Expect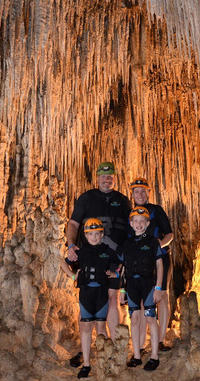 Choose pickup at your Cancun hotel or meet at Plaza Kukulkan for your afternoon trip to Rio Secreto Nature Preserve.
Arrive at Rio Secreto and listen as your guide reviews safety considerations and hands out equipment, including a hard hat with a lamp, a wetsuit, a life vest and water shoes.
Follow your guide into the underground cave to view the breathtaking crystal formations on both the ceiling and and the floor. Walk along a path through the caves and wade or swim through the river itself. Enjoy the sound of your group's movement through the subterranean cavern echoing off the walls. View the vibrant colors and dramatic mineral forms that lie hidden deep below the surface of the earth.
Exit the cave and opt for a shower at the Rio Secreto's facility. Swing in a hammock and relax in the Nature Preserve before boarding your bus for the return trip. End your Rio Secreto adventure with drop-off at your hotel in Cancun or at the Plaza Kukulkan.

April 2016
Awesome tour and Awesome tour guide!! The food was decent but the experience as a whole was epic.
April 2016

March 2016
By far the best adventure in Cancun, staff is friendly and professional, the site is beautiful and we'll maintained, absolutely amazing experience, a must see!
January 2016
Just beautiful, incredible!
December 2015
This Tour was amazing! And and #34;Eduardo and #34; our guide, was the best!!!!!
December 2015
This is a must if you are heading to Cancun. The only thing is that it isn't for young kids who are afraid of what might be in the water and caves. Also, its not for people with weak ankles or knees too, as there is quite a bit of uneven, not slippery, ground. Our group was delightful and the guide Benito was FANTASTIC! Do try and get into his group very well informed about the caves and the water system.
November 2015
Loved it! Absolutely peaceful and beautiful.
What to know before you go - be minimalmistic. No lotion, no sunscreen, no hair products, no jewelry. You can't wear anything other than Rx glasses into the caves and you'll be taking a lovely cold rinse before heading in. The less you have to rinse off the better. Take their advice when they say use the restroom before you get into your wet suit. The water is chilly and it would be bad form to have to use it as your personal restroom. There is a little bit of a walk to the entrance to the cave but by no means is it a rough hike. Lunch is good local fair. Nothing too heavy but just enough to reward you for the work you've put in going through the caves. My guide Pablo was awesome. He clearly loves what he does and cares deeply about the purity and sanctity of the caves. It was a gorgeous experience and I'm so glad we did it. You go back to your hotel baby soft one of the water's natural gifts, relaxed, and rejuvenated.
The downside - no cameras or recording devices. A photographer goes with you from start to finish and they take beautiful shots but the price is almost painfully steep it makes Disney look cheap.
Overall - Totally worth it. I have great memories of the day and would absolutely include it in my travel plans if I was returning.

October 2015
This is our second time doing this tour. Benito is an awesome guide. We took 7 of our employees to experience Rio Secreto! They loved it!
September 2015
Rio Secreto is a very nice place. We had a great day! The caves are amazing. The photo CD is worth it, pictures were wonderful!

August 2015
Amazing sight and excitement for the whole family. Tour guy explained everything very well.
Advertisement
Advertisement