492 Reviews
Location:

Cancun, Mexico

Duration:

9 hours

(approx.)
Special Offer
Save 35% when you travel on Tuesdays, Wednesdays, Thursdays, Saturdays and Sundays! See pricing options for full details
Gain essential insights into Mexico's past on a visit to Chichen Itza with a private archeologist. Miss the crowds by visiting in the early morning, and see parts of the site that traditional tours don't visit. With pickup from Cancun, experience the majesty of the entire Chichen Itza site and receive personalized attention from your professionally certified private guide.
Highlights
Early access Chichen Itza tour with a private archeologist
Beat the crowds with an early morning visit to Chichen Itza
Gain essential background information by touring with a private archeologist
Visit parts of the UNESCO World Heritage site that other tourists don't see
Enjoy a box lunch and round-trip transportation
Experience personalized attention on this Viator Exclusive tour
Why Our Insiders Chose This Tour
Tour Chichen Itza in the early morning, when the site is less crowded, and gain essential historical and cultural background by visiting with a private archeologist. Hotel pickup and drop-off, entrance fees and box lunch are included, making this a great trip for families
Recent Photos of This Tour
Viator Exclusive: Early Access to Chichen Itza with a Private Archeologist
What You Can Expect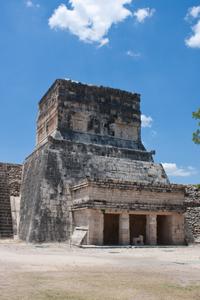 Your Viator Exclusive tour begins with morning pickup from your Cancun hotel.

Arriving at Chichen Itza, join your specialized guide for an in-depth tour of the site, and enjoy the tranquility of your early-morning visit before the crowds arrive.

Throughout the trip, your archeological guide's commentary provides essential background to the well-preserved site of Chichen Itza. Learn how this large pre-Colombian city played an important role in Mayan civilization from around A.D. 600 to 1200, and remained a center of worship and pilgrimage until the arrival of the Spanish. Even today, it is still considered a sacred site by the Yucatán peninsula's Maya population.

Like many of ancient Mexico's cities, the site was abandoned, and its ruins were hidden by jungle. Hear how the site was discovered and unearthed by archeologists, gaining UNESCO protection and considered today one of the New Seven Wonders of the World.

Your guide will explain the philosophy, cosmology and mythology behind this ancient site, such as the meaning of the stone carvings, pyramids, platforms, ball courts and staircases.

Visit the Observatory, Temple of the Jaguars, Temple of the Warriors and of course the famous El Castillo, also known as the Temple of Kukulkan. Hear how a serpent of light appears to wriggle its way down the temple's stairways on the spring and fall equinoxes.

Enjoy a box lunch while in transit back to Cancun. Return to your hotel at around 3pm. With this Viator Exclusive, your early morning trip to Chichen Itza helps you to beat the crowds so you can enjoy the remainder of the afternoon at your own leisure!
December 2015
We toured with Freddy and our faithful driver Jacinto. The trip was outstanding. We started very early in the morning, which was a red flag initially, but turned out to be the right thing to do. We arrived at Chichen Itza way before the crowds and got the good photos without anyone else there to photo bomb. Freddy was very informative and taught us a lot of the history before we even arrived. This tour was great and I would recommend it - our kids loved it too ages 7 and 9.
November 2015
Early access is definitely the correct choice! No crowds, which means better pictures! When we left, there's thousands of people arriving and it started getting heated. Our tour guide Freddie is THE BEST! Very knowledgable, explains clearly, and has the sense of humor.
November 2015
This tour is highly recommended. The tour guide was very knowledgeable. There is no opportunity to go into the pyramid, but you do learn a lot about Mayan culture. It would be nice if there was more time at the site though.
November 2015
Tour was quite good and informative. Our tour leader was Frank and the driver as Hasinto. e got on the bus at 6:20 am in Starbucks in hotel zone. Chichen was and half hour drive from Cancun. Frank explained briefly about Maya people, rituals and culture in the bus. we reached to Chichen around 9 am. we went with a tour about 2 and half an hour. Frank explanation was quite good about the whole area. we had free time from 11:30 till 12:15 to buy souvenirs and explore by our self, which in my opinion was not enough. we went back to the hotel zone around 3:30, which was on time.
some points
1- If you wanna buy souvenirs you need to bargain alot!!. And it is better to buy with peso instead of USD. because sellers are local people, they need change dollar to peso again. So, the price in peso is better.
2- Lunch was OK, they gave us when we got on the bus in the morning.
Some suggestion:
1-If there was a brochure which would briefly explain all monuments would be better.
2- Free time, 45 minutes, was so short to but stuff and explore the area.
Overall was one of the best day in Cancun trip for me.
Thank you Frank and Hasinto.
November 2015
very good experience well worth visiting
November 2015
Great tour! The tour guide was really informative and worked really hard. I could tell that he was really tired at the end of the day so I gave him a good tip. I got my money's worth of the tour.
November 2015
This was a very educational and enlightening day trip. I had never heard of Chichen Itza before and what I knew of the Mayans was embarrassingly small and very distorted. Francisco Frank!, provided a very concise yet greatly educational history of the Mayans, their plight and Chichen Itza. The site, the small portion that we were able to see in the early access express tour was awe-inspiring! Francisco's knowledge and guidance made me feel as if I was actually in a bird's eye view hundreds of years ago.
November 2015
It was great!! The guide was very informative and knowledgeable! He also kept the group entertained! Would definitely recommend it!
November 2015
We really enjoyed out trip to Chichen Itza. The coach was comfortable and our tour guide was very
knowledgeable. Hate to admit we can't remember his name but think it was Frank. We wish the tour had been an hour longer but all in all very organized and enjoyable
November 2015
Booked this trip with Amigo Tours via Viator. A great trip and our guide Freddy was superb, imparting a lot of knowledge in a entertaining and informative manner. It was great to get there before the crowds and to avoid the hottest part of the day. You also get to take photographs with very few people around. We received email and a phone call confirming our pick up time the evening before 5.30am. The whole trip ran like clockwork and we were back at our hotel by 3.30pm, so time for a couple of hours by the pool. Don't let the early start put you off, it's well worth it!
Advertisement
Advertisement