396 Reviews
Location:

Cancun, Mexico

Duration:

9 hours

(approx.)
Special Offer
Save 35% when you travel on Tuesdays, Wednesdays, Thursdays, Saturdays and Sundays! See pricing options for full details
Gain essential insights into Mexico's past on a visit to Chichen Itza with a private archeologist. Miss the crowds by visiting in the early morning, and see parts of the site that traditional tours don't visit. With pickup from Cancun, experience the majesty of the entire Chichen Itza site and receive personalized attention from your professionally certified private guide.
Highlights
Early access Chichen Itza tour with a private archeologist
Beat the crowds with an early morning visit to Chichen Itza
Gain essential background information by touring with a private archeologist
Visit parts of the UNESCO World Heritage site that other tourists don't see
Enjoy a box lunch and round-trip transportation
Experience personalized attention on this Viator Exclusive tour
Why Our Insiders Chose This Tour
Tour Chichen Itza in the early morning, when the site is less crowded, and gain essential historical and cultural background by visiting with a private archeologist. Hotel pickup and drop-off, entrance fees and box lunch are included, making this a great trip for families
Recent Photos of This Tour
Viator Exclusive: Early Access to Chichen Itza with a Private Archeologist
What You Can Expect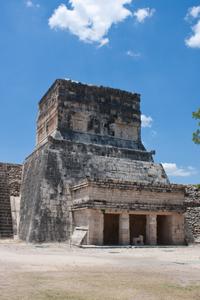 Your Viator Exclusive tour begins with morning pickup from your Cancun hotel.

Arriving at Chichen Itza, join your specialized guide for an in-depth tour of the site, and enjoy the tranquility of your early-morning visit before the crowds arrive.

Throughout the trip, your archeological guide's commentary provides essential background to the well-preserved site of Chichen Itza. Learn how this large pre-Colombian city played an important role in Mayan civilization from around A.D. 600 to 1200, and remained a center of worship and pilgrimage until the arrival of the Spanish. Even today, it is still considered a sacred site by the Yucatán peninsula's Maya population.

Like many of ancient Mexico's cities, the site was abandoned, and its ruins were hidden by jungle. Hear how the site was discovered and unearthed by archeologists, gaining UNESCO protection and considered today one of the New Seven Wonders of the World.

Your guide will explain the philosophy, cosmology and mythology behind this ancient site, such as the meaning of the stone carvings, pyramids, platforms, ball courts and staircases.

Visit the Observatory, Temple of the Jaguars, Temple of the Warriors and of course the famous El Castillo, also known as the Temple of Kukulkan. Hear how a serpent of light appears to wriggle its way down the temple's stairways on the spring and fall equinoxes.

Enjoy a box lunch while in transit back to Cancun. Return to your hotel at around 3pm. With this Viator Exclusive, your early morning trip to Chichen Itza helps you to beat the crowds so you can enjoy the remainder of the afternoon at your own leisure!
July 2015
Amazing great service excellent 1
July 2015
The tour pickup in Cancun was 4:30AM. That was the only bad part. Our guide, Frank, was a fountain of information. Perhaps a little fast for some, but for us it showed his enthusiasm for sharing the history. He even continued his tour during our free time for those who were interested.
July 2015
GREAT! Freddy was very knowledgable and so nice. The best part was that it was totally empty when we arrived and the sun hadn't fully come up so it wasn't as hot. As it got toward the afternoon the crowd came in and so did the heat. Going I he early morning made the trip so much better.
July 2015
We used Amigo tours and had Freddie as our tour guide. He was incredibly knowledgable of the Mayan culture, both past and present. I would highly recommend a tour with him. We went on the early morning tour, which was worth waking up at 4am, because we got to Chichen Itza before most of the crowds. We also missed much of the heat. This is the second time I've gone, and while you can no longer climb the ruins, this is an amazing Mayan city.
July 2015
Came back from Cancun in mid Jun. I was very glad I chose this tour. It was so worth woke up so early to go to the Chichen Itza because after around 10am...the site is sooooo hot. Also there is no body around the site that early. We got a perfect pictures. Our tour guide Freddie and driver Oscar is very nice and experience. Freddie is very funny and informative for the history of Chichen Itza. He has the best tour guide I ever met. I am sure he told the Chichen Itza history everyday but you can tell he still full of passion for his job. Highly recommended!!!
tips : buy souvenir in Chichen Itza, you won't see them anywhere else in Cancun. Remember to bargain!!
July 2015
Book this tour! The very early morning pick up is worth it. You will see this magnificent place when it is practically empty and be able to enjoy the peacefulness of the space. We arrived at 8:20 am and the parking lot was empty. Also it was not that hot yet. We left at around 11:20, just as hundreds of people were arriving and it was a total madhouse. Also, it had become extremely hot by that point. Beyond being there at the best time, Our tour guide, Frank, was incredible! We really appreciated how connected he is to his culture and that he wants to share it with and educate others. He spoke for an hour on the bus and then took us on a detailed tour of the main area. It was so informative and wonderful. Our bus driver, Oscar, was also great- very friendly and a safe driver. The bus was very clean and comfortable. Ignore any reviewers comments about he box lunch- it was fine- this is a no-nonsense tour- no hotel pool and restaurant/show- but in my opinion, that is not why you visit Chichen Itza. We got back to our hotel at 2:30 pm and still had the rest of the afternoon to do whatever. I HIGHLY recommend this trip! note- you may want to bring extra snacks/water.
July 2015
This was an amazing experience. Or guide Frank was both funny and very well educated. He made sure we squeezed the most from the few hours that we were in Chitzen Itza mostly alone. We arrived around 9 am but the crowds were there not earlier than at 11 am. This was a great tour.
July 2015
Despite having to get up at 4am for a 4.30 am pick up, the tour was worth it! As we were leaving, there were a lot of buses arriving and were finished by 11.30.
The tour started around 8.30 am when we arrived at Chichen Itza and you are guided for 1.5 hours and the other 1.5 hours you are left to wander around yourselves.
Our tour guides Freddie, Francisco and the driver Oscar were fantastic. They were friendly, courteous and provided us with in depth knowledge about the Mayan ruins and the history of the Mayan people with a touch of humour which made the tour much more fun. Other tour guides will recommend buying things from the grounds but these guys were honest and only recommended a stall which was 100 hand made and worth the money you pay.
I would like to thank Freddie, Francisco and Oscar for a wonderful tour and recommend anyone visiting Cancun who would like to go on a tour of Chichen Itza to go with the local tour operator and go with Freddie, Francisco and Oscar.
July 2015
Freddie is an excellent guide, he has a lot of insights into mayan culture and makes for an really good experience.
July 2015
Great tour! Freddie is very knowledgeable.
Advertisement
Advertisement