Special Offer
Save 35% when you travel on Tuesdays, Wednesdays, Thursdays, Saturdays and Sundays! See pricing options for full details
Discover the ruins at Chichen Itza with a private archeologist guide on this all-day Viator exclusive tour. Skip the lines and the crowds with early morning access and view parts of the ruins that most traditional tours don't visit. Learn about Mexico's past through your guide's insightful commentary about this UNESCO World Heritage Site. Enjoy lunch and round-trip transportation from your Cancun hotel.
Highlights
Early access Chichen Itza tour with a private archeologist
Beat the crowds with an early morning visit to Chichen Itza
Gain essential background information by touring with a private archeologist
Visit parts of the UNESCO World Heritage site that other tourists don't see
Enjoy a box lunch and round-trip transportation
Experience personalized attention on this Viator Exclusive tour
Why Our Insiders Chose This Tour
Tour Chichen Itza in the early morning, when the site is less crowded, and gain essential historical and cultural background by visiting with a private archeologist. Hotel pickup and drop-off, entrance fees and box lunch are included, making this a great trip for families
Recent Photos of This Tour
Viator Exclusive: Early Access to Chichen Itza with a Private Archeologist
What You Can Expect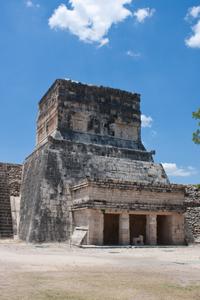 After morning pickup from your Cancun hotel, travel to Chichen Itza for early access to the ruins. Follow your guide through the UNESCO World Heritage Site before most of the crowds arrive, allowing up-close access and a more tranquil experience.

Learn about the important role that this well-preserved site played in Mayan civilization between 600 and 1200 AD from your private archeologist guide. Listen to your guide's explanation of how this pre-Colombian settlement was an important destination for pilgrimages, center of worship for the Mayan people and is still considered sacred today.

Visit the Temple of Kukulkan, which enjoys a special trick of the light during the spring and fall equinoxes. View the Temple of the Jaguars, the Temple of the Warriors and the Observatory. Hear about the meaning of the staircases, stone carvings, platforms, pyramids and ball courts according to the mythology and cosmology of the ancient Mayan people.

Board your vehicle for transportation back to hotel, enjoying a provided box lunch on the way. Arrive back at your Cancun hotel at approximately 3pm.
May 2016
Our host Frank and driver Jacinto were amazing. Frank is Mayan and was able to provide us w/excellent knowledge about the Mayan culture prior to our arrival. Jacinto is a smooth driver. I was able to nap w/out a care in the world. Belen, our tour guide, was spectacular! He made our trip memoriable!
May 2016
Our excursion to Chi chen Itza was very nice. The bus was on time, clean and we were met welcomed by our guide Frank and driver Jacinto. We were supplied with a bag lunch, we stopped for bathroom breaks and the ride was pleasant. Once we got there Frank was very knowledgeable and informative. It was a very pleasant excursion. I would certainly take another tour with this company.
May 2016
Frank was great as a tour guide. He was very informative, kept everyone's attention, and was polite and convenient with timing. I would highly recommend this particular tour due to the early access and awesome tour guide. The transportation was comfortable. I only wish I had known in advance about all the vendors that would be there selling items, it would have been great to support the local economy and take home some authentic items. I missed out because I couldn't get it in my luggage!
May 2016
Very informative , brilliant tour guide Frank ,lots of fun appreciate early morning, highly recommended

May 2016
Thanks to Frank had a great time and loved the information given to us about Chichen Itza. highly recommend

May 2016
Chichen Itza is probably the most complex set of pyramids in Mexico and the tour was amazing. We got there early and were able to see the entire site and explore before the tour buses arrived and before it got too hot. Our guides were awesome and we were back in Cancun early enough to still cath some sun on the beach.
May 2016
Frank our guide was superb,passionate and very informative. He helped us to understand Chichen Itza , the early access your is the way to go as even at 9am the heat was very hot, thanks too to Jacinto our driver
May 2016
We had the most amazing time with this tour. Frank is a great tour guide, he provides many interesting information about the place and he is very friendly. Early access is crucial for Chichen Itza since it gets really really hot and crowded. I highly recommend this tour.
May 2016
We would highly recommend. Tour guide Freddie and driver Ramon were excellent. Freddie was knowledgeable and took extra time to explain the significance of the different parts of the site. Going early was a plus with smaller crowds and cooler weather.
May 2016
Fantastic, very informative tour.
Frank, our tour guide had great knowledge and was able to comprehensively answer all of our questions. Our coach driver, Jacinto was friendly and an extremely safe driver.
I would definitely recommend this tour, which was operated through A Tours.
Advertisement
Advertisement