Special Offer
Save 35% when you travel on Mondays and Wednesdays! See pricing options for full details.
Discover the ancient Mayan ruins of Tulum with an archaeologist on this private full-day tour. Enter the site early, before the crowds, on a tour limited to 20 people. Explore the ruins, set upon a cliff overlooking the Caribbean Sea, in this Viator exclusive opportunity. Visit parts of the Tulum ruins that other tours don't get access to and enjoy personalized attention from your guide. Enjoy pickup and drop-off at Riviera Maya and Cancun hotels.
Highlights
Early-access Tulum tour with a private archaeologist — a Viator Exclusive
See Tulum in the early morning and beat the crowds!
Discover the archaeological ruins and learn about excavations with the expertise of your guide
Visit areas of Tulum that most tourists don't see
Enjoy a box lunch and round-trip hotel transportation
This tour cannot be booked anywhere else — don't miss out!
Recent Photos of This Tour
Viator Exclusive: Early Access to Tulum Ruins with an Archeologist
What You Can Expect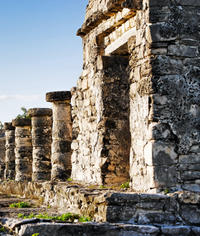 Leave your Cancun or Riviera Maya hotel in the early morning aboard a vehicle with your guide for this Viator exclusive tour. Stop on the way to Tulum to buy snacks (own expense) as you get to know your archaeological guide and small group of 20 people or less.

Arrive at Tulum before the crowds, gazing out over the glinting Caribbean Sea from the perch of a cliff. Follow your archaeologist guide for an in-depth tour of the Tulum ruins, including access to parts of the ruins that traditional tours do not visit. Learn about the meaning of Tulum, the Mayan word for "wall," and the ancient Mayan civilization that occupied this site.

Throughout the tour, the archaeologist teaches you more about the political, commercial and military history of this important Mayan city. View the remains of the walled city's elaborate murals, painted blue and red on stark white walls. Imagine what life must have been like for the ancient Mayans who occupied this city as far back as the 13th century.

Return to your Riviera Maya or Cancun hotel in the early afternoon, eating a boxed lunch on the way back to your hotel. Spend the afternoon at your leisure while the rest of the crowds are just arriving at the Tulum ruins.
June 2016
We cannot remember the individuals name that provided us with all of the amazing information on Talum and guided us on our excursion trip on Monday, May 30, 2016 pic up from the Riveria Maya Palace at 6:30am His knowledge was remarkable. Both he and the driver were so courteous and we were allowed time to spend doing what we wanted also going in the water, walking around a bit on our own, going to eat. I would definitely recommend doing this tour and it would be nice if we were able to request him again should we return but we know this may not be possible. Great deal, great tour guide and driver!
June 2016
Amazing! My only issue was that I was picked up first at 5AM and by the time we picked up the rest of the sightseers and made it to Tulum it was 9AM and I was kind of drained by the long bus ride. But the tour itself was awesome. Conrado the guide was brilliant. He was very well informed, engaging and dedicated. He also used photographs to illustrate the sun and moon phenomena's that occur at the ruins. Wear a hat and keep hydrated. Highly recommended it!
June 2016
Worth getting up super early for. Pick-up was from our hotel in Cancun and we where driven to the Tulum ruins in a nice air conditioned bus. They divided us up into 2 groups so we only had maybe 12 in our group in the end. The guide/Arch. was very informative on the history/culture. He made himself available for questions even after his part of the tour was done. We had enough time to explore the ruins on our own and visit the beach. There are tons of local trinket shops on the way out and a big official souvineer shop at the entrance/exit too. We were back at our hotel by 2:00 pm and had the rest of the afternoon to do whatever we wanted!
June 2016
It was perfect for us to be there before all the tourists got there, it was also much more cooler in the mornings compared to going midday when it's super hot out!! other wise we would have died there lol. Strongly suggest the early access to the ruins. :
May 2016
AWESOME! Marco Antonio was a first class scholar - so knowledgeable and insightful! Such a joy to have a truly educated and enlightened guide! Early access is the only way to go! We were the 2nd bus in the lot and by the time we came out there was not en empty space to be had - Kudos to Jacinto the driver - smooth, smooth, smooth all the way down and then back up the highway! GREAT TRIP!
May 2016
Beautiful place to see with some great ocean views!
April 2016
Tulum was a pretty cool site. Freddy was knowledgeable and gave a great tour.

April 2016
We loved the early tours and was well worth the early start. It was just getting warn and busy when we left.
April 2016
Excellent tour, excellent guide with great information. Well informed and answered all of our questions. Frank made our tour enjoyable , fun, and informative.
The begging transportation was a bit confusing but once we got there our group of 10 had fun. Well worth the value.
April 2016
We totally enjoyed this tour to Tulum, and we were so glad we picked the early access tour. It was well worth the 5:10 a.m. pickup because we were there before it got too hot and it wasn't at all crowded. We were back at the hotel in time for lunch 1:00 p.m. and time on the beach. Our tour guide, Freddie, was terrific! He gave us background info about the ruins the last 45 minutes of our bus ride to Tulum, and he was full of interesting info and stories during the tour. He was of Mayan decent and obviously very proud of his heritage. He loved talking about the Mayan history and his love of the Tulum ruins was contagious. We learned so much from him and appreciated the attention he gave to everyone in the group. We would HIGHLY RECOMMEND this early access tour to the Tulum ruins! THANK YOU.
Advertisement
Advertisement