138 Reviews
Location:

Cancun, Mexico

Duration:

8 hours

(approx.)
Special Offer
Save 35% when you travel on Mondays and Wednesdays! See pricing options for full details.
Tour Tulum, one of the most famous Mayan sites, with a private archaeologist — a Viator exclusive available nowhere else! Arrive in the early morning and miss the crowds, allowing you to fully experience the magnificent Tulum ruins, built on a cliff above the Caribbean Sea. With pickup from Cancun and Riviera Maya hotels, you'll see places that traditional tours do not visit. Receive personalized attention from your professionally certified guide on this small-group tour, limited to 20 people.
Highlights
Early-access Tulum tour with a private archaeologist — a Viator Exclusive
See Tulum in the early morning and beat the crowds!
Discover the archaeological ruins and learn about excavations with the expertise of your guide
Visit areas of Tulum that most tourists don't see
Enjoy a box lunch and round-trip hotel transportation
Receive personalized attention on this small-group tour, limited to 20 people
This tour cannot be booked anywhere else — don't miss out!
Recent Photos of This Tour
Viator Exclusive: Early Access to Tulum Ruins with an Archeologist
What You Can Expect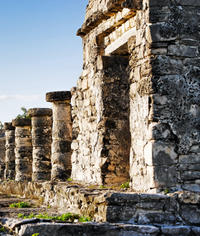 Start your Viator Exclusive tour after early morning pickup from your Cancun or Riviera Maya hotel, stopping for snacks (own expense) along the way. Join your guide, a certified archaeologist, for an in-depth tour of Tulum — a walled Mayan city perched atop a cliff that overlooks the sparkling Caribbean Sea. You'll arrive at the site and take in this tranquility just in time to beat the crowds!
As you tour Tulum, a Mayan word for wall, your expert guide provides informative commentary. Learn about the archaeological studies of the site and the Mayan civilization that occupied it. Hear evidence that places Tulum as one of the major Mayan cities of the 13th and 14th centuries in Quintana Roo, highlighted by its strategic coastal location, its elevation — the highest of any city the region — and its efficient defense system.
As you stroll among the ruins of this important city, you'll discover what researchers have uncovered: a political settlement along a commercial route that exploited the rich marine resources off the coast. Today, Tulum is best known for its sandy beaches and the remnants of elaborate murals — once painted a vibrant red and blue over stark white walls.
Return to your hotel in the afternoon, enjoying a box lunch while in transit back to Cancun. With this Viator Exclusive, your early morning trip to Tulum lets you beat the crowds so you can enjoy the remainder of the afternoon at your own leisure!
September 2015
Excellent tour. The Archeologist guide presented great information in a very easy to understand manner. Even included some humor which always makes it more enjoyable. Great getting in ahead of the crowds and heat of the day, although it was still hot. I recommend this tour if you want to see the beautiful ruins and learn history of this ancient civilization without using an entire day of your vacation.
September 2015
My boyfriend and I are so glad we took this tour. Getting up early was so worth beating the insane crowds. The education we received about the ruins and Mayan culture from Frank was amazing....
August 2015
Great tour, great staff and a magical place. Definitely go!
August 2015
Our tour was very enjoyable and informative! Our guide was an archaeologist named Ursula. She was extremely knowledgeable and explained everything in both English and Spanish. We were picked up promptly at 6:00 a.m. by our driver, Jacinto. The early start time was perfect to beat the high temperatures. We would highly recommend this tour, and both Ursula and Jacinto.
August 2015
Is my favorite place in Mexico. Here you got the rare opportunity to see how a Mayan city was structured and sometimes you got the feeling that they are still there... waiting to fix the roof or so...
I learn interesting things from the guides really well prepared.
July 2015
A fantastic trip. The early access was a great choice as we were able to get great shots of all the major sites long before it was over-run. Freddy was an awesome guide, very knowledgeable and helped to make sense of the historical significance of the various buildings. The beach access was not advisable this year due to the bad seaweed problem, but frankly, there is so much to see and do at Tulum, we did not miss it at all. By the time we left, just before noon, the place was crawling with hundreds of tourists and locals alike. Do yourself a favor and book the early access tour.
July 2015
Excellent 1 service was amazing the best...
July 2015
It was a great tour! Freddie is awesome. He has a lot of information to share. He truly wants to explain everything about Tulum. It is an early tour, but it's worth getting up that early as there are no people and when you get there is not too hot. We practically had the entire site for ourselves. Great for taking pictures. I highly recommend this tour.
July 2015
I didn't ask, but I seriously doubt that our guide was trained as an archeologist, but that didn't stop my family and I from enjoying the efforts of our tour guide, Freddie, and our driver, Guido. They were both warm and friendly, and Freddie was very entertaining. He offered a lot of information and details about the Mayan history and culture, and provided loads of information about the ruins. It was very tough getting up early the day of the tour, but it was worth it to beat the crowds and the heat. I think lots of other tour groups have caught on, though, so be prepared to see lots of other people. Oh, and bring lots of mosquito repellent!
July 2015
Really enjoyed the tour. Everything was organized very smoothly: great communication from the travel agent, on time pick up, comfortable new buses, professional and knowledgeable guide and the icing on the cake is that you get to go inside before the big crowds turn up. Bring anti mosquito spray :-)
Advertisement
Advertisement