Explore Xel-Ha Park, the Riviera Maya's stunning natural aquarium, on this all-day trip from Cancun. Relax on Xel Ha's hidden beach, swim in cenotes and lagoons, go snorkeling, and spelunk in caves. Watch out for wildlife like angelfish and iguanas. Xel-Ha is all-inclusive, so enjoy Mayan cuisine, seafood and burgers with your admission. This tour is family-friendly and includes round-trip transportation to Xel-Ha from Cancun.
Highlights
All-inclusive day trip to Xel-Há, a natural aquarium in the Riviera Maya
Discover caves, cenotes, a hanging bridge and a hidden beach
Snorkel and swim in a turquoise-colored lagoon and spot colorful angelfish
Float down a river in an inner tube and jump off a cliff into the water below
Entrance fee, locker use, towels, snorkel gear, unlimited food and beverages included
Pickup and drop-off from most Cancun hotels included
What You Can Expect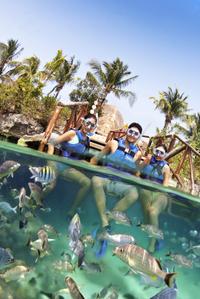 Following morning pickup at your hotel in Cancun, travel to Xel Ha for a day of exploration and discovery.
After a 1.5-hour scenic ride through Mexico, arrive at Xel-Ha, located on an inlet on the Riviera Maya. Pick up your all-inclusive bracelet and get to work exploring.
Bike, ride a tram, or trek to the top of the river at Xel Ha. Review the safety instructions before jumping into an inner tube and floating past mangroves until you reach a spot where you can cliff dive.
Stroll through the network of paved trails, where you can spot Mexico's array of wildlife like iguanas and tropical birds. Reach caves, a floating bridge, and a hidden beach.
Apply some biodegradable sunscreen, available onsite and required to preserve the park's ecology, before diving in to the lagoon. Don the provided snorkeling equipment for views of rays and angelfish swimming around you.
Stop at the buffet, the sit-down restaurant, or any of the park's snack bars for lunch or a quick bite. Enjoy unlimited beverages from the bar for the duration of your stay.
At the end of your eco-adventure, you'll be returned to Cancun for drop-off at your hotel.
January 2016
This was a full fun day with lots to do. Park is very pretty, snorkeling and tubing was a blast. The all-inclusive was great. Very well organized.
October 2015
Loved this place, the snorkelling was excellent and so was all the other activities

October 2015
Xel-Ha is an amazing place. There is so much to do at the park. The park itself is extremely clean, well marked and with our tour the food and drinks were all you can eat/drink. We highly recommend this excursion. Great for families or couples.
September 2015
Absolutely worthwhile doing. We are a couple in our early 50s and kept up with the younger crowd. I highly recommend doing this adventure.
August 2015
This was a beautiful experience for our family of six including four teenaged boys. The trip from start to finish was highly organized and efficient. We were picked up promptly at our hotel in the morning. Travel to Xel-Ha was easy with a brief video on the bus trip about 90 minutes from the Hotel Zone in Cancun to inform what the park offered. The park was absolutely beautiful - very natural but well organized so we could find our way around. Aquatic sealife was everywhere - you could see gorgeous tropical fish as you crossed bridges to get to the different portions of the park. The park was well marked with different colored trails to identify where different activities were. We purchased the all inclusive package which included breakfast, lunch, and snacks and drinks of course. The food was absolutely delicious and well beyond our initial expectations. The service was terrific. The best part of course was the snorkeling. We took the Stingray SeaTrek tour, and it was great. I was able to wear my glasses, and we were able to touch several stingrays that swam into the area. There were divers with our group who helped direct us into the water, through the walk, and back out again. Truly something I never thought I'd try but it was a great memory for all of us and we felt more comfortable snorkeling later in the day as stingrays came through the area we were swimming in. We also did the zipline bike tour which was fun. We probably would have been happier just doing the stingray tour and snorkeling the rest of the day as having a schedule of activities kind of broke up the relaxing rhythm of the day. My suggestion would be either to just snorkel as there are a TON of places to do that and see many types of fish OR pick one tour and get that done as early as you can to allow yourself more time to relax. We also bought waterproof cameras and reef proof sunscreen on Amazon.com before we came and saved that way. Highly recommend this trip!
August 2015
Amazing day! So much to do that we ran out of time to see everything. We wanted to swim with dolphin but by time we got there all extra activities had sold out so if you are thinking of booking one of these maybe book with rep at hotel instead to prebook as we arrived at 10:30. All reasonably priced I think they were between 1000-1500 pesos. Definitely buy the photo package 1200 pesos for 2 people and throughout the site their are photographers and cameras where you can take your own photos unlimited and at the end of day they are put on a pen stick, its all very clever using the barcode on your wrist band! Food and drink unlimited very nice! Lazy river to snorkel or tube down, zip wire, rope courses over water, cliff jumping and lots of fish! Shop around for cheapest price as everyone is picked up by the parks coaches regardless of who they book with. Everyone leaves at 6 so get a full day of fun.
April 2015

Roblyn United States of ...
January 2015
This was our second visit with our two daughters. Had a great time and did more this visit. I highly recommend this tour. It reminds us of Amazing Race and Survivor TV shows.

August 2014
Xel -ha was beautiful and a great park for the entire family. We had a great time and would highly recommend this to anyone.

August 2014
Had a great time snorkeling, swimming with the dolphins and trekking. The food was awesome. I would love to do this again
Advertisement
Advertisement