Explore the Yucatan jungle's flooded sinkholes, or cenotes, during this 10-hour guided eco-adventure. Paddle through the underground caverns on kayaks, snorkel in the subterranean aquatic habitats and float on the azure water on inner tubes. Listen as your guide recounts Mayan folktales about mythical guardians that protect these sacred water sources. This small-group tour, limited to 19 people, includes snacks, a gourmet picnic lunch and round-trip hotel transportation.
Highlights
Mayan cenote adventure tour in the Yucatan
Snorkel and kayak in four swimming holes amid aquatic flora and fish
Rappel down rock walls in a semi-open cenote and zipline over an ancient cenote
Enjoy a variety of cheeses, deli meats, rustic breads and fresh salads for lunch!
Round-trip transport by air-conditioned vehicle from Cancun and Riviera Maya hotels
Small-group tour limited to 25 ensures a more personalized experience
Why Our Insiders Chose This Tour
Not only do you visit four phenomenal cenotes, but you get a chance to snorkel, rappel, kayak and zipline in these gorgeous natural swimming holes!
What You Can Expect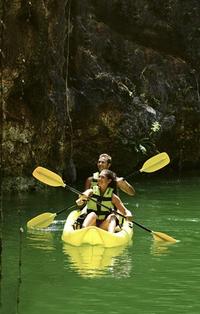 Following pickup at your hotel in the morning, board the comfortable tour vehicle and settle in for the ride to Puerto Morelos. Get to know your small group while enjoying coffee, pastries and chocolate. Learn about the unusual geological formations that you are about to visit, a network of underground caves connected by subterranean rivers.
Each cenote represents a different element: earth, water, fire and air. Hear about the Mayan legends and mysticism that surround these sinkholes and the myth of the alux, or spirit beings that guard the cenotes.
Rappel down the rock walls of Lu'um (earth), a young and semi-open cenote. Here, water flows horizontally and connects to the aquifer through tunnels and caves.
Finally, Zoom along parallel ziplines at Lik' and feel your adrenaline pumping on this high-flying adventure across the pool. Enjoy swimming in the slow-flowing water of this ancient cenote, which is fully exposed to the lush vegetation due to its collapsed walls.
K'aak (fire) is an open cenote with underground currents, surrounded by vertical walls and interesting landscapes. Interact with nature as you paddle a kayak or float in an inner tube amid the verdant jungle.
Visit Ha' (water), a cavern cenote with aquatic fauna and beautiful rock formations, and explore underwater gardens of water lilies in a stunning natural setting. Snorkel in calm waters with great visibility as you come face to face with colorful fish.
Eat a gourmet picnic lunch accompanied by beer, water, wine and coffee before returning to your hotel for drop-off.
April 2016
Absolutely amazing! I would 100 recommend. Our instructor Gabrielle was the best.
March 2016
My husband and I went on this adventure with 5 other great friends and each and everyone one of us LOVED IT!!!! Isiah - our guide, was right there next to us, zip lining, and JUMPING OFF THE CLIFFS!!! we went to 5 different Cenotes, with 4 different zip lines the one going down straight down into the cave they considered rappelling. Along with his supervisor Alisha and MR. Paparazzi himself the best photographer in the world made this an experience, none of us will ever forget!!! We had a go-pro, but nothing will match the amazing pictures he took - make sure you buy the package - it is well worth it! THANKS all for a FANTASTIC Day!!!! The Jerzy Crew!

November 2015
This trip was absolutely brilliant! Amet Diesel is an engaging, amusing and knowledgable guide and makes the whole experience fun. There is some driving between the Cenotes, but Amet's harem scarem technique had us there in no time, bouncing merrily along the way down the potholed and pitted tracks. It is offroad, be aware.
We were lucky to have a small group of 6, adventuresome folk who weren't afraid to get involved in everything and where the chaps involved turned into 12 year old boys at the thought of jumping off things, doing stupid stuff on the zip wires and seeing just how far they could push the activities.
Speaking of the activities, there is plenty of variety throughout the day - the differing cenotes all offer something beautiful and breathtaking and the equipment provided for the activities is new, sturdy and high level. We rappelled, kayaked, zip lines, snorkelled, swam and hiked through the jungle being snapped all the while by the group photographer. The photo's were also surprisingly good value, as unless you have a GoPro you're not going to capture much! You're also not going to capture them from the same angles. 89 for 163 personal photos was certainly much better value that the 38 for 2 photos at Xcaret!!
The food was hot, filling and local - plenty of choice and it felt like lunch was there to be appreciated, not just served as a tick box item on the excursion list.
You do need to be able to swim averagely well, and certainly being able to conquer fears of heights and jumping off things helps. If you're expecting a museum like tour, shuffling round taking photo's, you're not getting it here and frankly, you're just doing it wrong.
If you're going to do a tour excursion, please please do this one, it's worth every penny. Be prepared to get involved, be prepared to be adventurous and be prepared to be blown away by it.
November 2015
Amazing and fun day even in the rain, and our guide Adrien was lovely. Very fun and helpful.

September 2015
We highly recommend doing this! Everything was great from the beginning to the end. They were on time to pick us up. Eduardo was our guide and he was very informative and entertaining. We do recommend bringing water shoes, but they take care of the rest food, towels, gear etc.. The only thing we do not recommend was sitting in the back of the bus. SUPER BUMPY on the non-paved roads. : I would also say buy the pictures! Elias was our photographer and he was great about capturing every moment! It was so nice not to have to worry about capturing everything and they were great quality. We got around 100 photos of just us, on a usb drive for 89 they accept credit cards. Do yourself a favor and book this!! Also, if you have a great time, tip your guide.

June 2015
Tour was amazing! Eduardo, our guide was very informative and made this tour a blast!! And thanks Fredy for the great pictures you took of our family during the tour!!
June 2015
GREAT TRIP! GREAT LUNCH AND GREAT TOUR GUIDE. THE KAYAKING COULD HAVE BEEN LONGER AS WE PADDLED A LITTLE WAYS WENT AROUND A SMALL ISLAND AND PADDLED BACK. IT SEEMED OTHER TOURS WERE GOING DOWN THE OTHER WAY AND BACK.
March 2015
Wonderful experience! I felt like our tour guide took excellent care of us. Everything was top notch!
Berney United States of ...
December 2014
We had a wonderful time on this tour. The cenotes were great. We liked jumping in from the platform where you zipped into the cenote. And you don't just zip once - you do it 3 times! Lunch was good. A photographer took photos at each of the cenotes which we purchased after. It was nice not having to worry about carrying a camera, etc.
November 2014
This was a fun adventure with an attentive and helpful staff. The zip lines into the Cenotes are just challenging enough to accommodate the whole family. Those who needed extra help to go down the zip line were treated with respect and encouragement by the staff. I would highly recommend this adventure.
Advertisement
Advertisement