When you only have a day after arriving by cruise ship in Cannes and you want to see the French Riviera, this private, fully-narrated day trip is the way to go. Visit glamorous Monaco and historic Eze in one day, with free time to explore Monaco and a guided tour of a perfumery in Eze.
Highlights
Private shore excursion to Monaco and Eze from Cannes port
Free time to visit the Old Town of Monaco and the Royal Palace
Follow the Formula One Grand Prix lap in Monte Carlo
Free time to shop and relax at Casino Square in Monte Carlo
Scenic coastal drive along the Corniche and bays between Monaco and Nice
Recent Photos of This Tour
Cannes Shore Excursion: Private Day Trip to Monaco and Eze
What You Can Expect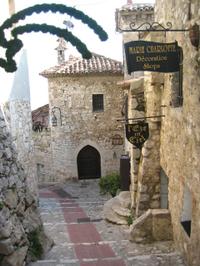 If you want to see the best of the French Riviera, use your time in the port of Cannes wisely. A private day trip in a comfortable minivan to see both historic Eze and glitzy Monaco in one day combines two sides of the gorgeous South of France.
Depart Cannes and admire the stunning views as you travel along the coastal road toward Eze. This Medieval village is the home of famous perfumery Fragonard, where you'll have a guided tour to learn the complexities of creating perfumes.
Next, head for the city-state of Monaco. Visit the Old Town and the Grand Casino and take a spin on the Formula One Grand Prix race car circuit. Enjoy some free time to visit the Royal Palace (open only April to October), do some shopping in the trendy boutiques or simply sit at a sidewalk cafe to engage in some of the best people-watching you'll ever see.
At the conclusion of your time in Monaco, head back to Cannes and your cruise ship.
June 2016
This tour is suited for a small group of 8 and luckily we were a family of 7 so it was our own private tour. Pierre was our guide and he was great! He was by far the best guide we had during our two week European vacation. He had an awesome sense of humor and was honest and helpful in recommending places and areas we should tour. He allowed us to customize our day and was supportive. We only wish we had more time at this port.
May 2016
Loved this private tour. We were able to see the preparations for the film festival in Cannes. Monaco was amazing - our guide got us there and in a good location to see the changing of the guards at the palace. She drove us one lap on the Formula One Grand Prix track - very fun. Would have loved to have time to actually gamble a bit in Monte Carlo but we were there before it opened at 2pm and you need a passport to get in which we didn't know ahead of time. I had never heard of Eze but it was a favorite - loved climbing through the narrow walkways and discovering interesting shops and restaurants, along with a beautiful chapel. These private tours are the way to go skip the cruise ship tours - allows for complete flexibility and individual attention. Loved our guide.
May 2016
Oh what an amazing excursion. Our guide was informative, fun and very attentive. She let us have more time at one place when we wanted to stay a bit longer. Don't miss out on Eze!!! The fortress that you could spend a week at. In fact my husband and I are planning a trip back to spend just there. Not recommended for the older folks though, lots of climbing elevated walkways and cobblestone steps. Cannes was pretty, but Eze made the tour.
September 2015
Our day trip to Eze, Monaco, Monte Carlo was excellent, we had a private mercedes Van for a group of 7. Our driver guide Joe took excellent care in asking us what we wanted to see and do, accordingly he mapped out our day of excursion. He gave us a fair amount of historic background for each of the places we visited. Our short stop o visit a perfumery near EZE was excellent. Amazing perfumes at very reasonable cost. EZE was a trip to cherish, a beautiful ancient village. Our driver even indulged us with a stop and walk about in Cannes at the lim festival area. Plenty of great photo locations.
August 2015
Absolutely Amazing Tour. Adreiana, our guide, was very knowledgeable, funny and easy to talk to. She picked us up on time and right at the port we were docked at. We enjoyed Eze but loved Monaco - one of the most beautiful cities we've ever seen. Next time I go to Europe, I will definitely be booking with Viator.
August 2015
This was a fantastic day out. Pierre from the local tour company was our driver for the day and was brilliant and met us at the Cannes port at 0800 - he had great knowledge of the area and history and interacted well with our 3 children also who thought he was wonderful. The Mercedes Van was beautiful and clean with cold aircon on a very hot day. He took us from Cannes through to Nice where we stopped at some lovely gardens of a Monastery and an old Roman arena ruins. He then took us to two amazing spots looking out over Nice and the coast! From here we went to Eze which is a must - and old medieval village on top of the mountains - again breathe taking views. Pierre then asked if we would like to go to the perfumery which we did and was lovely - a quick tour and then some sales. From there onto Monaco for lunch and wander and we then took a tour around the Monaco grand prix track. We stopped for 30mins at the square where the Casino is then made our way back. Was a wonderful day - and Pierre was an excellent host!
July 2015
Our guide, Joe, picked us up from the cruise port and toured our family including 2 kids - son 13, daughter 11 to Monaco and Eze. Joe was extremely knowledgable, and even kept the kids interested. Eze is a picturesque mountain village - almost like a fairy tale land. It's a neat place to wander around, take in some beautiful views, and maybe grab a bite to eat. Monaco is filled with sights to see - beautiful hotels, massive yachts, the Formula One Lap, Monte Carlo Casino, etc. It was a terrific day of touring.
June 2015
Excellent tour. Adrienne was our guide, and very respectful of our wants and desires. Timing was perfect for this tour, as Cannes Film Festival was setting up, and Adrienne took us on a lap of the race course in Monaco, as preparations were in place for that event as well.
June 2015
Excellent guide, knowledgeable, flexible, and made inquiries about what we wanted to do and see. He
provided us with individual exploration time and at the same time kept to a schedule.
A clean comfortable car made combined with a knowledgeable guide made for a meaningful on shore experience.
December 2014
Great trip. Great tour guide
Advertisement
Advertisement