Discover the coastline of France's Corniche d'Or by boat on this 2-hour sightseeing cruise. Hop aboard your boat in Cannes and cruise out into the Golfe de la Napoule toward the coastline of the Corniche d'Or. Take in beautiful views of the French Riviera from your vantage point on the water and look out for highlights such as the red rocks of the Esterel. Capture the scenery on camera en route to Rade d'Agayl, before turning round and returning to Cannes.
Highlights
2-hour cruise along the Corniche d'Or from Cannes
Take in magnificent views of the red rocks of the Esterel
Marvel at the picturesque landscape between Cap Roux and La Napoule
What You Can Expect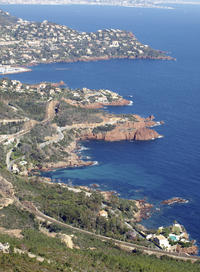 Depart from Cannes and cruise off along the Corniche d'Or. Your return cruise takes in stunning scenery from Cannes, along the Golfe de la Napoule and the Corniche d'Or, to the coastal town of Agay. Part of the Massif de l'Estérel in southern France, this stretch of coastline is widely considered one of the most attractive on the French Riviera.
Cruise along the beautiful Mediterranean coastline and enjoy magnificent views of the red rocks of the Esterel meeting the azure blue of the coastal waters. From Cap Roux to La Napoule, marvel at the colourful and ever-changing landscape and take time to capture the beautiful scenery on camera. Enjoy the cool Mediterranean breeze as your boat cuts gracefully through the water.
After two hours cruising the coastline of the Corniche d'Or, return to Cannes where your tour will come to an end.
September 2012

Neil B United Kingdom
July 2014
Cruise was very good, the main problem was that all the commentary was in French. No translation whatsoever, put a damper on the trip, because highlights pointed out didn't make any sense or was of no use.
September 2011
The boat ride itself was OK. I couldn't quite see what the interest was regarding the coastline - we have far better than this in England. This was not helped as the commentary provided was all in French - there was no translation into English or any other language. I have a feeling it was a sort of home of the stars tour but the lack of translation meant that this was a bit lost on us. It is also more of a ferry type arrangement so its not the sort of trip for sun bathing or getting a tan - its also a non stop steam so there are no stop offs or swimming opportunities. Therefore, if you want just a boat trip its fine - but don't expect to see anything of interest (unless you are very good at French). Rather disappointed with this one.
Advertisement
Advertisement